Ich mag Wrestling ja eigentlich nicht – aber so inszeniert wie zu Beginn der Folge könnte mir das fast gefallen. Inklusive Wilhelm-Scream! Und doch war ich erleichtert, als Angels Pause vorbei war… Zu zäh und lang.
"I am so excited for plan B…" (Vasiliy)
Erneut erhalten wir einen Rückblick – und dieses Mal einen wichtigen. 1966 ist nicht nur bereits Vater-Berater-Bodyguard Fitzwilliam am Start, sondern auch Eichhorst, der das erste Mal auf Palmer trifft und ihm den Kopf verdreht. Gelungener Einschub, der nicht nur die damals schier endlos scheinende Ambition Setrakians demonstriert, sondern auch zeigt, wie nach und nach viele der Charaktere im "Heute" bereits damals irgendwie verzweigt miteinander zu tun hatten.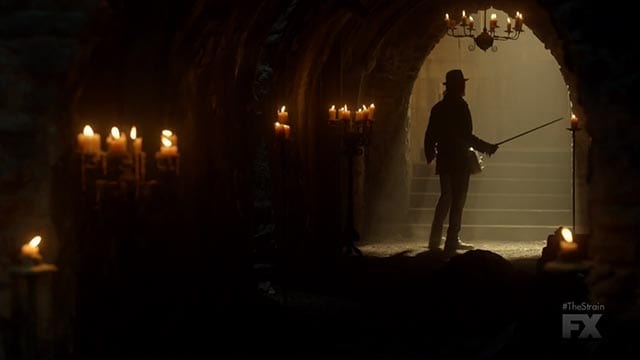 Im verzweigten U-Bahn-System kennt sich Vasiliy natürlich am besten aus. Wieso die Polizei/Sicherheit sich um einzelne Personen in der U-Bahn kümmert und keine wichtigeren Prioritäten zu haben scheint, dürfte er jedoch auch nicht wissen. Die "Guys walking away from explosions"-Szene hat mir aber ähnlich gut gefallen wie die Nachrichten-Sprecherin bei der Berichterstattung über die Top-Finanzgurus New Yorks. Das wirkt deutlich dynamischer als viele Sachen zu Beginn der Staffel.
"They say one out of four people are mad." – "Luckily there's only three of us.." – "Not unless you include my invisible friend Donnie." (Vasiliy & Nora)
Bleibt die Frage, ob Vampire töten tatsächlich "geiler als Architektur" ist? Und ob dem auch so ist, wenn die sich selbst vom Hochhaus stürzen?
Es ist definitiv ein Aufschwung erkennbar. Das liegt vor allem im endlich vorhandenen Zug der Geschichte. Viele Parteien sind wieder aktiv im Geschehen und die aufgeteilte Erzählung der Stränge funktioniert erfreulich kurzweilig. Auch Mutti und ihr Spürblinden sind ein Stück näher gekommen, so dass das nächste hochemotionale Aufeinandertreffen in die Nähe rückt – und bittebittebitte nicht verkackt wird, ja?!