Die Aufregung ist groß im Fanlager von The Walking Dead: Das Finale von Staffel 6 brachte nicht nur den lange erhofften Auftritt des neuen Widersachers Negan, sondern mit einem drastischen Abschluss auch einen ziemlich großen Cliffhanger. Derweil die Fanszene rätselt, was denn zum Schluss genau passiert ist, veriet Regisseur Greg Nicotero, dass es auf der DVD- und BluRay-Veröffentlichung der Staffel ein alternatives Ende geben wird – das vor allem den Comicfreunden gefallen dürfte.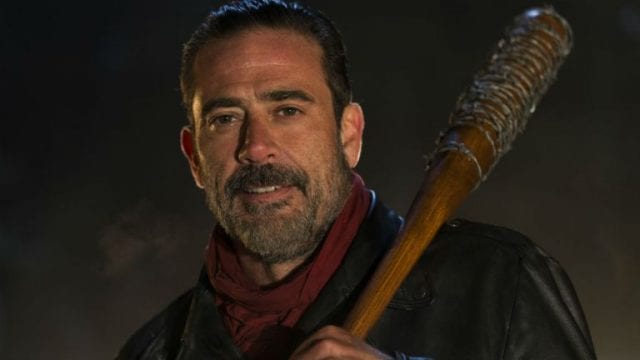 Natürlich wird durch dieses Ende nichts aufgelöst, aber Negans Monolog soll noch stärker herausgearbeitet werden. Denn der musste für die Ausstrahlung im amerikanischen Cable Network entschärft werden. Allzu vulgäre Begriffe und das beliebte "Fuck" wurden weggelassen. Die Idee aber, eine sprachlich verschärfte Version zu produzieren, die dann auch ziemlich dicht an Negans Original-Monolog in den Comics sein soll, hatten die Macher schon früh bei der Produktion. Deswegen wurde ein zweiter, unzensierter Monolog mit jeder Menge Flüche und Kraftausdrücke gedreht. Dieser wird dann auf der DVD- und BluRay-Veröffentlichung zu sehen sein. Greg Nicotero dazu:
We had to shoot two versions — we had to shoot the Blu-ray version, which had a lot of the swearing and a lot of Negan's colorful language, and then we had to shoot the broadcast version. So when you get the DVD or the Blu-ray version, that will have the full Negan speech from the graphic novel.
Hier noch eine Fan-Abwandlung der finalen Szene, die in Manier der Comics geschnitten wurde – ALSO EXTREM SPOILERT! Zumindest zeigt sie, welche Person in der Vorlage dran glauben musste. Ob das nun in der Serie auch so der Fall sein wird – wer weiß.
ABER SPOILER. UND SO. COMICSEITIG!
via: schnittberichte.com