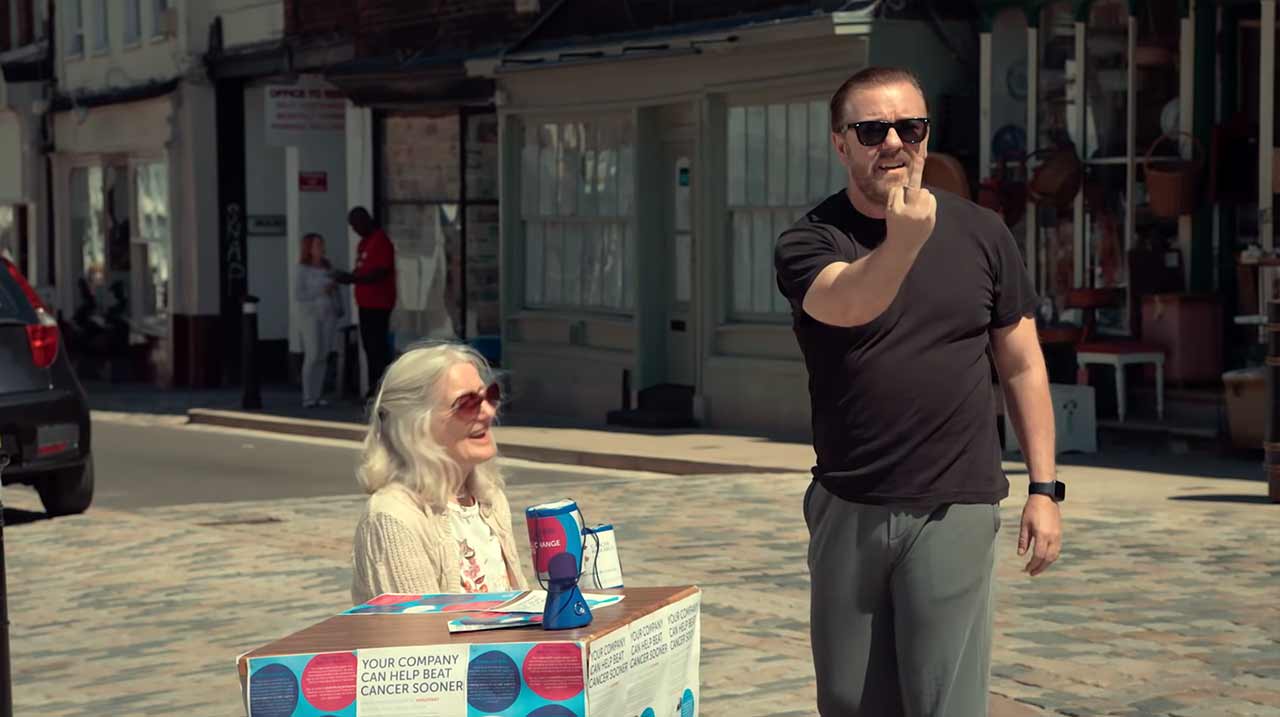 Eine neue Serie mit und vor allem von Ricky Gervais ist nicht die allerschlechteste Neuigkeit. Aber es wird noch besser: "After Life" wird auf Netflix laufen, und das bereits ab 8. März, also nächste Woche Freitag. Der erste Trailer zur sechs Folgen starken Staffel schaut schon einmal okay-isch (leider auch nicht mehr, wenn es nach mir geht) aus, auch wenn ich befürchte, dass die ersten Episoden am besten sein dürften, wenn Ricky noch ordentlich das unsympathische Arschloch raushängen lassen kann. Die recht schmalzige Trailer-Musik lässt jedoch bereits erahnen, dass die Serie hinten raus sich wohl in Richtung "Jeder Arsch kann zu einem guten Menschen werden" entwickeln dürfte. Tolle Moral, aber nicht immer dem Unterhaltungswert zuträglich, vor allem, wenn der schwarze britische Humor Einzug halten soll. Verbuchen wir es daher einfach mal unter "Dramedy mit absehbarer Charakterentwicklung und Ratgeber-Funktion für Lebensgestaltung vor allem im Falle einer Verwitwung" – genau darum geht es übrigens inhaltlich in der Serie, solltet ihr euch das gefragt haben:
"From the mind of Ricky Gervais, After Life is a the story of Tony, who had an all-too-perfect life. But after his wife Lisa suddenly dies, Tony changes. He decides instead to live long enough to punish the world by saying and doing whatever he likes from now on. He thinks it's like a Super Power — not caring about himself or anyone else — but it turns out to be tricky when everyone is trying to save the nice guy they used to know."
Passend zur Gervais-Netflix-Kombination könnt ihr euch hier noch die alten "Netflix-Superfan"-Werbespots aus 2014 anschauen, in denen Gervais für die EMMY Awards ein paar der damaligen Highlight-Serien des Streaming-Anbieters infiltriert hatte.
via: theawesomer