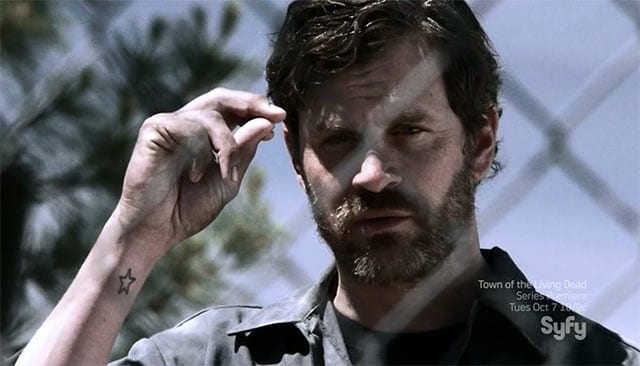 Ich weiß, ich habe letzte Woche gesagt, dass es vermutlich kein Review mehr zu Z Nation geben wird. Zumindest, wenn die Serie weiterhin so stumpf und unsinnig ist. Und keine Bange, das ist sie immer noch. Und zwar so sehr, dass ich das einfach nicht unkommentiert lassen kann. Das liegt vor allem an einem Fakt: die Liberty Bell.
Die Liberty Bell tötet eine Hand voll Zombies?! Mal ganz von der physikalischen und dramaturgischen Unsinnigkeit abgesehen – von den platten Effekten erinnert das an die späten Final Destination-Teile… Richtig mies. Dazu ist "Sunshines" schielender "Daddy" nicht nur irre sondern auch irre schnell bei ihr in Philadelphia. Entfernungen scheinen nicht geografisch sondern nach storynotwenidkeit gelöst zu sein. Genauso sind die Zombies natürlich wieder schnell, wenn man sie hinter einem Auto herlaufen braucht.
"I miss the old days, before Edward Snowden… And Zombies." (Citizen Z)
Hauptsache, die können on the fly GoPro-Aufnahmen auf ein iPad spielen… Und haben genug elektronisches Equipment und Zeit, jenes aufzubauen, um laut Musik abspielen zu können. Dazu ist Kannibalismus als übergrausame und unmoralische Abartigkeit schlicht viel zu schnell als Thema gespielt. Okay, das Ende war ganz nett. Wenn man auf 80er Actionfilme und bloßer Effekthascherei fern jeglicher Logik steht.
Spätestens hier dürfte der Großteil der The Walking Dead-Liebhaber das Handtuch werfen. Ich hätte es bereits getan, wenn nicht gerade keine andere Folge auf meinem USB-Stick gelegen hätte. Während der Folge kam übrigens ein Hinweis auf das SciFi-Event "Town of the living dead", in dem eine Stadt versucht, einen Zombiefilm zu drehen, es aber wohl auf fremdschämartige Weise scheitert. Schon irgendwie ironisch, scheinbar schauen wir seit Wochen das Resultat aus dem Versuch…