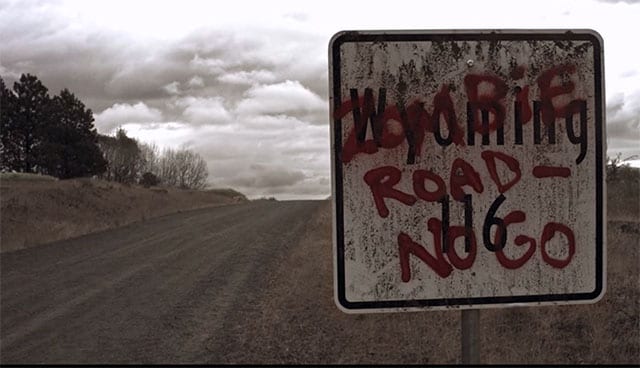 Die Warnung zu Beginn hätte ich wahrnehmen sollen. "Zombie Road – No Go!" steht da in blutigen Lettern auf dem Straßenschild. Hätten die Macher mal einen anderen Weg eingeschlagen…
Dabei fängt es noch beinahe harmlos an. Ein schlecht editierter "Zombüffel" ist bei weitem nicht das krasseste Tier der postapokalyptischen Fauna. Erst hatte ich auf eine Art "Two-Face-Zombie" gehofft, so dass die "Halb Mensch, halb Zombie"-Sache gar nicht auf Murphy bezogen sein sollte. Aber doch, war sie. Am Ende sind es nur Rudel verstrahlter Mutanten-Zombies, auch "Blasters" genannt. Murphy spürt die Erschütterung der untoten Macht, da funkt scheinbar jemand auf seiner Frequenz – oder eben gerade nicht.
Dieser offenkundige Mad Max-Moment für Arme war ja mal derart plump inszeniert… Oh warte – das war die komplette Folge!
"That medical waggon is a zombie bomb waiting to go off…" (Warren)
Die fahren auf dem Präsentierteller durch die Pampa – aber keiner trifft sie. Klar… Und laut zu hupen ist besonders schlau. Gegenmittel: Z-Weed. Wirklich nachtrauern tu ich da nur der gesichtsbemalten Athena – die mochte ich irgendwie!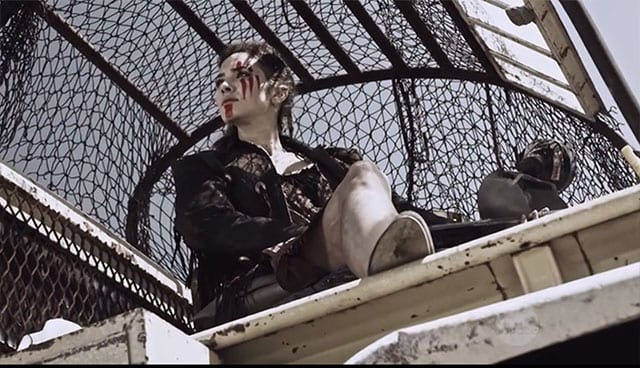 "Oh no, she was my friend! She didn't like me but she wasn't mean to me…" (Kiffer-Typ)
Dazu dann noch ein selten dämliches Ende. Die superschnellen Blasters sind plötzlich super lahm, die Menschen schießen nicht sondern scheißen sich wartend ein und eine Pseudo-Barriere – ach, lassen wir das. Vom Splatter-Reifen-Moment ganz zu schweigen…
Nein, das hat nicht mal Spaß gemacht. Fehlende Konsequenz in Logik und Handlung war ja schon immer mal irgendwie dabei, das war aber noch mal drei Stufen drunter. Schade, das Setting hatte durchaus was zu Beginn, das Fahrzeug war recht schnieke aufgemacht und Athena – sehr schön! Aber am Ende siegte der Blödsinn. Ne, ich glaube, ich steige aus, was die Reviews angeht. Vielleicht am Staffelende nochmal was… Solltet ihr also hier zur nächsten Folge nichts mehr lesen, könnt ihr euch denken, dass es nicht besser geworden ist. Schade aber auch.