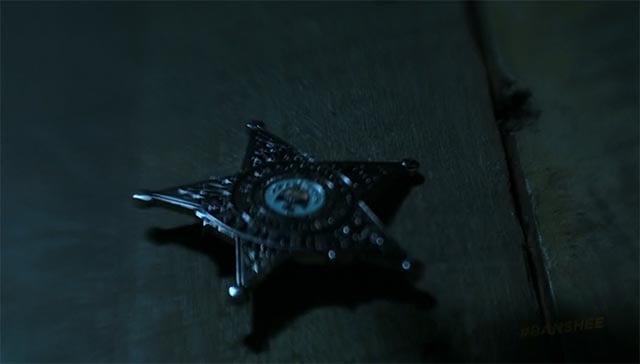 Nach dem Spektakel vergangene Woche muss sich zunächst einiges setzen. Nicht nur die Zuschauer machen sich viele Gedanken, auch die Charaktere in Banshee – wenn auch aus unterschiedlichen Gründen.
"There is no you." (Siobhan)
Die größte Frage stellt sich hinsichtlich "Sheriff" Hood. Doch der dreht mehr am Rad denn an seinem Stern. Als Abschiedsgeschenk will Hood noch schnell die Stadt von Proctor befreien. Selten dumme Idee trifft auf selten unüberlegte Umsetzung. Unpassend, dazu sehr willkürlich in Hoods Kopf gelangt – und vielleicht gar der Akt, der als Proctors Wunder dient, nicht in den Knast zu müssen. Denn eigentlich hat der nun wieder (aus dem Nichts und scheinbar sehr problemlos und schnell) eine Klage von Gordon am Hals, der wieder in Akten statt auf Flaschenböden schaut.
"Call the police!" – "Ehm… He is the police." (Anwalt & Statist)
Carrie tauscht derweil die Kellnerinnen-Schürze gegen eine Motorradjacke. Etwas Freiheitsgefühl für die nicht ganz ausgelastete Mom. Stattdessen sollte sie sich vielleicht um ihre Tochter kümmern. Deva feilt an ihre Einbruchs-Technik und ihrem Talent, Product Placement elegant zu betreiben. Braucht beides noch etwas Übung.
"I'm not pointing fingers…" – "Well you just did. And this from a mayor who bangs hookers." (Gordon & Carrie)
Burton schaut mittlerweile aus wie ein Zombie – kein Wunder, so oft wie er bereits dem Tot entkommen ist. Doch sicher ist sicher: es wird sich angeschnallt. Die Taktik, mit Autos aufeinander zuzufahren ist für mich zwar nicht wirklich die Einleuchtendste, aber dank modernster technischer Möglichkeiten, physikalische Gesetze zu biegen, ging alles glatt. Und erneut bekommen wir demonstriert, dass auch passives Rauchen tötlich sein kann.
Bleiben noch die zwei übergeordneten Handlungsstränge. Der "Bruch" wird weiter in Mini-Schritten voran getrieben. Zwischen dem vielen Trinken an der Bar hat man ja auch kaum Zeit. Wichtiger ist da eh die Ankunft von Chaytons Armee. Gerade rechtzeitig um Hood von der Kündigung abzuhalten. Ein kleines Déjà-vu – war die Cadi-Belagerung von Rabbit doch sehr ähnlich von der Anmutung her…

Eine komische Folge. Ja, es ist viel geschehen – gerade zwischen den Charakteren und viele emotionale Beziehungen wurden belebt und voran gebracht. Dazu wurde gut überbracht, in welche hektischer Zeit wir uns in der Handlung befinden und wie viele Parteien darin in der einen oder anderen Art miteinander verstrickt sind. Die Action-Einlagen waren jedoch gefühlt da, damit sie da sind und wirkten hier nicht ganz harmonisch integriert wie zuletzt. Dennoch weiterhin unterhaltsam und es bleibt abzuwarten, wie intensiv der Stand-Off kommende Woche sein wird. Einer klassischen Staffel-Dramaturgie kickt Banshee jedenfalls schon einmal in den Arsch!

-->