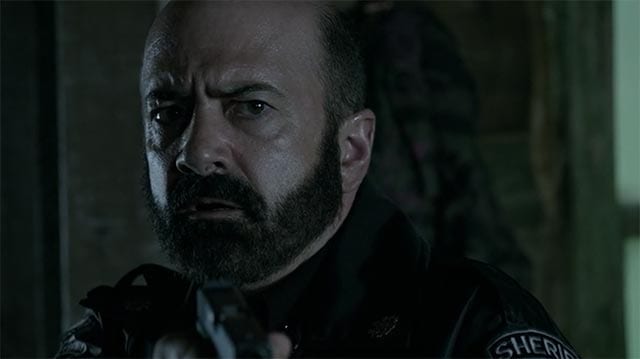 Endlich. Viel zu lange mussten wir darauf warten, dass es endlich weiter geht. Mit dem Ende, das letzte Kapitel, bestehend aus 8 Folgen – und der letzte sich verändernde Vorspann. Durch das Verschieben der Staffel mussten wir knapp 13 Monate ohne neue Folge auskommen, da hätte mir eine Zusammenfassung der letzten Ereignisse durchaus geholfen, denn man wird ins verdammt kalte Wasser geworfen.
"What happened to you, Hood?!" – "I retired." (Brock & Hood)
Ein Zeitsprung in Seebartlänge sorgt dafür, dass allerhand Orientierungstalent von Nöten ist, um den Einstieg zu schaffen. Brock ist nun Sheriff (eine der wenigen Dingen, wie wir wussten) und Hood verkommt zu einem Abbild seines Namensvetters Robins – oder Jesus, wie angemerkt wird.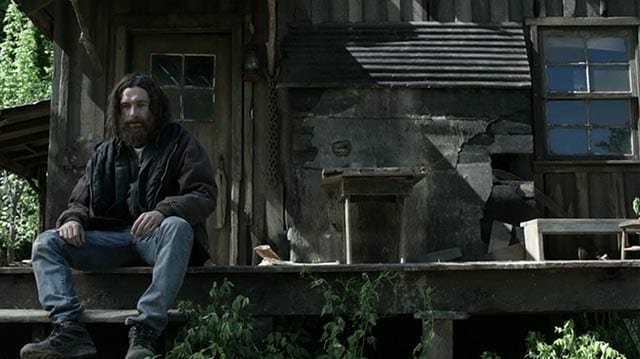 Ein nagelneues Polizeirevier mit ungemein vielen neuen Sicherheitskräften, Procter als Bürgermeister und Anastasia als Vigilante, die durchs Raster gefallenen Kriminellen auf die Finger haut?! Okay… Wenigstens hat sie Therapiestunden aufgebrummt bekommen, die sie bei Erik King aus Dexter (Sgt. Doakes) wahrnimmt?! Schön, den mal wieder irgendwo zu sehen – und der kennt sich absolut mit Wutausbrüchen aus.
Kommen wir zum Wesentlichen: Mit 24 Minuten hat die erste Sexszene ungewöhnlich lange auf sich warten lassen! Dafür hat Burton umso schneller seine Brille abgenommen. Schön, wie mit dem ikonischen Bild gespielt wird.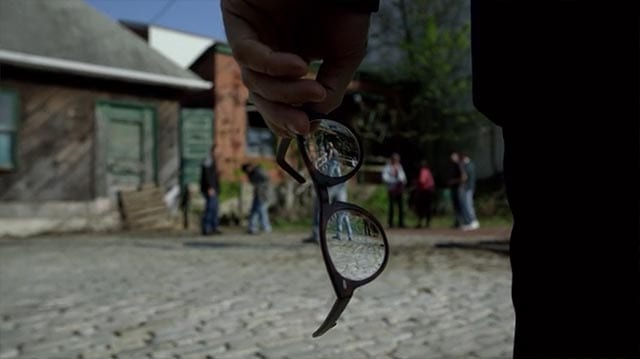 "This isn't a nation anymore, it's a soup kitchen. And we are out of soup." (Calvin)
Die Schädelbruch-Szene sah hart aus, da bekommt selbst Burton sowas wie Mitleid… Das Wichtigste ist aber ohne großen Schock-Moment passiert: Rebecca ist tot. Einfach so, denkt man. Ein Serienmörder-Fall, der alle zusammen führt? Das wirkt noch seltsamer als der scheinbar fehlende Rückblick. Nachdem wir eine gehörige Zeit zappeln gelassen wurden, geht es dann aber doch noch 12, 17 oder gar 18 Monate zurück, anschließend an das Finale von Staffel 3. Job gilt als verloren, nachdem man ganz kurz ganz viel versucht hat (Komm, wir schießen mit einer Pistole auf einen Helicopter, der mit einem großkalibrigen Maschinengewehr auf uns schießt – wann war das je KEINE gute Idee?!?), die Dinge in Banshee scheinen geregelt, Zeit für eine gehörige Auszeit.
"Remember, Hood – you're not the sheriff anymore." – "I never was." (Sugar & Hood)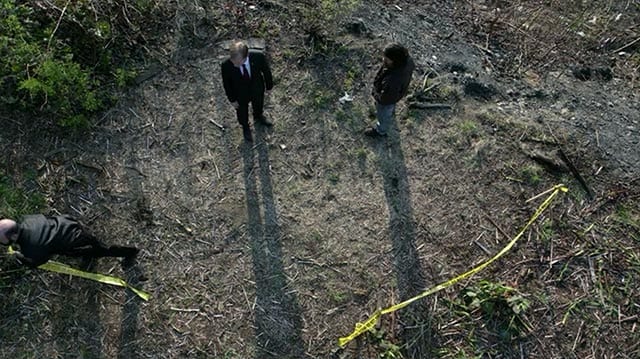 Ach ja, dieser Serienkiller. Oder eben dieser eine Mord an der geschätzt-geliebten Rebecca. Und diese gottverdammten Quartalsberichte!! Da kann man schon einmal ausflippen. Dazu eine Prise Brotherfucker, um dramatische Familienerlebnisse vorzuprogrammieren (Ich wette mit euch, die wird noch umkommen…) und ein neues bisher verborgenes Talent Hoods: die eigenen Haare schneiden. Respekt!
"Just like old times, huh?! Just no one's bleeding." (Brock)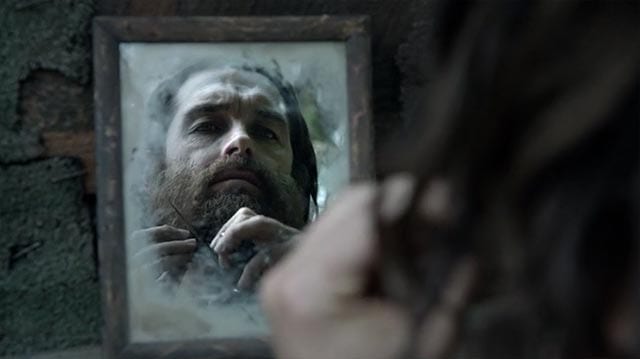 Mit modischer Kurzhaarfrisur aus den 90ern ist dann alles irgendwie wie immer. Kompromisslose Befragungen, verschmitzte Dialoge und ganz viel harte Schale. Und eine Gruppe Sarah Palin-Anhänger – süß! Alles ist wie immer und doch total anders…
"Do you know how a man with no hands wipes his ass?" (Hood)
Puh, ein komplexer Einstieg. Eine Achterbahnfahrt der Erinnerungen und Neuentdeckungen, ein Mosaik aus Informationsfetzen, dass sich diagonal durch die Zeit verstreut zusammen setzen. Erneut visuell sehr gelungen eingefangen (ohne große Wow-Szenen, aber mit einigen schön anzuschauenden Kranfahrten und Luftaufnahmen). Allerdings hat mich die Folge etwas rätselnd zurück gelassen. Der ganz große Knall war das nicht, vielmehr wurde dieser Punkt im Zuschauer getriggert, an dem die Verwunderung über die vielen neuen Einflüsse herrscht. Diese positive Unruhe, hat es sich doch beinahe wie das Zurückkommen zu einem alten Freund angefühlt, beinahe wie ein Jahre später ausgestrahltes Spin-Off. Und doch war es eben nur eine Orientierungsphase. Die Handlung für die Staffel ist abgesteckt, das Ziel ist klar und die Personen allesamt wieder irgendwie zusammen geführt. Und neue Gefahren werden aufgebaut. Noch fühlt es sich an wie ein Paar Schuhe, das ich etwas zu lang nicht an hatte. Sie scheinen noch zu passen, aber so ganz hundertprozentig wohl wie damals fühle ich mich noch nicht. Aber ich laufe sie jetzt einfach ein paar Wochen ein – wird schon werden!

Bilder: Cinemax

-->