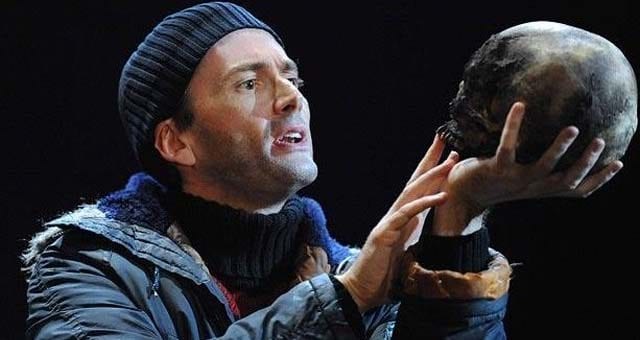 Wie die Literaten unter uns bestimmt wissen, jährt sich der Todestag eines der größten Dramatiker und Lyriker der Insel und der Welt zum 400. Mal. William Shakespeare starb am 23.April 1616 in Stratford-upon-Avon (falls ihr das in einem Quiz mal wissen müsst) und ihm zu Ehren hat die BBC in diesem Jahr diverse Sendungen im Programm, die sich mit Shakespeare beschäftigen und einen der größten Söhne der Insel zum Thema haben. Als Beispiel sei hier die Fortsetzung der "Holly Crown" Reihe mit u.a. Benedict Cumberbatch in einer Hauptrolle genannt, auf die ich schon mal verwiesen hatte.
Ganz besonders hoch her geht es im Programm der BBC am Todeswochenende vom 22. – 24.April.
Großer Höhepunkt wird eine Live Gala sein, die von David Tennant moderiert und mitgestaltet wird. Und jeder, der sich ein wenig mit der Karriere von David Tennant auskennt, der weiß, dass Tennant ein großer Shakespeare Fan ist und schon große Werke des Meisters auf den englischen Bühnen gespielt hat. Das wäre noch so ein Träumchen, Tennant mal in einem Shakespearestück zu sehen. Aber was noch nicht wahr, kann ja noch werden.
Die Live Gala wird am 23.April von der BBC in Zusammenarbeit mit der Royal Shakespeare Company produziert und hat neben Tennant weitere hochklassige Schauspieler zu bieten, wie beispielsweise Judi Dench ("die" britische Theaterschauspielerin in Shakespearestücken) oder Joseph Fiennes ("Shakespeare in Love").
"It's a variety bill, really. Obviously the plays are a huge part of that. We will have some of the greatest classical actors around. But we have the other cultural arms he inspired, opera, ballet, hip hop." (David Tennant)
So kann man gespannt sein, was einem die BBC und die RSC so alles für den Abend vorbereitet haben. Beispielweise wird auch die English National Opera und das Birmingham Royal Ballet Teil der Live Gala. Kleiner geht´s wohl nicht.
Der Abend dürfte also nicht nur für Shakespeare und Tennant Fans einiges zu bieten haben.
Bilder: RSC