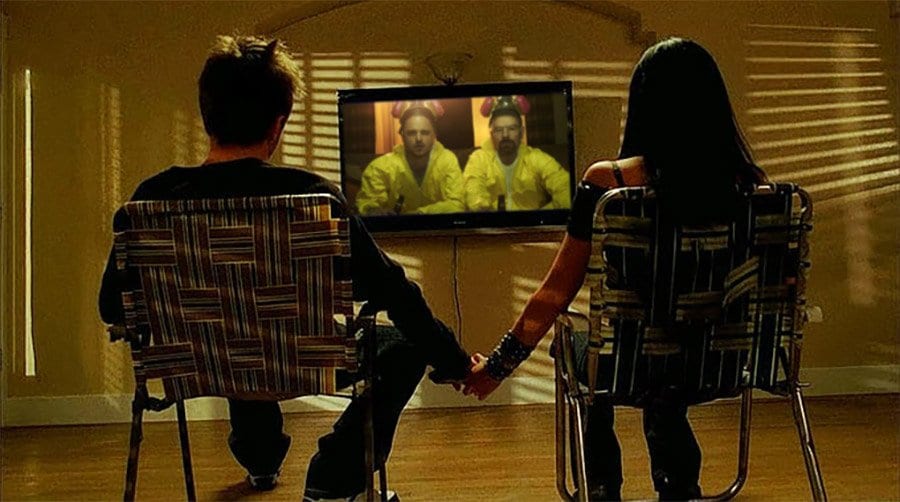 Gerüchteweise war immer mal von einer Fortsetzung der Erfolgsserie "Breaking Bad" in Form eines Spielfilmes die Rede, doch jetzt wird es konkret. Walter White-Darsteller Bryan Cranston hat gestern im Rahmen der Radiosendung The Dan Patrick Show bestätigt, dass an einer Fortsetzung gearbeitet wird. Dabei wisse er jedoch gar nicht, ob White selbst im Film vorkäme, da er bislang kein Drehbuch gesehen hat. Das sowie das Finale der Serie selbst machen es natürlich unwahrscheinlich, dass Heisenberg einen größeren Part übernehmen dürfte, aber wer weiß, wie man ggf. mit Rückblenden oder anderen Stilmitteln verfahren wird. Bock hat Cranston jedenfalls gewaltig, mal wieder Hut und Sonnenbrille aufzusetzen.
Bryan Cranston Confirms "Breaking Bad" Movie Is Coming | The Dan Patrick Show | 11/7/18
Laut Slashfilm soll Aaron Paul als Jesse Pinkman die Hauptrolle des mit dem Arbeitstitel "Greenbrier" versehenen Streifens übernehmen. Und die Dreharbeiten sollen bereits in den nächsten Wochen aufgenommen und bis Februar 2019 abgeschlossen werden.
"Last night, we learned that series creator Vince Gilligan was writing and executive producing a Breaking Bad movie, although it is unknown if he will also direct. It was also suggested that this will be a television movie, as it is being make through Gilligan's deal with Sony TV, who produced the original show (which aired on AMC). There was even the briefest of brief loglines: the movie would '[track] the escape of a kidnapped man and his quest for freedom'."
Ich persönlich habe da gemischte Gefühle. Zum einen war das Finale von "Breaking Bad" eines der wenigen einer solch großkalibrigen Serie, das nicht enttäuscht hat. Gerade die letzten Momente mit Jesse im Auto haben es emotional in sich gehabt und viele Fragen wurden aufgeworfen, wie es weiter gehen KÖNNTE – aber konkrete Antworten bereinigen dieses Gefühlschaos doch nur unnötig. Hoffen wir, dass es sich nicht einfach nur um ein letztes Melken einer TV-Kuh handelt, sondern um ein durchdachtes und von langer Hand geplantes Stück Verlängerung als Geschenk für all die Fans, die die Serie auch fünf Jahre nach Ablauf noch immer lieben. Auch wenn bislang keine offizielle Bestätigung seitens Gilligan oder der Produktion erfolgt ist, sollten wir nächstes Jahr schlauer sein.
via: welt