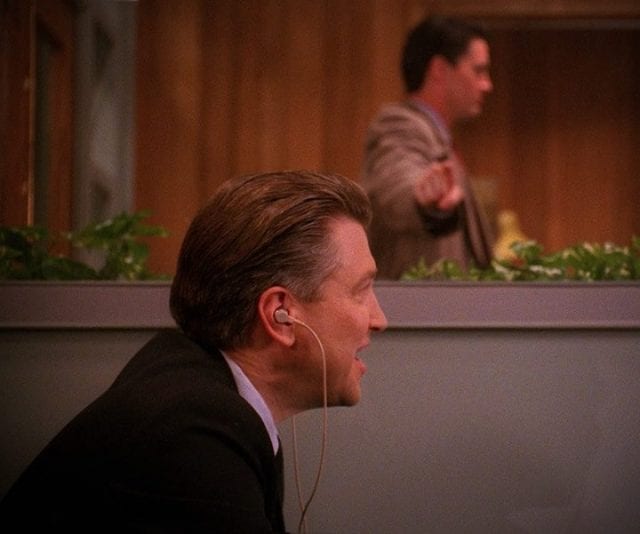 Heute vor 25 Jahren redeten alle über eines der größten Geheimnis der Fernsehgeschichte, das gerade gelüftet worden war: Wer war der Mörder von Laura Palmer in der Serie Twin Peaks? Nach der Auflösung lief die Serie noch eine ganze Weile weiter, mit einer etwas anders gedrehten Story, an deren Ende Laura Palmer verkündete: Wir sehen uns in 25 Jahren. Und tatsächlich: Vor einigen Monaten hatte David Lynch eine Fortsetzung von Twin Peaks angekündigt. Pünktlich zum 25-Jährigen wird's zwar nichts, aber Anfang 2017 soll die neue Staffel bei Showtime laufen. David Lynch wird bei allen Folgen Regie führen, wobei er die gesamte Geschichte am Stück drehen wird und anschließend in 18 einzelne Episoden unterteilen möchte.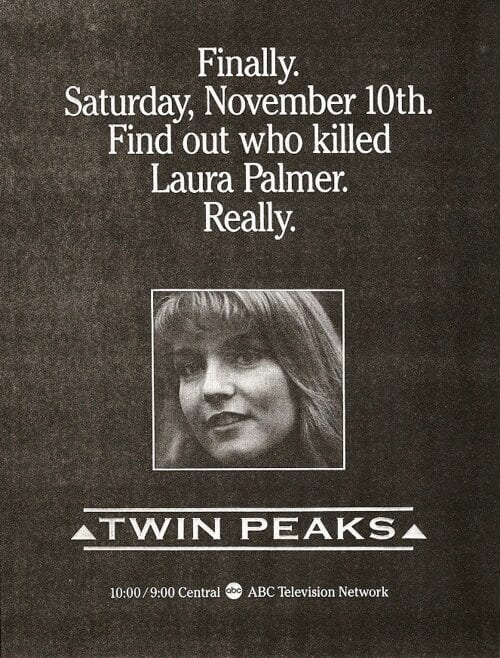 Der Sender rührt schon fleißig die Werbetrommel für Twin Peaks: Mit schönen Ads im Twin Peaks-Stil kündigte der Sender vor kurzem den Produktionsbeginn der 3. Staffel an. Seit September wird gedreht – wir hatten Euch ja schon Bilder vom Set gezeigt. Mittlerweile ist auch klar, wer aus dem alten Cast dabeisein wird und wer neu hinzukommen soll.
Wieder dabei…
… aus dem Produktionsstab sind natürlich die beiden Serienerfinder David Lynch und Mark Frost dabei. Auch Angelo Badalamenti, der die charakteristische Musik zur Serie geschrieben hat, ist wieder mit an Bord.
… sind im Prinzip alle Schauspieler aus dem Hauptcast, also Kyle MacLachlan als Special Agent Cooper, Ray Wise als Leland Palmer, Mädchen Amick als Shelly Johnson, Sheryl Lee als Laura Palmer oder auch Sherilyn Fenn als Audrey Horne. Letztgenannte Damen hatten vor einigen Monaten mit einer Online-Aktion intensiv darum gekämpft, dass David Lynch bei der Produktion von Twin Peaks dabei ist – ursprünglich hatten sich Sender und Autor nicht auf eine Zusammenarbeit einigen können.
Kyle MacLachlan berichtet mittlerweile eifrig auf Twitter vom Set – ohne zu spoilern. Er erzählt einfach nette Anekdoten rund um die Produktion und zitiert bekannte Sätze aus der bisherigen Serie.
the owls are not what they seem…! 🔺🔺 https://t.co/Za9ppOSLlG

— Kyle MacLachlan (@Kyle_MacLachlan) November 7, 2015
… sind auch mittlerweile viele Darsteller der Nebencharaktere, zum Beispiel Miguel Ferrer als Agent Albert Rosenfield. Auch Al Strobel hat vor kurzem wieder zugesagt. Er spielte den einarmigen Mike, ein Widerpart der bösen Hauptfigur Bob. Ursprünglich hatte sich Al Strobel von der Schauspielerei verabschiedet, aber nachdem ihn David Lynch persönlich angerufen hatte, sagte er auch wieder für Twin Peaks zu.
Neu dabei…
… sind wohl Jennifer Jason Leigh (Road to Perdition, eXistenZ, Tarantions Hateful Eight), Amanda Seyfried (Big Love, Les Misérables), Balthazar Getty (Brothers & Sisters), Robert Knepper (Star Trek TNG, Star Trek Voyager) und Peter Sarsgaard (The Killing, An Education).
Vielleicht dabei…
… ist Lara Flynn Boyle als Donna Hayward. Sie hat zwar noch nicht offiziell zugesagt, wurde aber schon am Set gesichtet. Für den Twin Peaks-Film hatte sie 1992 abgesagt und wurde von Moira Kelly ersetzt.
… ist David Duchovny als Denise Bryson: In Twin Peaks spielt David Duchovny einen Agenten, der Undercover als Frau unterwegs ist – was ihm so gut gefällt, dass er zu einer weiblichen Agentin wird. Seitdem feststeht, dass Twin Peaks zurückkehrt, arbeitet Duchovny daran, dass diese Figur wieder in die Geschichte hineingeschrieben wird, weil er unbedingt dabeisein möchte. Offen, ob das gelingt.
Nicht mehr dabei…
… ist Catherine E. Coulson als die Log-Lady: Die Darstellering, eine gute Freundin von David Lynch, ist vor einigen Tagen verstorben.

… ist Jack Nance als Pete Martell: Jack ist einer der Lieblingsschauspieler von David Lynch und taucht entsprechend in vielen Lynch-Produktionen auf, zum Beispiel in Eraserhead, Dune, Blue Velvet, Wild at Heart, Lost Highway oder im Twin Peaks-Kinofilm. Er war früher mit Catherine E. Coulson verheiratet und starb 1996.

… ist Don S. Davis als Major Briggs: Der Schauspieler verstarb 2008.

… ist Frank Silva als Killer Bob: Der Schauspieler starb bereits 1995.

… Michael Ontkean als Sheriff Harry S. Truman: Ontkean hatte nach Twin Peaks nur noch wenige Aufträge und sich dann ganz von der Schauspielerei verabscheidet. Auch die Neuaflage von Twin Peaks konnte ihn nicht mehr vor die Kamera locken.

-->