Michael hat letzte Woche nicht nur das Fernsehen, sondern auch das Wetter vorhergesagt. Ein Fuchs dieser Michael! Wenn ich für die kommende Woche so auf die Wetter-Prognose schaue, dann wird es ab Mittwoch/Donnerstag leider mit dem super Wetter vorbei sein. Aber egal wie das Wetter dann tatsächlich wird, wenn die Serie ruft, dann ruft sie – also schauen wir lieber was diese Woche so ansteht.
Montag, 14.05.2018
Die wichtigste Nachricht für lautet heute, dass ZDF Neo eine vierteilige BBC Krimiserie um 23 uhr 20 startet. Die Miniserie heißt "In The Dark". In der Hauptrolle ermittelt MyAnna Buring, als Helen Weeks, in Manchester. ZDF Neo sendet den Vierteiler heute und am 21. Mai, jeweils zwei Folgen am Stück.

Das Drama um "Brooklyn Nine-Nine" habt ihr mitbekommen? Erst abgesetzt und dann doch verlängert. Nichtsdestotrotz ist die aktuelle Staffel noch nicht beendet, S05E21 läuft heute in den USA.
Ach, und für Kira darf ich natürlich "Westworld" nicht vergessen. Diesmal sogar mit einer extra langen Episode, ganze 71 Minuten!
Dienstag, 15.05.2018
Ich sehe leider nichts, was ich erwähnen könnte. Aber wie wäre es mit "Rick and Morty"? Falls ihr wie ich noch nicht alles gesehen habt (bzw. ich habe erst letzte Woche angefangen), könnt ihr euch beruhigt weiter vorarbeiten DENN es werden in den nächsten Jahren noch ganze 70 weiter Folgen produziert.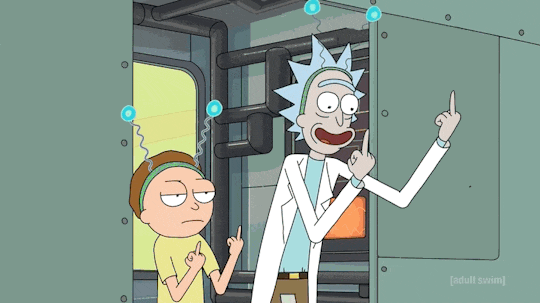 Mittwoch, 16.05.2018
Pro7 startet am Mittwoch mit der 7. Staffel "New Girl". Um 22 Uhr 10 geht es mit zwei Folgen los. Ebenfalls am Mittwoch dürft ihr euch über die inzwischen 8. Folge "Roseanne" aus der Comeback-Staffel freuen.
Donnerstag, 17.05.2018
"The Blacklist" beendet seine inzwischen 5. Staffel am kommenden Donnerstag. Vier Staffeln weiter ist da schon "Modern Family", die 9. Staffel geht zu ende.
Freitag, 18.05.2018
Knaller! Heute geht es mit "13 Reasons Why" / "Tote Mädchen lügen nicht" weiter. Netflix stellt die zweite Staffel der umstrittenen Serie online.

Außerdem wird heute jeweils das Staffelfinale von Arrow (6. Staffel) und Gotham (4. Staffel) in den USA ausgestrahlt.
Samstag, 19.05.2018
Und zwei weitere Serien feiern das Finale ihrer aktuellen Staffel: "Blindspot" Staffel 3 und "Agents of Shield Staffel" 5 gehen zu ende.
Ansonsten steht am Samstag das DFB Pokalfinale auf dem Programm – auch wenn alles außer ein Bayern-Sieg sehr unwahrscheinlich erscheint.
Sonntag, 20.05.2018
Am Sonntag könnt ihr getrost raus gehen oder liegen gebliebene Episoden nachholen, denn verpassen tut ihr heute nichts. Außer natürlich die neue Folge aus der 19. Staffel "Inspector Barnaby", 22 Uhr ZDF ;-)