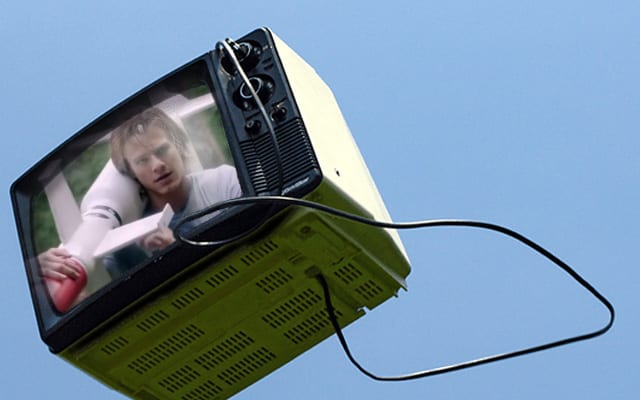 Diese Woche ist so dermaßen mit Serienstarts gehäuft, dass einem fast schwindelig werden könnte. Zur Übersicht ist aber alles fein säuberlich für euch in unserem Kalender zusammengefasst. Da findet ihr auch eine Auflistung von vergangenen Terminen, damit ihr wisst, was noch aufzuholen ist. Hier und da lohnt es sich evtl. auch, sich dem deutschen TV-Programm zu widmen. Film frei!
Montag, 19. September
Letzte Woche lief der Pilot von Minority Report auf ProSieben MAXX an. Diese Woche geht es zur gleichen Zeit (22:05) weiter. Wer sich evtl. noch überzeugen möchte, einen kurzen Eindruck gibt es direkt im Anschluss. Parallel starten in den USA diverse große Namen, u.a. Kevin James' Comeback Kevin Can Wait und die mittlerweile 10. Staffel The Big Bang Theory auf CBS, ebenso wie Gotham und Lucifer mit der jeweils 3. Staffel auf FOX.
Ein kleines Highlight gibt es für mich persönlich heute Abend auf ProSieben, wenn nämlich Ryan Tedder, Frontman von OneRepublic als Gast bei Circus Halligalli (Start um 22:10) zu sehen sein wird.
Minority Report TV Series - Official Trailer
Dienstag, 20. September
Heute läuft die Fortsetzung von Scream Queens (FOX) mit der sympathischen Emma Roberts in den Staaten an. Da wird Kollegin Kira bestimmt auch weiterhin ein Auge darauf haben und euch hierzu auf dem Laufenden halten. Im deutschen TV könnt ihr euch mit einer Doppelfolge Masters of Sex von Lizzy Caplan ab 22:30 auf ZDFneo unterhalten lassen.
Mittwoch, 21. September
Für Modern Family der Start von Staffel 8. Meine Güte, ist Lily groß geworden! Hierzulande gibt es nicht wirklich etwas, was ich mit einer persönlichen Empfehlung erwähnen könnte.

Modern Family Season 8 Promo (HD)
Donnerstag, 22. September
Pitch! Feminismus Overload + Baseball = genug gesagt. Bin nach wie vor noch etwas skeptisch, aber Pflicht ist es trotzdem.
Wer herausfinden will, wie viel Chili Evil Jarred Hasselhoff verträgt, der schaltet um 21:15 ProSieben MAXX ein, wenn eine weitere Folge Evil Science läuft.
Freitag, 23. September
MacGyver: Reloaded – bin da nicht so überzeugt von. Hat eher was von einem Snack zwischendurch mit Gehirn auf Stand-by. Mal schauen, oder auch nicht …
MacGyver | official trailer (2016) Lucas Till George Eads
Samstag, 24. September
👎
Vielleicht besteht ja hier für mich die Chance, endlich Ray Donovan nachzuholen oder langsam mit Quarry anzufangen.
Sonntag, 25. September
Wenn nicht NFL, dann evtl. Quanticos erste Folge aus Staffel 2 auf ABC?

-->