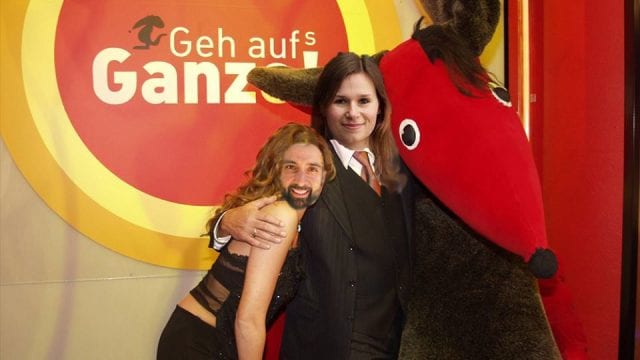 Herzlich Willkommen bei der nächsten Runde von seriesly Persönlich. Gestern habt ihr Jessie & Tobi schon ein bisschen besser kennen lernen dürfen, heute stellen sich Fabio & Kira gegenseitigen Fragen – und beantworten diese gleich beide. Kurz, knackig, sehr serienlastig, ohne viel Tamtam, aber mit viel Gefühl.
Fabio & Kira
Wenn dein Leben eine Serie wäre, dann wäre es …
Fabio: … eine Dramödie über einen Thirty-Something, der sich in der Großstadt durchschlägt.
Kira: … irgendetwas Skurriles, wo viel getanzt und sinnloses Zeug geredet wird – mit toller Musik!
Das perfekte Wochenende startet für mich …
Fabio: … mit frisch gebrühtem Kaffee, Porridge und Cartoons.
Kira: … mit einem ausgewogenen Frühstück und einer immer wieder wechselnden Serie.
In welchem Serienort würdest du gerne wohnen und warum?
Fabio: Vermutlich in Central City – Flashs Einsatzort. Die Wahrscheinlichkeit, dass man hier vom Teilchenbeschleuniger erwischt wird und Superkräfte erhält, scheint ziemlich hoch zu sein.
Kira: Ich muss einfach Stars Hollow, das Zuhause von Lorelai und Rory Gilmore, antworten – auch wenn mir die Kleinstadt mit den tratschenden Einwohnern sicherlich schnell die Nerven rauben würde. Aber sie hat ein Tanzstudio, ein Diner mit ausreichend Kaffee und einen Eisladen. Was will man mehr?
Mit welcher Serienfigur würdest du gerne etwas trinken gehen?
Fabio: Ari Gold aus Entourage. Er ist cool, lustig und hat die Hollywood-Insights.
Kira: Wenn ich irgendeinen Game of Thrones Charakter nennen würde, gäbe es nur Wein. Wenn ich eine Figur aus Gilmore Girls nähme, nur Kaffee. Ich denke, Sherlock wäre ein guter Begleiter. Ich trinke und er gibt sich seiner Deduktion hin. Spannend!
Bei einer Zombieapokalypse würde ich …
Fabio: … vermutlich als einer der Ersten den Zombies zum Opfer fallen.
Kira: … meine eigene Crew aufbauen und die Walker systematisch auslöschen. So dumm, wie in manchen Serien, kann man sich im Kampf gegen Untote gar nicht anstellen. Denke ich. Muss man aber jetzt auch nicht drauf ankommen lassen.
Und so grundsätzlich … Zombies oder Vampire?
Fabio: Vampire sind schon cooler.
Kira: Tja, bei Vampiren denkt man ja sofort an glitzernde Weißhäuter, bei Zombies an die dreckigen Hautfetzen aus The Walking Dead. Vielleicht könnte man diese beiden Arten Untoter ja mal kreuzen und damit was Ultracooles schaffen.
Es sollte unbedingt noch eine Serie zum Thema … geben.
Fabio: "Bodybuilding" – Ich finde diese Menschen, die ihr ganzes Leben diszipliniert danach ausrichten, ihren Körper übermenschlich zu verformen, interessant … Einerseits tragische Beleuchtung einer Außenseiter-Gruppe, anderseits lassen sich auch ein paar Lacher unterbringen.
Kira: "Angst" – Und zwar eine richtig gute Horrorserie. Keine eklige, skurrile, wie American Horror Story. Keine parodistische wie Scream (auch wenn ich die Filme sehr mag und die Serie auch nicht schlecht ist). Es fehlt noch eine moderne, technisch und inhaltlich kluge Serie, die zum Gruseln ist. Oder ich hab sie halt noch nicht gefunden.
Auf jeden Fall sehen sollte man …
Fabio: Vermutlich Sherlock. Da sind sich alle einig. Die ist großartig. Alles andere ist Geschmackssache.
Kira: Breaking Bad. Eine der geschicktesten, durchdachtesten, klügsten Serien, die es je gab. Und man kann sie jedes Mal auf's Neue erleben. Allein sich auf das Farbschema zu konzentrieren und Muster und Motive zu suchen und zu finden würde schon einen großen Teil des Lebens füllen. Und der Teil wäre ziemlich gut.
Die beste Serie aller Zeiten ist für mich …
Fabio: Entourage, aber vielleicht auch nur, weil sie zu einem Zeitpunkt in mein Leben trat, als das Thema Hollywood sehr präsent war – nämlich auf dem Rückflug von L.A. nach Frankfurt. Danach musste ich alle Staffeln sehen.
Kira: Breaking Bad. Immer noch. Und noch lange.
Zig Folgen hintereinander wegbingen oder lieber gemächlich mal hier und da eine Folge schauen – was ist deine Sehgewohnheit?
Fabio: Lieber Häppchenweise, dann hat man länger was von den Figuren und trägt sie ein Stück mit sich.
Kira: Kommt ganz drauf an. Manche Serien sind zum Wegbingen gemacht, andere sollte man sich schön langsam auf der Zunge zergehen lassen. Eigentlich mag ich Entwicklung und Spannung lieber als leichte Kost – daher würde ich die langsame Rezeption bevorzugen.
Eine Serie ist dann gut, wenn …
Fabio: … die Charaktere so ausgearbeitet sind, dass man mit ihnen mitfiebert und sich um ihr Wohlergehen sorgt. Aber es gibt auch Zutaten die bei mir immer wieder funktionieren: z.B. Coming-of-Age Geschichten, am besten in den 80ern.
Kira: … sie mich auch über das Sehvergnügen hinaus noch begleitet, sie mich beschäftigt, zum Nachdenken anregt, grübeln lässt, dazu bringt, Theorien zu entwickeln. Wenn sie es schafft, Emotionen hervorzurufen und man sich fragt, was eigentlich los ist. Und das "nur" wegen einer genialen Serie. Hach! Ein Traum.