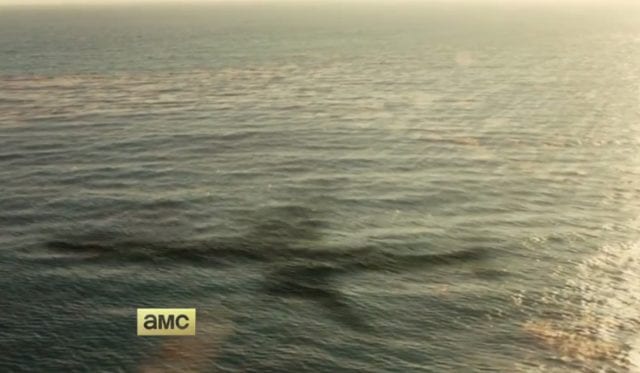 AMC hat einen ersten Teaser zur 2. Staffel von Fear the Walking Dead veröffentlicht. Am 11. April, direkt nach dem Ende der aktuellen Staffel von The Walking Dead, wird das Spin-Off zur Erfolgsserie fortgesetzt. In Deutschland dürfte die Zombieserie dann wieder bei Amazon Instant Video zu sehen sein. Die neue Staffel wird aus 15 Episoden bestehen.
Der Teaser zeigt vor allem einige Szenen aus dem Finale der ersten Staffel, ganz am Ende sehen wir einen Schatten eines Passagierflugzeugs, das über das Meer schwebt, an dem die Protagonisten der Serie gestrandet sind. Das dürfte eine Verbindung zur parallelen Webserie Flight 462 sein: Hier bricht die Seuche im Flugzeug aus – mit dramatischen Folgen für die Passagiere. Bekanntlich soll einer der Charaktere aus der Webserie zum Cast der zweiten Staffel von Fear the Walking Dead dazustoßen. Als Neuzugang fest steht bereits Dougray Scott – welche Rolle er übernehmen wird, ist allerdings noch unklar.
Die zweite Staffel wird vermutlich hauptsächlich zunächst erst einmal auf dem Meer spielen. Am Ende der ersten Staffel hatte Strand angekündigt, mit Abigail – seinem Schiff – loszuziehen. Entsprechend fanden die Dreharbeiten in den Baja Studios in Mexiko statt – einem bekannten Filmset für See- und Ozeanaufnahmen, wie Showrunner Dave Erickson erklärt:
We are thrilled to be starting production and even more thrilled to be shooting in Mexico. Baja Studios has been home to some of the greatest ocean-set films in recent years and provides all the creative resources we need to begin this new chapter in the 'Fear' saga. We couldn't be happier.
Fear the Walking Dead: AMC Global Season 2 Teaser

-->