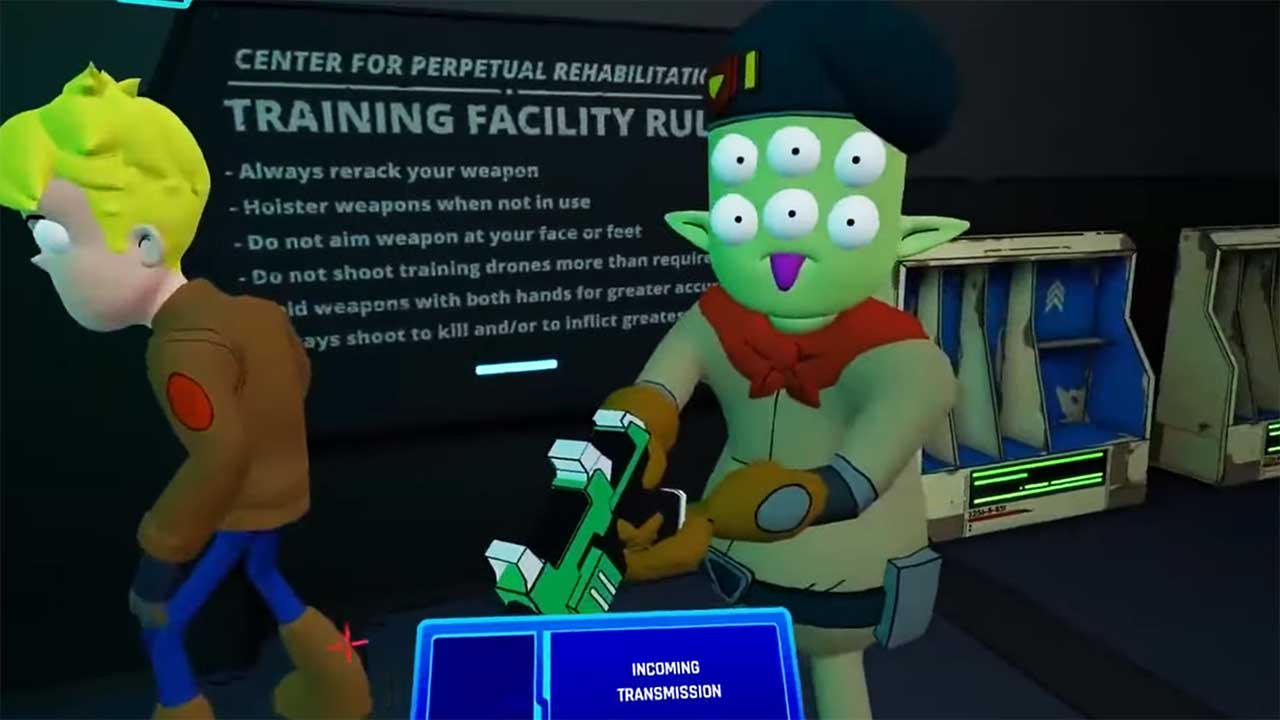 "Final Space" ist vorbei, aber wenn auch viele Fans weltweit sich einen inhaltlichen Abschluss der Serie mit einer weiteren Staffel oder einem Film wünschen würde, geht es zumindest spielerisch weiter. UploadVR hat diesen offiziellen kurzen Trailer zu "Final Space – The Rescue" veröffentlicht, einem kooperativen Virtual-Reality-Abenteuer.
"A new Final Space VR game hits Quest this week with PSVR and SteamVR to come!"
Serien-Schöpfer Olan Rogers hat angegeben, dass es sich bei "Final Space – The Rescue" nicht einfach nur um einen Shooter handelt, sondern schon eine gewisse Story hinter dem Vier-Spieler-Spaß stecken soll. Schön finde ich, dass wir neben den Figuren von Gary Goodspeed, Avocato, Nightfall und Tribore auch deren Stimmen zu sehen bzw. hören bekommen. Einzig über die Grafik sowie fehlende Lippenbewegungen lässt sich streiten, aber dass wir hier keinen AAA-Titel mit Multimillionen-Dollar-Budget vorgesetzt bekämen, dürfte klar sein.
Grab Games hat das Videospiel "Final Space – The Rescue" entwickelt, das bereits seit einigen Tagen über Meta Quest für Ocolus Rift verfügbar ist (Kaufpreis: 14,99 Euro). Eine baldige Veröffentlichung auf PSVR (PlayStation) und SteamVR wurde bereits angekündigt.
"The Final Space universe has expanded to VR! Join Gary, Avocato, Nightfall, and Tribore as they embark on a brand new journey to rescue their dear friend from the clutches of a new, but familiar, threat. Take on this shooter adventure solo or online with up to 3 friends! Use your arsenal of weapons to reign supreme and show the galaxy who's boss."
Ich finde die Idee nicht schlecht, eine Seriengeschichte über einen Transfer ins Videospiel-Universum weiter zu erzählen oder zumindest anzureichern. Gerade bei animierten Produktionen kann es durchaus Sinn machen, die Figuren von der einen Computer-generierten Welt in die andere zu transportieren. Ob VR da jetzt der wahrhaftige Weg ist, sei mal dahingestellt.

-->