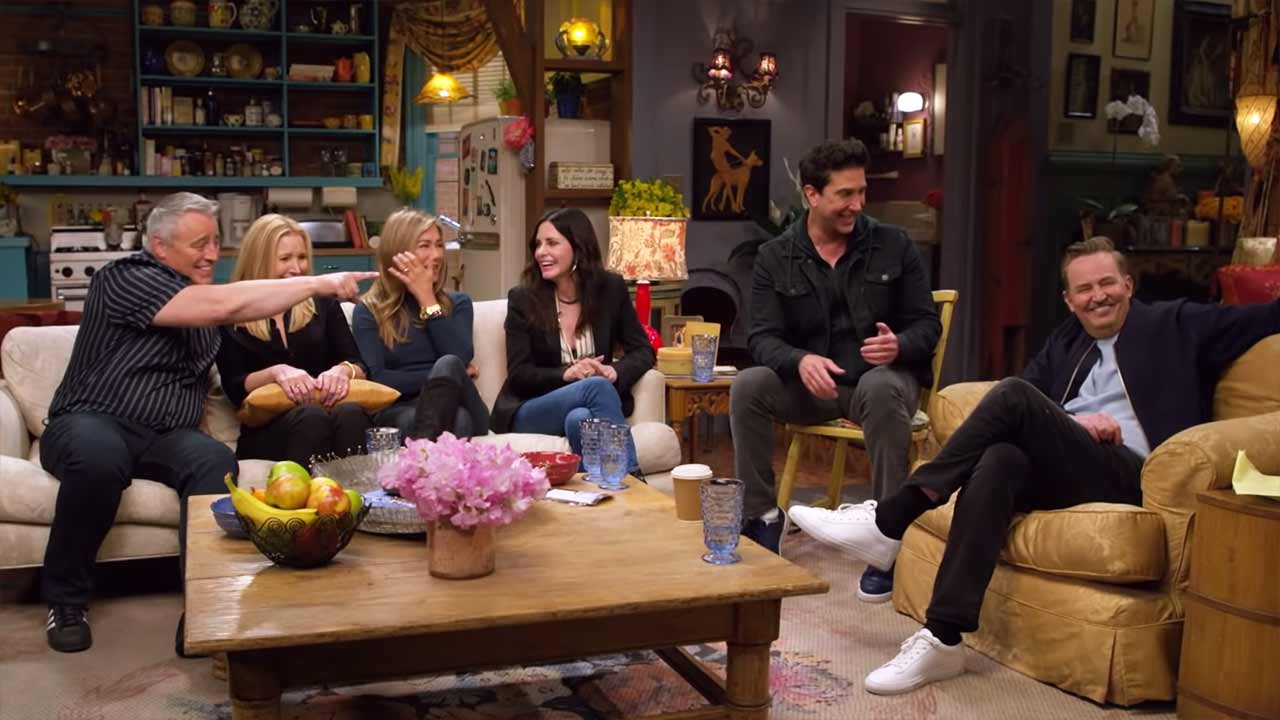 Der kurze Teaser vergangene Woche hat ein bisschen die Gemütslage zurechtgerückt, bis auf ein paar bekannt vorkommene Rückenpartien hat er jedoch wenig bis nichts inhaltlich gezeigt, was das Reunion-Special von "Friends" anbelangt. Doch jetzt hat HBO Max dem Streaming-Event satte zwei Minuten gewidmet, die uns Einblicke in das zeigen, was da folgt. Anscheinend werden nicht nur wir Zuschauer:innen sentimental, auch der Cast wird in eine frühere Zeit zurückgeworfen. Denn wir David Schwimmer, Jennifer Aniston, Courteney Cox, Matthew Perry, Lisa Kudrow und Matt LeBlanc mit "awww!"- und "ooh!"-Momenten direkt in Erinnerungen zu schwelgen scheinen, ist schon goldig anzuschauen.
"Our favorite friends are back on the set that started it all. Jennifer Aniston, Courteney Cox, Lisa Kudrow, Matt LeBlanc, Matthew Perry, David Schwimmer, and special guests reunite to discuss everything from their casting process to whether or not Ross and Rachel were really on a break. Witness the unbreakable bond of the group that perfectly captured the moment in life when your friends become your family."
Ich freue mich auf das "Friends"-Nerd-Quiz, das der Cast da miteinander zu machen scheint! Ideal zum Mitraten für alle Fans da draußen.
"Friends: The Reunion" wird ab Donnerstag, dem 27. Mai 2021, in den USA über den Streaming-Anbieter HBO Max verfügbar sein. Noch ist leider nicht bekannt, wann und wo das Special in Deutschland zu sehen sein wird. Durch den HBO-Deal könnte Sky hier groß auffahren, allerdings hätte man diesbezüglich zumindest bei einer zeitnahen Verwertung zum Original-Termin bereits kräftig die Werbetrommel gerührt, nehme ich an. Warten wir es mal ab, vielleicht schlägt ja auch einer der großen Streaming-Anbieter zu, was die europäischen Rechte anbelangt. Oder HBO Max nutzt dieses Bonbon, um einen irgendwann mal stattfindenden Europa-Launch zu befeuern. Bis dahin könnt ihr die zehn Staffeln der Serie auf Netflix anschauen.
UPDATE: Sky hat bestätigt, dass das Special ab 27. Mai in der Originalfassung auf Sky Ticket und über Sky Q auf Abruf zu sehen sein und am 29. Mai um 20:15 Uhr auf Sky One laufen wird.