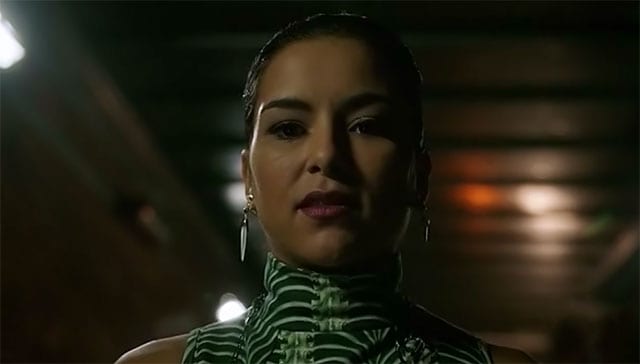 Urlaubsbedingt komme ich erst etwas verspätet zur Kritik des Staffelfinales von From Dusk Till Dawn. Aber ganz ehrlich: Ganz so dringend ist das eh nicht. Aber genug der bedeutungsschwangeren Einleitung, halten wir es einfach und simpel in guter alter B-Movie-Manier. Und deren Logik. Denn wie viel Platz Peacekeeper Gonzalez in seinem Grab hat – nunja…
"The world won't be upside down – it will be gone." (weiblicher Lord)
Die Szene um Kate war leider auch recht lächerlich. Die Bösen schauen dabei zu wie die Guten sich beraten, klar doch. Und ganz plötzlich und super passend für die Situation hat Richie die Macht des Handauges erlernt.
"Wanna see the blood go 'boom'?" (Richie)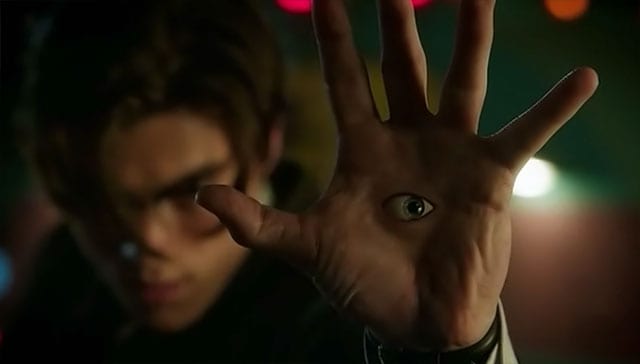 Wenigstens ist Kate komplett weg. Zu diesem Zeitpunkt. Das finden vermutlich alle Zuschauer gut, aber irgendwie hängen einige Figuren dann doch erstaunlich stark an ihr…
"She was my sister, asshole!" – "You were adopted." (Scott & Carlos)
Das Geplänkel draußen ist aber eigentlich nichtig, wichtiger ist Drinnen. Das "Jackknife Jed" versucht das Finale im Titty Twister zu überbieten, läuft ihm aber hinterher wie ein Zwölfjähriger dem Eiswagen. Immerhin war die Musik ganz gut…
"Oh, look at you, brother – snake-charming as a boss!" (Seth)
Santanico soll so "toll mit Worten" sein, fängt aber direkt wieder mit billig wirkenden "Kämpfchen" an. Das wirkt weder gefährlich noch übermächtig sondern eher lächerlich. Ebenso wie der achso geniale Plan der Geckos: Billige und offensichtliche Ablenkung, den wenig versteckten Truck aus Versehen finden und in wenig ausgeklügelter Manier stehlen. Komplex oder gar genial ist anders. Fasst so durchdacht wie Scotts dämliches Einpark-Manöver.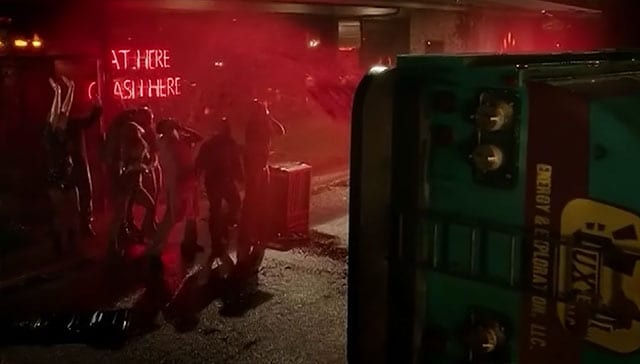 Und die Schlangen?! "Kommt, wir lassen uns etwas vom geilsten Blut der Welt für umme berieseln um dann ein bisschen Billigware innen drin zu ersrbeiten"?! Nene… Aber okay, der "7,50$!"-Moment hat mich dann doch zum Schmunzeln gebracht…
"Wait – my baby!" – "Leave that thing, I'll buy you another one." (Opfer)
Und dann wäre da noch die blutige Brücke zur nächsten Staffel, die geschlagen wird. Kate erhält eine Transfusion und alle hassen die Serie dafür. Außer vielleicht Scott…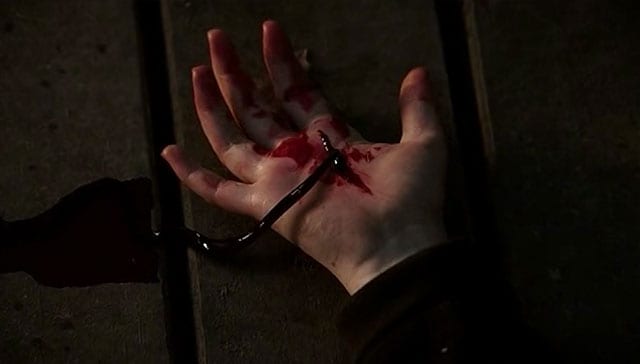 Das war das dürftige Finale einer mittelprächtigen Staffel. Schade, aber das war nichts. Nie kam das Epische Durcheinander auf, dass die erste Staffel oder vor allem der Film damals am Ende geschafft hat. Nie konnte der augenzwinkernde B-Movie-Witz aufkommen, immer wirkte es künstlich eingeworfen. Viel zu viel ist viel zu simpel passiert, das wirkte wenig authentisch. Ganz davon abgesehen, dass es einfach nicht vollends unterhalten konnte. Und hatte ich bereits gesagt, dass ich Kate nicht mag?!?!
Die dritte Staffel werde ich mir vermutlich reviewseitig schenken. Aber bis dahin ist ja zum Glück noch eine ganze Weile. Ich bin gerade nicht traurig darum, dass die Staffel vorbei ist.
So war die Staffel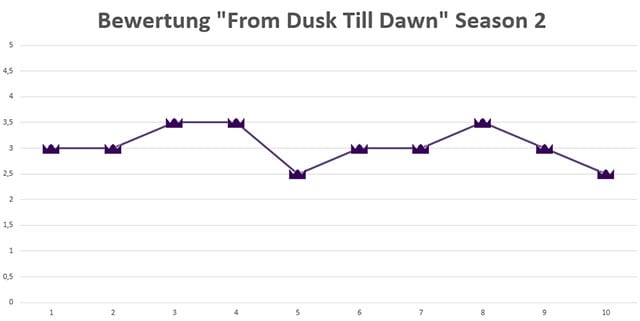 Das war tatsächlich fast durchgängig nichts. Manche Folgen haben hoffen lassen, dass das durchaus gegebene Potenzial doch noch ausgeschöpft wird. Gerade einige Charaktere hatten durchaus ihren Charme, sind dann aber viel zu schnell und einfach abgekappt worden. Dazu hat mir die Dynamik der Zusammenführung sämtlicher Parteien nicht gefallen. Erst zu lange utopisch weit entfernt, dann zu schnell alle wieder beisammen.
Leider konnte so nicht wirklich die Komplexität erreicht werden, die man scheinbar vorhatte. Am Ende bleibt es eher eine mäßige Weiterentwicklung der Filmvorlage. Vielleicht ist eben doch weniger mehr…
So könnte es weiter gehen
So richtig schwer ist es nicht, vorherzuraten, was da nächstes Jahr passieren mag. Carlos' Trulla wird "die besten Männer" beim Verteilen von Carlos' Resten verfolgen und ein bisschen Schlangen-Puzzle spielen. Der böse Carlos kommt stärker denn je zurück und ist die große Gefahr gegen Mitte einer Staffel, zu deren Beginn die Geckos so ihre Probleme mit dem neuen Betrieb haben. Und Kate wird nerven. Big time!

Bilder: El Rey

-->