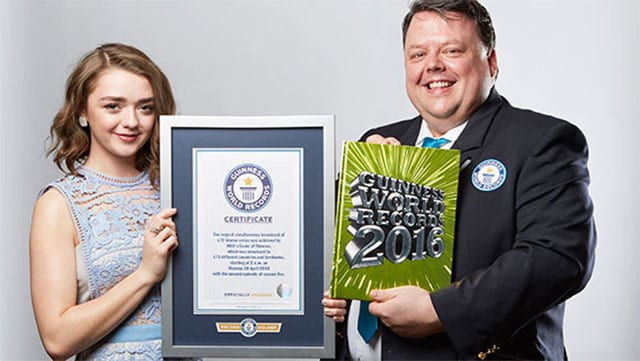 Nein, es sind nicht die meisten Tode in einer Serie, der größte Produktionsaufwand, die meisten GB an CGI-Daten oder die größte Anzahl an Darstellern und Statisten. HBO hat einen Weltrekord im gleichzeitigen Vertrieb einer Serie in die Welt aufgestellt. Episode Zwei aus der vergangenen fünften Staffel der Serie wurde in insgesamt 173 Länder ausgestrahlt – Rekord! Erst wenige Wochen zuvor hatte "CSI: Cyber" den Rekord auf 171 Länder geschraubt. Entgegen genommen hat die Auszeichnung Darstellerin Maise Williams.
"I'm so pleased for Game of Thrones to be a part of Guinness World Records, I'm going to tell my step brother as he gets the book every year for Christmas. I can't wait to see the look on his face!" (Maise Williams)
Mehr zum Rekord gibt es auf der Website von Guiness World Record zu sehen. Die 2016er Ausgabe mit dem Game of Thrones-Rekord wird am 10. September bei uns erscheinen
(Partnerlink).
via: serienjunkies | Foto: Guiness World Records