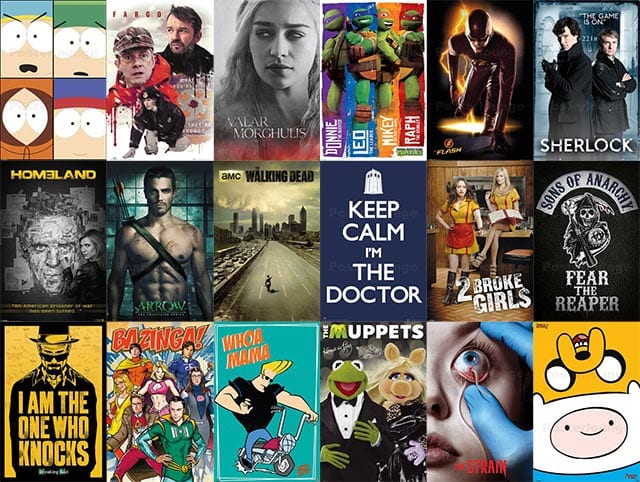 Die Kollegen von Posterlounge.de haben uns freundlicher Weise zehn Poster für euch überlassen. Der Clou: ihr könnt frei aus dem riesigen Sortiment auswählen und bekommt euer Lieblingsmotiv gratis nach Hause geschickt. Ist das was?!
Das ist Posterlounge.de
Seit 2003 vertreibt Posterlounge online nicht nur Poster. Mittlerweile können auch hochwertige Alternativen wie Leinwanddruck, Forex oder Alu Dibond geordert werden. Neben Motiven der klassischen und modernen Kunst sind auch allerlei Popkultur-Inhalte in der digitalen Galerie zu finden. So natürlich auch TV-Serien.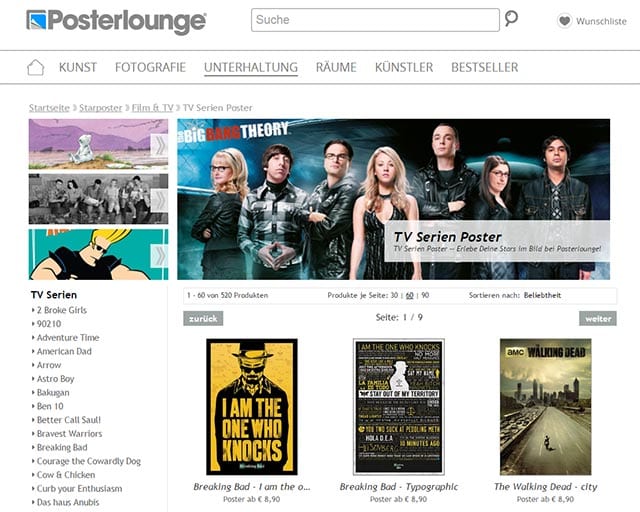 "Damit die TV Serie unserer Wahl auch immer präsent ist, wenn der Fernseher mal ausgeschaltet ist, tapezieren wir unsere Wände gern mit unseren Serien Stars und Schauspielern als Poster."
Die Auswahl ist tatsächlich recht gut im Serien-Bereich. 520 Motive zu 97 Serien, von Kinderserien über Comedy bis hin zu HBO-Drama – da sollte für jeden etwas dabei sein. Sehr positiv: Sogar relativ neue Titel wie Better Call Saul, Gotham oder The Strain sind bereits mit ersten Motiven vorhanden. Natürlich sind aber auch die großen Vertreter dabei: Game of Thrones, The Walking Dead, The Simpsons, Breaking Bad. Entsprechend der Popularität auch mit einer höheren Motiv-Anzahl je Serie.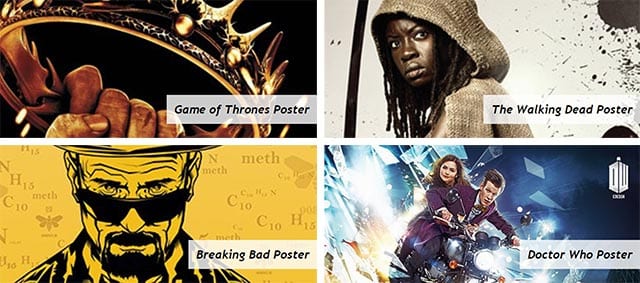 10x Serienposter frei Haus!
Wie eingangs erwähnt verlosen wir unter euch zehn Wunschposter zu eurer Lieblingsserie (im Format 61 x 91,5 Zentimeter). Um bei der Aktion mitzumachen müsst ihr einfach nur in die Kommentare schreiben, welches Motiv ihr gerne haben möchtet (Motivname / Serienname oder auch direkt Link zum Motiv). Unter allen Einsendungen bis einschließlich 03.03.2015 wird dann ausgelost, wer gewinnt.

UPDATE: Die Gewinner wurden benachrichtigt.

Viel Glück!

Mit freundlicher Unterstützung von Posterlounge.de

-->