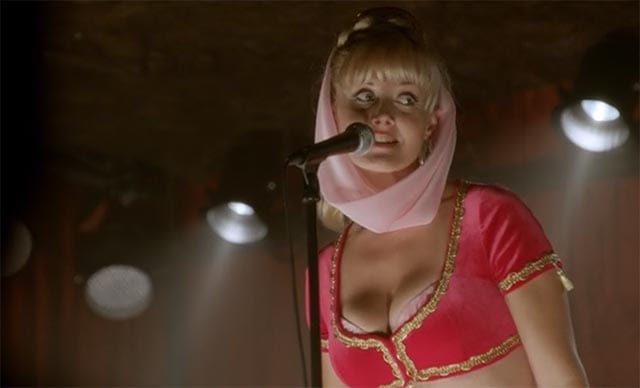 Diese Woche gibt es einen Zombie bei iZombie zu sehen. Ja, schon klar, den gibt es ja eigentlich immer, ist doch Liv, die zentrale Protagonistin der Serie, einer. Doch sie ist noch so angenehm menschlich, kann sprechen und schaut auch noch recht ansehnlich aus. Es geht hier eher um einen kuriosen Fund.
"What if this place turned him into a mutant and he's got hermit crab hands?" – "Then I'm about to have 3 million instagram followers!" (Teenager)
Ein Zombie, der etwas mehr der konservativen Verwesungs-Stöhngeräusche-Kategorie angehört. Wieso Marcy jedoch bei dem Social Media-Bild so kacke aussieht?! Die Kids hätten sie doch gefahrlos in HD aufnehmen und damit an die Presse gehen können. Unrealistisch. Okay, wir sprechen hier von Zombies und Realismus – ihr wisst schon.
Diese Woche auf der Speisekarte: frisches Schuldeintreiber-Gehirn mit einer gehörigen Prise Waffenverständnis, die Emotions-Beilage ist leider aus.
"His brain is gonna suck." (Liv)
Ein recht grautöniger Fall um Wettschulden, Bullen und Hitmen. Auch wenn der Müllmann-Move vorhersehbar war, war die Taktik am Ende doch ganz nett ausgespielt. Dabei bleibt es aber leider diese Woche.
Der ganz große Witz der ersten Folgen war leider nicht dabei. Immer noch recht unterhaltsam und teils gut in den Dialogen ausgeschrieben, aber mit etwas zu viel "lockerer Krimi-Fall der Woche ohne viele Wendungen". Das Auffinden eines "echten" Zombies ist zwar in puncto übergeordneter Handlung relevant (vor allem, wieso sie so geworden ist und ob Liv es auch könnte?), aber mehr auch nicht. Positiv: Ich mag den Power-Suit der Schwester.