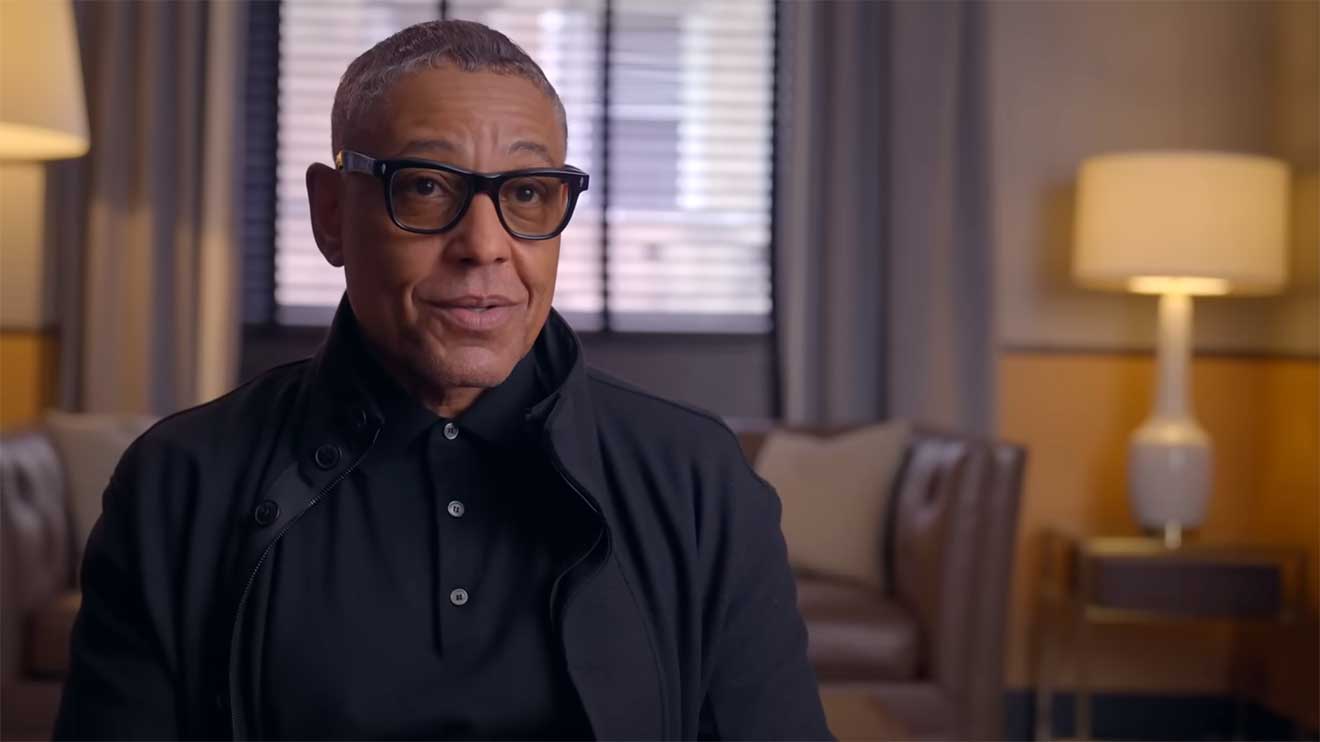 Während des Hurrikans Sandy wurden in Downtown Manhattan Anleihen im Wert von 70 Milliarden Dollar gestohlen. Das ist eine wahre Geschichte. Die Serie "Kaleidoskop" (englische Original-Schreibweise: "Kaleidoscope") macht daraus kurzerhand sieben Milliarden Dollar, weil Inflation und so. Viel spannender als das eigentliche Crime-Setting ist aber der Aufbau der von Eric Garcia als Showrunner, Executive Producer und Drehbuchautor konzipierten Produktion: die Episoden der Miniserie haben nämlich keine Reihenfolge!
Dem Arbeitstitel der Serie folgend, die ursprünglich "Jigsaw", also Puzzle, benannt war, sollen die Folgen als einzelne Puzzleteile stehen, die man in jeder beliebigen Reihenfolge anschauen kann. Die Episoden sind lediglich als Farben gekennzeichnet und bieten unterschiedliche zeitliche Kapitel aus einen Zeitraum von 24 Jahren vor dem Raub und 6 Monaten danach. Spannendes Konzept. Und dann sind auch noch Giancarlo Esposito als Hauptdarsteller und niemand Geringeres als Ridley Scott als Co-Executive Producer mit dabei! Klingt vielversprechend – hier das offizielle Featurette zu "Kaleidoskop", das das Konzept erklärt und die Geschichte anteasert:
"Get your first look at KALEIDOSCOPE, starring Giancarlo Esposito, Paz Vega and Tati Gabrielle. The new heist series is told through a unique streaming experience, where viewers will enter the crime at different moments in time."
Ich bin gespannt, wie man das technisch lösen wird. Werden wir alle eine zufällige Anordnung der Episoden auf der Plattform zu sehen bekommen, so dass auch stets randomisiert die nächste Folge von Netflix abgespielt wird, oder sind da einfach Farben statt Nummern angegeben, die aber für uns alle identisch sortiert sind, so dass letztlich eh viele die gleiche Reihenfolge wählen werden?
Neben Esposito werden unter anderem Paz Vega ("Cuna de Lobos"), Rosaline Elbay ("Qabeel"), Niousha Noor ("Here and Now"), John Hans Tester ("The Man in the High Castle"), Hemky Madera ("Queen of the South") sowie Max Casella ("Tulsa King") Teil des Casts von "Kaleidoskop" sein.
Hier noch ein bisschen was zur eigentlichen Geschichte aus dem offiziellen Pressetext zur Serie:
"Kaleidoskop ist eine Anthologieserie, die eine Gruppe meisterhafter Diebe über 25 Jahre lang bei ihrem Versuch begleitet, einen scheinbar diebstahlsicheren Tresor zu knacken, um den größten Gewinn der Geschichte zu erzielen. Bewacht vom mächtigsten Sicherheitsteam der Welt und mit den Strafverfolgungsbehörden im Nacken, enthüllt jede Folge einen Teil des ausgeklügelten Plans zwischen Korruption, Gier, Rache, Intrigen, Loyalität und Verrat. Wie hat die Diebesbande das geplant? Wer kommt ungeschoren davon? Wem kann man trauen?"
Alle acht Folgen von "Kaleidoskop" werden ab 1. Januar 2023 auf Netflix veröffentlicht. Das könnte also ideale Neujahrs-Unterhaltung werden! Hier schon einmal der Direktlink zur Streamingseite, wo ihr euch das Format auf die digitale Watchlist setzen könnt.

-->