Das Marvel Cinematic Universe (MCU) nähert sich dem Finale von Phase 4. Am 18. August 2022 startet mit "She-Hulk" die letzte Serie von Phase 4, im November können wir dann mit "Black Panther 2: Wakanda Forever" den letzten Film von Phase 4 erwarten. Damit ist das MCU natürlich noch nicht am Ende: Phase 5 ist bereits angekündigt und enthält viele spannende Serien- und Filmprojekte. In diesem Beitrag haben wir einen Ausblick auf die nächste Phase zusammengestellt.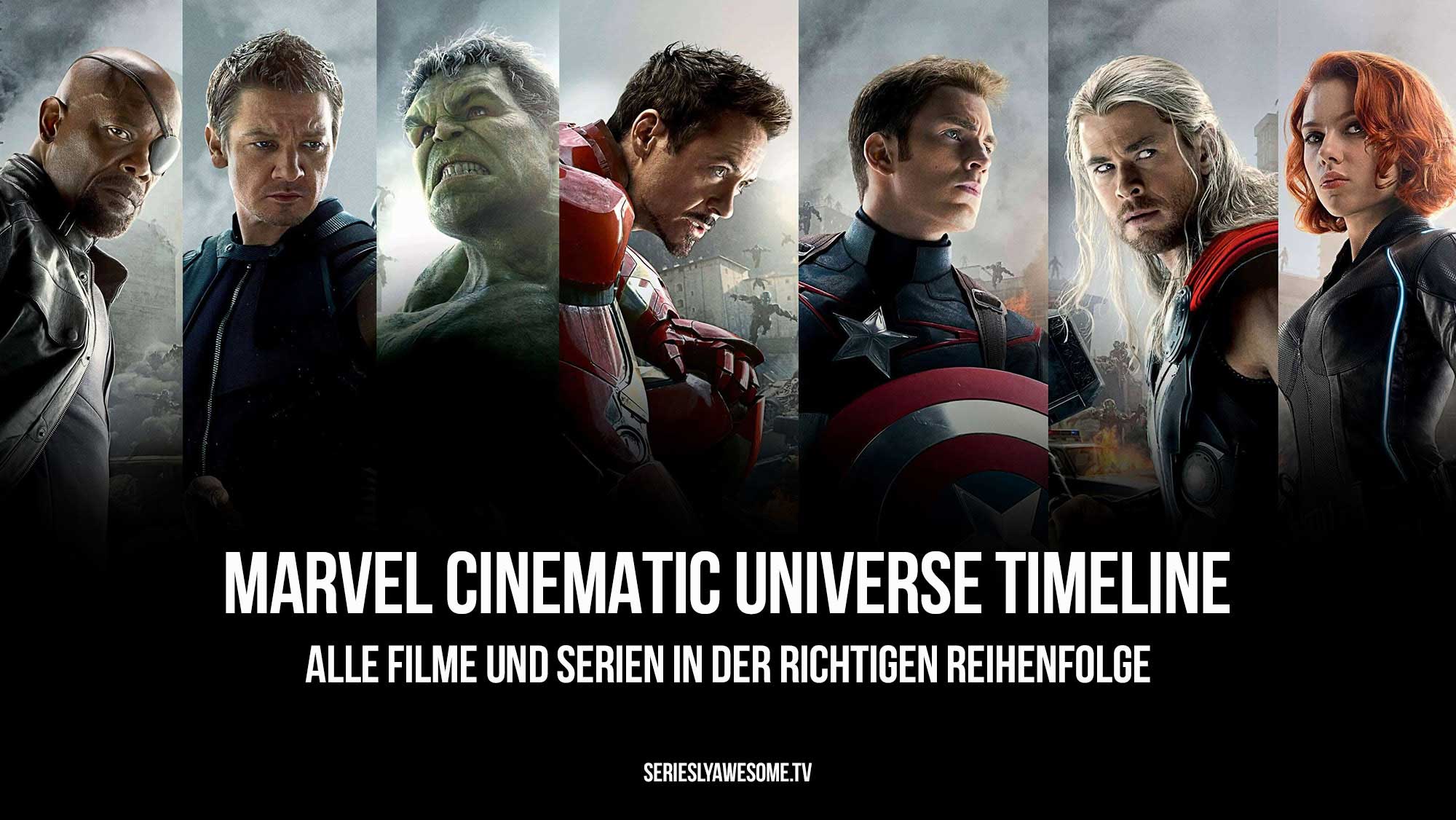 Bis es mit Phase 5 soweit ist, gibt's in den letzten Monaten des Jahres 2022 nochmal eine gute Gelegenheit, Filme und Serien nachzuholen oder – falls es noch jemanden geben sollte – erstmals zu starten. In welcher Reihenfolge macht man das am besten? Da gibt es natürlich mehrere Ansätze und sicher nicht DIE eine Lösung. Wir haben ja nun seit rund 7 Jahren eine Seite hier im Blog zu unserer Sichtweise auf die passende Timeline im Marvel-Universum. Nicht jeder ist damit einverstanden, wie die Kommentare unter dem Beitrag zeigen – hier kommt Ihr direkt zum Beitrag.
Man kann natürlich einfach chronologisch nach Erscheinungsdatum durchgehen, oder so schauen, dass die Inhalte passend zueinander stehen. Oder man schaut so, wie es zu der Zeit in den Filmen und Serien passt. je nach Ansatz kann man dann zum Beispiel "Captain Marvel" ganz früh schauen oder auch sehr viel später – dann spielen auch die Credit Scenes eine Rolle.
Marvel Timeline: In dieser Reihenfolge kann man die Filme und Serien von Phase 4 schauen
Da Phase 4 jetzt zu Ende geht, habe ich diese Phase entsprechend noch einmal angesehen und sortiert. Nach dem großen Gamechanger "Avengers: Endgame" würde ich zum Beispiel mit "Eternals" starten, der ja erst später rauskam, der aber nochmal kurz auf "Endgame" referenziert und sonst außerhalb jeder weiteren Story im MCU spielt. Er kann also auch an jeder anderen beliebigen Stelle in der Timeline von Phase 4 stehen. Danach habe ich das Ende von "Agents of S.H.I.E.L.D." gestellt, wobei man die sicherlich auch vor "Endgame" schauen könnte. Schließlich hat sich die Serie irgendwann in gewisser Weise von der MCU Timeline gelöst. Dann würde ich mit "What If…?" starten, weil hier sehr viele Fährten für die weiteren Verläufe in Phase 4 gelegt werden.
Die nächsten Serien und Filme ergeben sich für mich aus den Inhalten, die an einigen Stellen aufeinander aufbauen. Gerade alles zu den ersten Disney+-Serien im Zusammenhang mit "Black Widow" habe ich in diesem Beitrag platziert. "Wandavision" sollte zum Beispiel definitiv vor "Doctor Strange 2" gesehen werden, auch die "Spider-Man"-Filme sehe ich vor Strange. "Ms. Marvel" würde ich im Umfeld von "Shang-Chi and the Legend of the ten Rings" sehen, wobei man "Ms. Marvel" sogar einigermaßen gefahrlos aus Spoilersicht nach "Captain Marvel" schauen könnte. Weiter geht's dann mit "Ich bin Groot", vor kurzem bei Disney+ gestartet, und der neuesten Serie "She-Hulk". Hier kommt die komplette Timeline aus unserer Sicht.

HIER kann man sich die hochauflösende Version der Timeline herunterladen.

Wer möchte, kann übrigens auch der Einteilung von Disney folgen: Bei Disney+ hat der Micky-Maus-Konzern alle Titel aus dem MCU selbst in die Phasen eingeteilt – mehr dazu gibt es hier. Disney bietet außerdem einen Streifzug durch die vier Phasen an.

-->