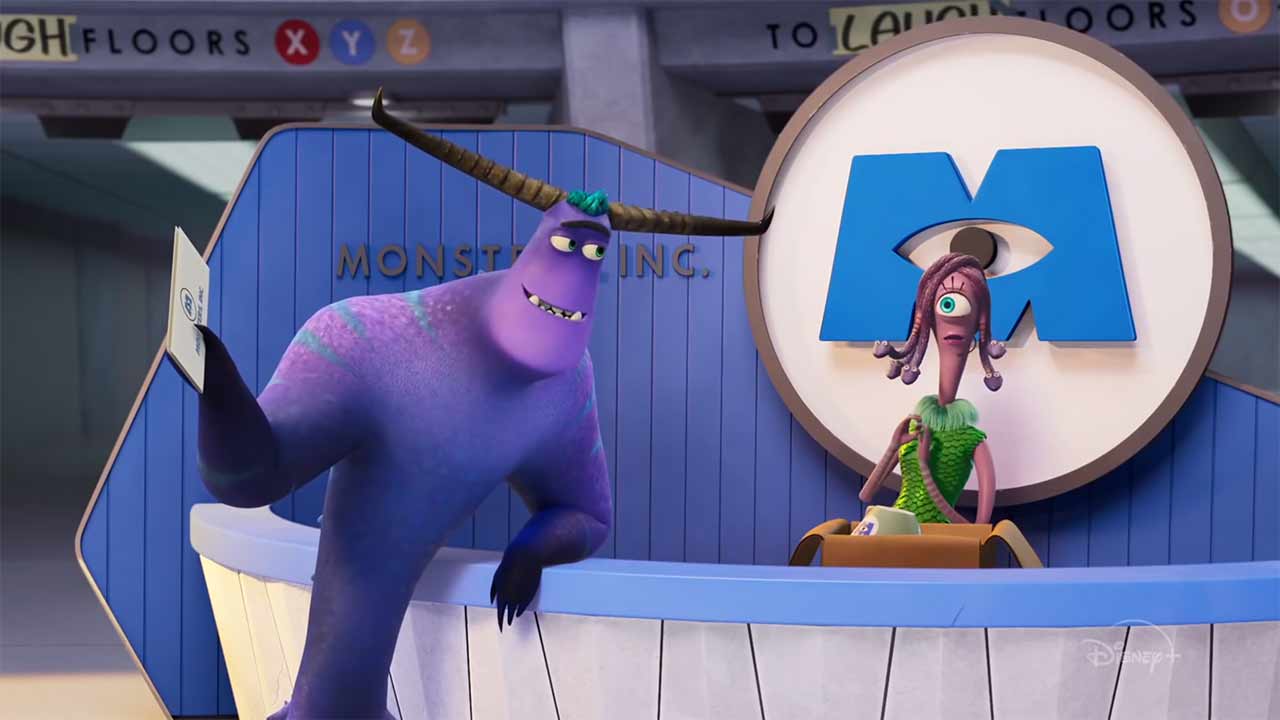 Wir hatten hier bereits von der auf dem Film "Monster AG" basierenden neuen Disney-Serie "Monsters At Work" berichtet und einen ersten Sneak-Peek-Clip für euch. Jetzt hat Disney einen ersten offiziellen Trailer zur Serien-Adaption der Kult-Animation aus dem Hause Pixar veröffentlicht. Und wieder offline genommen. Zumindest auf dem eigenen, offiziellen YouTube-Kanal. Andernorts ist er noch verfügbar, mal schauen, ob das so bleibt, oder ob da jemand etwas zu früh auf die "Veröffentlichen"-Taste gekommen ist… (UPDATE: Mittlerweile ist er wieder offiziell online) Aber bis dahin erfreuen wir uns einfach mal an den rund anderthalb Minuten Ausblick auf das, was uns da in ein paar Wochen mit Sicherheit zu unterhalten wissen wird!
"'Monsters At Work' takes place the day after the Monsters, Incorporated power plant started harvesting the laughter of children to fuel the city of Monstropolis, thanks to Mike and Sulley's discovery that laughter generates ten times more energy than screams. It follows the story of Tylor Tuskmon, an eager young monster who graduated top of his class at Monsters University and always dreamed of becoming a Scarer, until he lands a job at Monsters, Incorporated and discovers that scaring is out and laughter is in."
UPDATE: Hier auch noch die deutsch synchronisierte Version des Trailer zur hierzulande als "Monster bei der Arbeit" veröffentlichten Serie.
"'Monster bei der Arbeit' spielt am Tag, nachdem das Kraftwerk von Monsters, Incorporated begonnen hat, das Lachen von Kindern zu speichern, um die Stadt Monstropolis mit Energie zu versorgen – dank Mike und Sulleys Entdeckung, dass Lachen zehnmal mehr Energie erzeugt als Schreien. Es folgt die Geschichte von Tylor Tuskmon, einem eifrigen jungen Monster, der als Klassenbester an der Monsters University abschloss und nun von einer Karriere als professioneller Schrecker träumt. Doch an seinem ersten Tag in der Monster AG muss er feststellen, dass Schrecker jetzt out und stattdessen Scherzer gefragt sind. Nachdem Tylor vorübergehend in das Monster AG Facility Team versetzt wird, muss er mit einer Gruppe von unangepassten Mechanikern zusammenarbeiten, während er sich das Ziel setzt, ein Scherzer zu werden."
Das schaut doch schon ganz vielversprechend aus, oder was meint ihr? Anscheinend setzt man auf neue Figuren, die frischen Wind in das Lach-Business bringen, schafft aber auch, den Grundbezug zum Film zu schaffen, indem einige bekannte Charaktere vorkommen. Noch bleibt natürlich fraglich, wie gut diese Kombination funktionieren wird, vor allem auf die Dauer einer oder gar mehrerer Staffeln gezogen.

Die erste Staffel von "Monsters At Work" wird ab Freitag, dem 2. Juli 2021, über Disney+ zu sehen sein, wobei jede Woche eine neue der insgesamt zehn Episoden veröffentlicht wird.

-->