Die Musik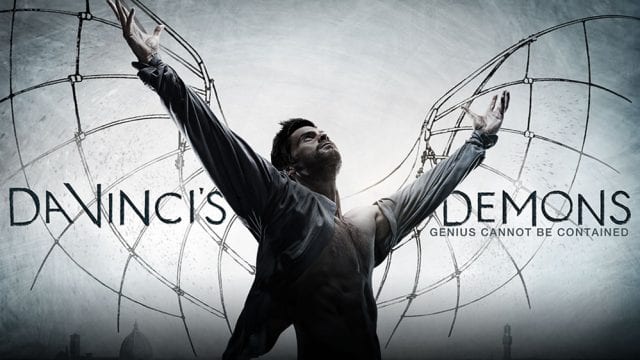 Die Musik ist sehr viellseitig angelegt. Sie nimmt hier und da Anklänge an Bear McCrearys Soundtracks zu Caprica und Battlestar Galactica. Wir hören ungewöhnliche Instrumente wie Ethnic & Concert Woodwinds oder Yialli Tanbur, aber auch Chöre und Solosänger wie Laura Haddock, James Faulkner oder Bear McCrearys Partnerin Raya Yarbrough.
Mir gefällt diese vielschichtig angelegte Vertonung außerordentlich. Schon das Main Theme ist sehr prägnant und dynamisch angelegt. Er taucht in verschiedenen Varianten hier und da auf dem Soundtrack auf. Für das Titelthema hat Bear McCreary auch einen Emmy gewonnen.
In einem Spaß-Video hat Bear McCreary einmal versucht, Serienschöpfer David S. Goyer den Titelsong gespielt von Dudelsäcken unterzujubeln – sehens- und hörenswert.
Der Soundtrack zur ersten Staffel ist sehr umfangreich ausgefallen. Gleich 38 Tracks bekommen wir in der Collector's Edition zu hören (26 Tracks beim regulären Release), fein nach einzelnen Folgen geordnet. Nach dem Main Title steigen wir gleich mit dem choralen "Assassination in Milan" aus der ersten Folge ein – das erste Highlight des Soundtracks. Es folgen einige gute Insrutmentalstücke, ehe mit "Flight of the Columbina" ein weiteres Highlight folgt – rhythmusgetrieben, mit Anklängen an das Main Theme. Dann geht's weiter mit dem tollen "Lucrezia Donati" – dominiert von Streichern und Harfe. Weitere Anspieltipps sind:
– Prayer to Saint Michael – Ein ruhiges Vokalstück mit Raya Yarbrough
– The Story of the Shield – Bringt nochmal das Titelthema mit einem Beat unterlegt zurück
– Treasures of the Vatican – Ein umfangreich orchestriertes 8-Minuten-Stück, das in vielen Facetten auftritt. Zunächst recht bedächtig, nimmt es zum Ende hin ordentlich Fahrt auf
– The Lullaby – Schließt sich direkt an den Vatican-Track an und ist wider ganz anders. Es startet mit der tiefen Stimme von James Faulkner, wird dann fortgesetzt von den dunklen Cello-Tönen, ehe der helle, klare Gesang von Laura Haddock übernimmt
– Red in the River – Nochmal sehr vokallastig angelegt, dieses Mal mit temporeicherem Einstieg und sanftem Ausklang
– Visions and Demons – Eine tolle Variation des Serienthemas, temporeich und in Kombination von Instrumenten und Gesang
– Easter Mass – ein 13-Minuten-Epos, das nochmal alles vereint, was der Score der ersten Staffel zu bieten hatte: starke Melodien, schnelle Passagen, langsame Elemente, große Instrumentierungen und Chorgesänge.
Fazit
Ein weiterer starker Soundtrack von Bear McCreary – und das sage ich nicht nur, weil ich Fan von ihm bin, sondern auch, weil der Soundtrack wirklich überzeugend ist. Die starke Vielfalt, die prägnanten Themen, die tolle Orchestrierung mit viel Liebe zum Detail – all das macht den Soundtrack zu einem echten gewinn. Für mich ist die Leistung umso höher zu bewerten, als dass ich persönlich mit der Serie selbst wenig anfangen kann. Ich höre wirklich nur den Soundtrack, ohne groß jemals tiefer in die Serie eingestiegen zu sein. Die Musik hat eine große visuelle Kraft, und bringt jede Menge Assoziationen und Bilder beim Hörer hervor – eine ganz starke Leistung, wie ich finde, und die man selten vorfindet.
Das müsst Ihr wissen
Der Soundtrack ist beim kleinen Sparks & Shadows Label erschienen – das Bear McCreary selbst gehört. Den Soundtrack gibt's als 1 CD-Edition mit 26 Tracks und als 2 CD Collector's Edition – und natürlich bei den gängigen Digitalportalen. Ich empfehle die 40 Minuten längere 2 CD-Fassung, da man hier nochmal 12 weitere Tracks bekommt und weil auch das Booklet liebevoll gestaltet ist. Darf man sich ruhig in die eigene Sammlung stellen – sofern Ihr so etwas noch habt.
Bei Spotify gibt es das Album natürlich auch – die besten Tracks habe ich entsprechend wie gehabt in unsere sAWE-Sportify-Playlist mit reingenommen.
Bear McCreary – Da Vinci's Demons Collector's Edition (Season 1)
CD 1:
01. Da Vinci's Demons Main Title (01:07)
EPISODE 1: THE HANGED MAN
02. Assassination in Milan (01:46)
03. The Glider (02:26)
04. Starlings (01:59)
05. The Falcon* (02:17)
06. The Sons of Mithras (03:46)
07. The House of Medici* (02:54)
08. Flight of the Columbia (03:40)
09. Lucrezia Donati (04:52)
10. The Secret Archives (02:41)
EPISODE 2: THE SERPENT
11. Vilana Che Sa Tu Far* (00:53)
12. Ben Venga Maggio (01:22)
13. The Hidden Map (02:33)
EPISODE 3: THE PRISONER
14. The Prisoner* (04:37)
15. Prayer to Saint Michael – Raya Yarbrough (03:06)
16. A Deep Vision (03:02)
EPISODE 4: THE MAGICIAN
17. The Story of the Shield (01:54)
18. Fireside* (02:39)
19. Cluster Bombard* (03:45)
20. Tying Off Loose Ends* (03:30)
CD 2:
01. EPISODE 5: THE TOWER
Phosphorous Batshit Bombs* (02:07)
02. A Cheval Toutes Homes A Cheval (01:37)
03. Camera Obscura* (01:31)
04. Acquittal* (04:00)
05. Jacopo (04:13)
EPISODE 6: THE DEVIL
06. Vlad the Third (05:50)
07. Flesh of the Abyssinian (02:59)
EPISODE 7: THE HIEROPHANT
08. Misereris Omnium (01:34)
09. Visions of Lucrezia – Laura Haddock (01:40)
10. Treasures of the Vatican (08:00)
11. The Lullaby – James Faulkner / Laura Haddock (04:39)
12. Red in the River (04:03)
EPISODE 8: THE LOVERS
13. The Future of the Sons of Mithras (02:50)
14. Visions and Demons (02:35)
15. The Astrolabe (03:44)
16. The Lovers (06:40)
17. Easter Mass (13:18)
x
18. Da Vinci's Demons End Credits (01:04)
* Previously Unrelased
38 Tracks, 2013 Sparks & Shadows
Dieser Beitrag hat mehrere Seiten: