Die Musik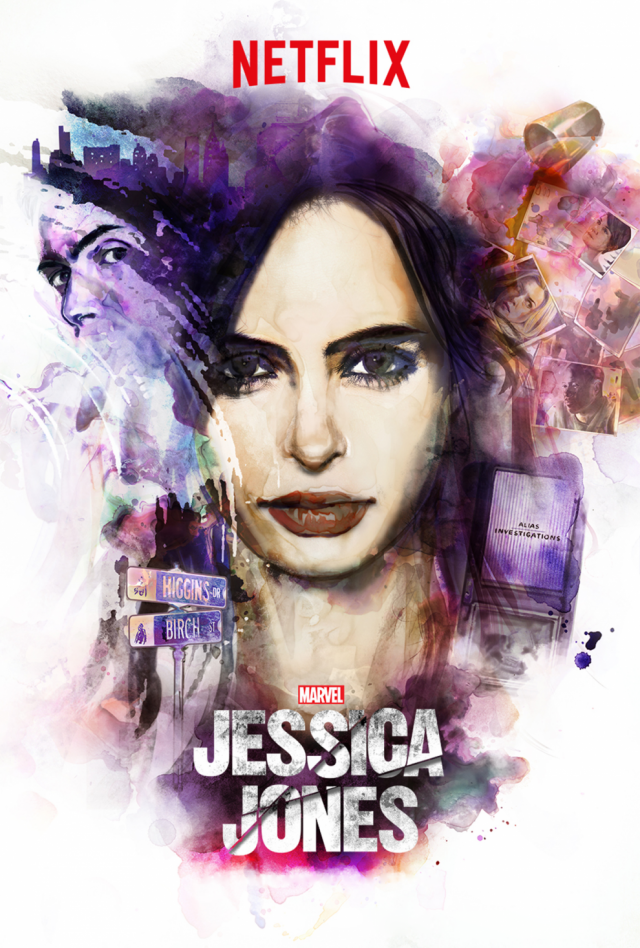 Besonders beeindruckt war ich von Anfang an von dem starken Intro zu Jessica Jones. Es beginnt leicht jazzig, wandelt sich dann aber stark ins rockige und endet dann mit einem frechen Piano-Stopp. Das Visuelle des Serien-Intros passt dazu meines Erachtens perfekt: diese düstere Stimmung, dazu die in Wasserfarbenoptik gehaltenen Konturen, das leicht schemenhafte, geheimnisvolle Auftreten – einfach gut. Die Optik erinnert übrigens stark an die Comicvorlage – und das ist auch so gewollt. Mit David Mack hat man sich den gleichen Zeichner ausgesucht und wollte so eine Brücke zwischen den Comics und der Serie schlagen, wie Autor Brian Michael Bendis gegenüber Comicbook.com erklärte:
David Mack's covers are an essential part of the show's DNA. With his work featured on the show's credits, these covers will be the visual connection between the graphic novels and the show.
Mehr zum tollen Intro gibt's übrigens hier in einem guten Beitrag von Molly Freeman auf Bustle.
Ansonsten geht's auf dem Album ziemlich jazzig zu. Alles groovt langsam vor sich hin, von wenigen Ausnahmen abgesehen. Mir gefallen vor allem:
– das kontrabassbetonte "Alias Investigations", das wir vor allem dann hören, wenn Jessica ihrem eigentlichen Job nachgeht oder sich in ihrem "Büro" aufhält;
– das etwas lebendigere "Fight at Luke's Bar", mit einem schönen ruhigen Gitarren-Outro;
– das bluesige "Rescuing Hope from the Hotel Bed", das von Bläserklängen dominiert wird;
– das dramatische "Luke's Revenge on the Bus Driver", ein düsterer, rockigerer Track;
– das getragene "Jessica Confesses to Luke", wo Sean Callery vor allem mit Keyboard-Sounds arbeitet;
– dann noch das ambientartige "Sleepover at Luke's", mit schönen Streicherelementen im Mittelteil.
Fazit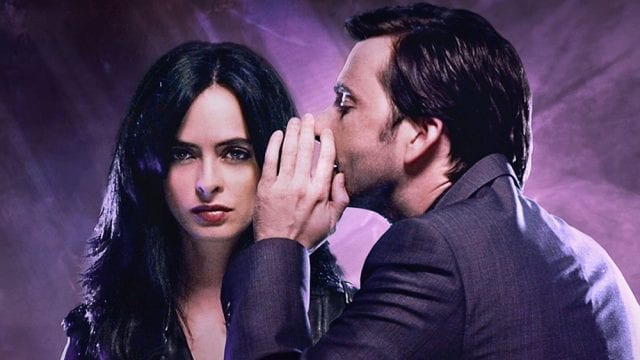 Insgesamt ein toller Neo-Noir-Soundtrack, den Sean Callery. Der jazzige, bluesige Unterton gefällt mir sehr und passt meiner Meinung nach perfekt zum Ambiente der Serie. Und wie gesagt: Das Intro ist nochmal eine Klasse für sich. Selten hat ein Intro so exakt zur Stimmung einer gesamten Serie gepasst.
Das müsst Ihr wissen
Der Soundtrack ist lediglich digital verfügbar, damit allerdings sowohl auf Portalen wie Amazon und iTunes als auch auf Streamingportalen wie Spotify. Die besten Tracks habe ich daher wie gehabt in unsere sAWE-Sportify-Playlist mit reingenommen.
Sean Callery – Jessica Jones (Original Soundtrack)
Jessica Jones Main Title – Sean Callery
Then There's the Matter of You – Sean Callery
Fire Escape Night Shift – Sean Callery
Alias Investigations – Sean Callery
Fight at Luke's Bar – Sean Callery
Nurse Jessica – Sean Callery
Rescuing Hope from the Hotel Bed – Sean Callery
Kidnapping Kilgrave – Sean Callery
Sleepover at Luke's – Sean Callery
Jessica on the Move – Sean Callery
Cockroach – Sean Callery
Luke's Revenge on the Bus Driver – Sean Callery & Jamie Forsyth
Elevator Massacre – Sean Callery
Looking for Kilgrave-Bus Accident Vision – Sean Callery
Hospital Cat and Mouse – Sean Callery
Gift from Trish – Sean Callery
Kilgrave Escapes His Glass Prison – Sean Callery
Tailing Malcolm – Sean Callery
Jessica Confesses to Luke – Sean Callery & Jamie Forsyth
Restaurant Flashback – Sean Callery
Jones-Cage Match – Sean Callery & Jamie Forsyth
Final Justice for the Purple Man – Sean Callery
Maybe It's Enough the World Thinks I'm a Hero – Sean Callery
23 Tracks, Marvel 2016
Dieser Beitrag hat mehrere Seiten: