Die Musik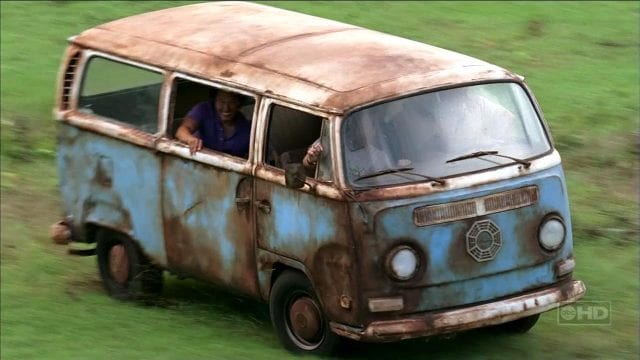 Von Staffel 3 gibt's viel zu hören – immerhin ist zur Season ein 2-CD-Soundtrack mit insgesamt 67 Tracks erschienen. Die erste CD enthält Stücke zur gesamten Staffel, die 2. CD dreht sich dann alleim um das Staffelfinale. Der Soundtrack zu Season 3 ist insgesamt ruhiger und meiner Meinung nach weniger düster angelegt als in Staffel 2. Er geht auch deutlich mehr in Richtung Score als bei den beiden bisherigen Seasons: Wir finden hier viel Begleitwerk und Soundschnipsel, die in der Serie ihre Wirkung erzielen, hier auf dem Album aber für viel Stückwerk sorgen – was nicht unbedingt negativ gemeint ist. Nur zum gepflegten Durchhören ist das Album dann nicht so wirklich geeignet – man muss sich schon darauf einlassen.
Für die 3. Staffel hat sich der Komponist die Themes der Hauptfiguren auch nochmal vorgenommen, in ihre Einzelteile zerlegt und mit den Lost-Themen neu gestaltet:
For season 3, Michael has taken the themes he's developed for all the main characters – Jack, Hurley, Locke, Ben and the rest – turned them, deepened them, and found new ways to express the emotion of the show. From heart pounding action to lyrical emotional pieces that dig deep into the soul, Michael can do it all.
Anspieltipps sind:
– Shambala: Ein Track, der definitiv aus dem Gesamtrahmen des Soundtracks herausfällt. inzwar ruhiges, aber irgendwie positives Stück (was man ja bei dem sonst eher dramatischen, getragenen Score schon betonen muss). Er nimmt Bezug zum gleichnamigen Track von Three Dog Night – der in Folge 11 der 3. Staffel zu hören ist und von dem aus in Giacchinos Version übergeleitet wird. Ein paar Hintergründe zu dem Song gibt's hier.
Lost S03E11 - Van Jumpstart with Road to Shambala
– Pagoda of shame: Ein kurzer Zweiminüter, recht theatralisch gehalten. Es ist gleichzeitig die Basis für das Thema, das Michael Giacchino für die Figuren Sun und Jin geschrieben hat.
– Romancing the cage: Das ebenfalls sehr kurze, romantische Stück übernimmt bei einer Liebesszene zwischen Kate und Sawyer die Führung.
Romancing the Cage Kate Sawyer 3X06 "I Do" Skate Sex Scene WITH COMMENTS FROM JOSH/EVANGELINE
– Achara, glad to see me?: Trotz der nur rund 2 Minuten Länge ein sehr vielseitiges Stück, mit einer Streicherdomainanz am Anfang und einem klavierbetonten Mittelteil. Und zum Ende hin bekommt es diese für Lost so bekannte bedrohliche Stimmung. Teile davon werden häufiger benutzt, wenn es um die Figur Jack geht.
– Ocean's Apart: Nicht nur eines der besten Stücke des Soundtracks, sondern auch die passende Begleitung für eine der stärksten Szenen der 3. Staffel, wie ich finde. Jack entscheidet sich, bei den Anderen zu bleiben, und man merkt, wie sich eine Beziehung zu Juliet entwickelt. In dem Finale der neunten Folge stecken sowohl atmosphärisch als auch musikalisch jede Menge Gefühle, was dieses Stück des Soundtracks perfekt widerspiegelt.
– Under the knife: Zum Schluss nochmal ein dramatisches Stück, zumindest zu Beginn. Genau in der Mitte des Tracks wandelt er sich wieder zu dem bekannten, ruhigen Niveau von Lost. Der Übergang ist stark gemacht, und es ist erstaunlich, wie schnell Michael Giacchino die Stimmung kippen lassen kann. Am Ende mischt er wieder die dramatischen Töne ins ruhige Klangfahrwasser ein – klasse.
Fazit
Vom Score zur 2. Staffel war ich ja nicht so angetan, er war mir zu düster und stand so auch etwas hinter dem Soundtrack zur Eröffnungsseason zurück. Aber auf diesem Album sind wirklich einige große Highlights enthalten, und selbst Stücke, die nur als Beiwerk anzusehen sind, fallen qualitativ nicht ab. Mutig fand ich, dass man hier wirklich für das Staffelfinale eine eigene CD beilegt – das war dem Komponisten Michael Giacchino wohl ein besonderes Anliegen. Man muss natürlich auch sagen, dass die Musik in Lost eine wichtige Rolle einnimmt. Mitunter kommen Passagen in der Serie vor, die über mehrere Minuten vollkommen ohne Dialoge auskommen und wo die Musik den Ton angibt.
Das müsst Ihr wissen
Das Album von Michael Giacchino gibt's auf CD und digital. Die CD ist in der Regel zu für ein Doppelalbum günstigen Preisen um die 15 Euro erhältlich. Die Digitalausgabe ist witzigerweise oft teurer, was natürlich an der Vielzahl der Tracks liegt. Die besten Tracks habe ich zu unserer sAWE-Soundtrack-Playlist bei Spotify hinzugefügt.
Michael Giacchino – Lost Season 3
Disc one
1 "In with a KABOOM!" 1:56
2 "Main Title" (Composed by J.J. Abrams) 0:16
3 "Awed and Shocked" 1:34
4 "Fool Me Twice" 3:18
5 "Pagoda of Shame" 2:02
6 "The Island" 2:57
7 "Eko of the Past" 2:45
8 "Church of Eko's" 0:58
9 "Leggo My Eko" 3:12
10 "Romancing the Cage" 1:48
11 "Under the Knife" 4:18
12 "Teaser Time" 2:52
13 "Here Today, Gone to Maui" 4:53
14 "Distraught Desmond" 3:36
15 "Achara, Glad to See Me?" 2:25
16 "Ocean's Apart" 3:02
17 "The Lone Hugo" 3:34
18 "Fetch Your Arm" 2:24
19 "Ain't Talkin' 'bout Nothin'" 2:05
20 "Shambala" 2:04
21 "Claire-a Culpa" 5:21
22 "A Touching Moment" 2:34
23 "Sweet Exposé" 4:36
24 "Storming Monster" 1:31
25 "Heart of Thawyer" 1:51
26 "Juliet is Lost" 1:28
27 "Beach Blanket Bonding" 1:54
28 "Rushin' the Russian" 1:06
29 "Deadly Fertility" 2:05
30 "Dharmacide" 3:56
Disc two
1 "Paddle Jumper" 1:16
2 "She's Dynamite" 1:16
3 "The Good, the Bad and the Ominous" 1:07
4 "Charlie's Fate" 2:58
5 "Paddle Jumper Reprise" 2:12
6 "Ta-Ta Charlie" 1:28
7 "Heirloom Holiday" 1:21
8 "Greatest Hits" 6:03
9 "Flying High" 6:30
10 "The Good Shepherd" 0:58
11 "Manifesting Destiny" 0:40
12 "The Looking Glass Ceiling" 3:30
13 "Ex Marks the Jack" 2:10
14 "Jintimidating Bernard" 2:42
15 "Benomination of the Temple" 0:39
16 "An Other Dark Agenda" 0:36
17 "Kate Makes a Splash" 0:32
18 "Diving Desmond" 0:47
19 "Weapon of Mass Distraction" 0:50
20 "The Fallen Hero" 0:26
21 "Sticking to Their Guns" 0:58
22 "Torture Me Not" 2:44
23 "Through the Locke-ing Glass" 2:13
24 "The Only Pebble in the Jungle" 1:31
25 "Early Mourning Mystery" 1:54
26 "Patchy at Best" 2:04
27 "All Jack'ed Up" 0:12
28 "Hold the Phone" 3:49
29 "Code of Conduct" 1:42
30 "Act Now, Regret Later" 5:11
31 "Just What the Doctor Ordered" 1:24
32 "Hurley's Helping Hand" 1:06
33 "Looking Glass Half Full" 4:16
34 "Jack FM" 0:30
35 "Naomi Phone Home" 4:01
36 "Flash Forward Flashback" 4:16
37 "End Title" 0:32
67 Tracks, 2008 Varèse Sarabande
Dieser Beitrag hat mehrere Seiten: