Die Musik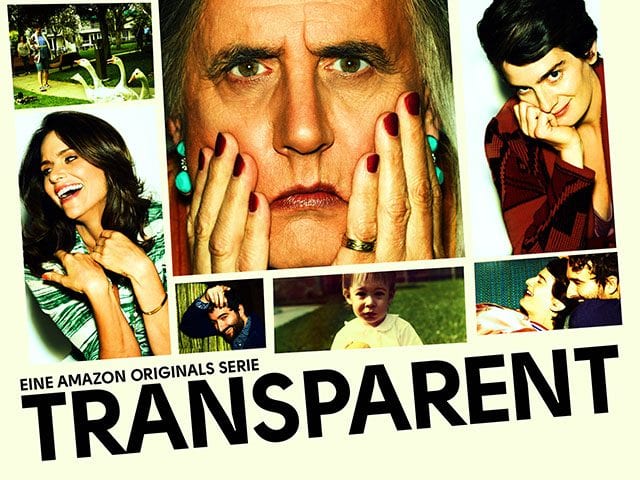 Praktisch sämtliche Stücke auf dem Album sind vom Klavier geprägt. Beim Durchhören erkenne ich gewisse Ähnlichkeiten zu Stücken von Yann Tiersen (Fabehafte Welt der Amélie) oder von Michael Giacchino (Lost), aber auch zu zeitgenössischen Komponisten wie Arvo Pärt.
Am Anfang und Ende des Albums steht jeweils der Titeltrack in unterschiedlichen Versionen – es ist wirklich ein Meisterwerk geworden und steht ganz klar dominierend im Mittelpunkt des gesamten Scores. Dustin ließ sich dabei von dem urigen Vorspann in VHS-Optik inspirieren:
When they sent me the main title clip, it's a beautiful clip of this old nostalgic VHS footage. They were trying a lot of different pieces of music, and it was actually the second piece I tried with those images. There's a sense of nostalgia to the show – memories and family moments – and we wanted to capture that feeling.
Auf dem Album gibt es eine lange Album-Version und das Original-Theme:
Weitere Hintergrundinfos zum Titelsong gibt's bei SongExploder.
The opening titles came out really nice, I think. I also really like the cemetery theme that happens in the last episode. It comes back again at the end and I think ties of a lot of the feelings of the show, like a big exhale.
Weitere Anspieltipps: eigentlich alle Tracks, aber wenn man bestimmte Stücke hervorheben möchte, dann
– Ed Funeral: Ein Stück in einer etwas dunkleren Tonalität, das viel Melancholie transportiert.
– Swimming and Josh: Der Track nimmt das Titelthema nochmal auf und setzt es nochmal leicht beschwingter um.
– Goodnight: Ein Stück, bei dem ich spontan an Michael Giacchinos oscarprämierten Soundtrack zu Oben denken muss.
– Berlin Theme N. 1 featuring Lili Haydn: Ein kammermusikartiges Stück mit der Violinistin Lili Haydn.
Zur weiteren Auseinandersetzung mit dem Score empfehle ich das ausführliche Interview mit dem Paste Magazine.
Fazit
Ein klasse Album hat Dustin O'Halloran hier vorgelegt – leider sind's insgesamt nur rund 26 Minuten. Die Stücke sind reduziert, aber gleichzeitig ausdrucksstark, von einer Leichtigkeit beseelt, aber gleichzeitig auch mit einem Hang zur Melancholie – einfach toll. Der Komponist selbst beschreibt seine Musik so:
The music on this show plays this part that makes everybody feel safe. It's a sort of blanket around the show because the characters are spinning out, having confusion about their lives. The music represents the family bond between all of them and the love that they share.
Und dass der Titelsong mit einem Emmy belohnt wurde, war nur konsequent. Jetzt können wir uns alle auf mehr freuen – denn eine dritte Staffel Transparent ist angekündigt. Schwer vorstellbar, wie diese ohne Dustin O'Hallorans Musik funktionieren sollte. Von daher gehen wir mal davon aus, dass er wieder Teil der Transparent-Familie sein wird. Wer jetzt schon mehr von ihm hören möchte, sollte sich definitiv einmal seinen Solowerken widmen. Die Piano Songs zum Beispiel, dürften jedem gefallen, die auch Freude am Transparent-Soundtrack gefunden haben. Ansonsten empfehle ich die "A Winged Victory for the Sullen"-Alben, die einfach klasse sind.
Das müsst Ihr wissen
Das Album gibt's – natürlich – exklusiv bei Amazon, soweit ich das sehen kann auch nur als MP3. Amazon Prime-Mitglieder können die Tracks derzeit kostenlos über Amazon Music hören. Bei anderen Streaming-Diensten wie Spotify ist das Album nicht zu finden.
Dustin O'Halloran – Transparent (Original Score from An Amazon Original Series)
1 Transparent Main Titile Theme (Solo Piano Version) 2:10
2 Ali and Maura 0:53
3 Arriving At Camp 0:45
4 Packing Up 0:42
5 Leaving A Voicemail 1:03
6 Ed Funeral 1:23
7 Can't Sleep 2:07
8 Sonogram 0:37
9 Don't See Mom 1:12
10 Sarah Arrives At House 0:54
11 On The Train 0:34
12 Visiting Rose 0:40
13 Berlin Theme N.1 (Featuring Lili Haydn) 2:45
14 Sarah Wins 1:42
15 Spa Montage 0:46
16 Maura Leaves 2:02
17 Alone Again 0:29
18 Goodnight 0:51
19 Performance Montage 1:40
20 Josh Freaks Out 0:39
21 Swimming And Josh 1:18
22 Transparent Main Title Theme 0:52
22 Tracks, 2015 Amazon
Dieser Beitrag hat mehrere Seiten: