Die Musik
Glaubt man den Ausführungen von Angelo Badalamenti, dann sind viele Score-Ideen in direkter Kooperation mit David Lynch entstanden. Lynch saß immer neben Badalamenti am Keyboard und imaginierte, was er sich so an Szenen und Personen vorstellte. Badalamenti spielte dazu und versuchte Lynchs Ausführungen in die Tat umzusetzen. Die Musik von Twin Peaks transportiert dabei ganz große Emotionen. Themes wie das "Twin Peaks Theme" oder "Laura Palmer's Theme" wurden zu Klassikern des Scoring und wurden vielfach weiterverwendet – in Remixen, bei Persiflagen und vielem mehr. Wer die Klänge hört, weiß sofort, dass es um Twin Peaks geht. Angelo Badalamenti verwendet vor allem spährische Keyboard-Sounds, dazu klare Klavierklänge. Hinzu kommt die dünne, sanfte Stimme von Julee Cruise, die über der sphärischen Musik zu schweben scheint. Julee Cruise ist mit 3 Tracks auf dem Album vertreten – neben "Falling" mit "The Nightingale" und "Into the Night", das auch schon auf dem Cruise-Album vorhanden war. Andere Tracks, die auf Cruise' Album vertreten sind und in Twin Peaks verwendet wurden, fehlen hier allerdings.
Neben den beiden erwähnten Themes sind auch viele andere Themes aus dem Score zu Klassikern geworden und haben einen hohen Wiedererkennungswert. "Dance of the Dream Man" zum Beispiel, oder "Audrey's Dance". Selbst die restlichen Tracks sind kein Beiwerk, sondern funktionieren wunderbar in dem Gefühl der Twin Peaks-Serie – und selbst dann, wenn man die Serie nicht kennt.
Fazit
Folge 60 unserer Soundtrack-Reihe, gleichzeitig sozusagen Ende von Staffel 3 unserer Reihe – und wir schließen mit einem echten Klassiker. Twin Peaks hat einfach Maßstäbe gesetzt, ja, Angelo Badalamenti hat damit Maßstäbe gesetzt. Aufgrund des großen Zuspruchs – das Album landete unter anderem auf Platz 17 der deutschen Album-Charts, wurde auf Rang 22 der US Billboard Charts notiert und wurde in Australien zur Nummer 1 – wurde Jahre später ein zweites Soundtrack-Album herausgebracht, auf das wir später nochmal eingehen. Auch zum Film wurde ein weiteres Album veröffentlicht, das witzigerweise einige Tracks enthält, die gar nicht im Film vorkamen, sondern nur in der Serie, die es aber nicht auf die beiden Score-Alben geschafft hatten.
Wer sich mit der gesamten Twin Peaks-Musik eindecken möchte, sollte sich neben den drei Soundtracks zu Film und Serie auch die beiden Alben von Julee Cruise holen. Hier sind wie gesagt nicht nur einige Tracks aus der Serie enthalten, sondern auch die restlichen Songs transportieren mitunter das wahre Twin Peaks-Gefühl. Definitiv eine Kaufempfehlung, wie für die Score-Alben selbst.
Das müsst Ihr wissen
Hardcore-Fans haben aktuell die Gelegenheit, sich ein Reissue des Soundtracks zu sichern. Vor kurzem ist er auf Vinyl neu veröffentlicht worden, extrem hochwertig aufgemacht und mit einigen erweiterten Statements von Angelo Badalamenti. Ansonsten ist der Soundtrack natürlich ganz normal als CD und in Dateiform verfügbar, zu normalen Kursen bei den üblichen Anbietern. Die besten Tracks – wobei ich hier eigentlich alles hätte berücksichtigen können – findet Ihr außerdem in unserer sAWE-Soundtrack-Playlist bei Spotify.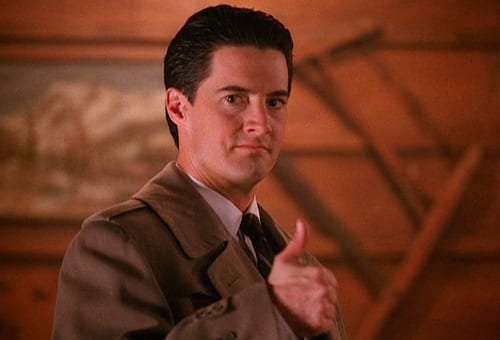 Angelo Badalamenti – Soundtrack from Twin Peaks
1. "Twin Peaks Theme" (Instrumental) 5:10
2. "Laura Palmer's Theme" (Instrumental) 4:52
3. "Audrey's Dance" (Instrumental) 5:17
4. "The Nightingale" (Vocal by Julee Cruise) 4:56
5. "Freshly Squeezed" (Instrumental) 3:48
6. "The Bookhouse Boys" (Instrumental) 3:29
7. "Into the Night" (Vocal by Julee Cruise) 4:44
8. "Night Life in Twin Peaks" (Instrumental) 3:27
9. "Dance of the Dream Man" (Instrumental) 3:41
10. "Love Theme from Twin Peaks" (Instrumental) 5:04
11. "Falling" (Vocal by Julee Cruise) 5:21
11 Tracks, 1990 Warner
Dieser Beitrag hat mehrere Seiten: