"Chilling Adventures of Sabrina" hat von Netflix noch eine 4. Staffel spendiert bekommen – und hat jetzt auch einen Starttermin. Dabei lässt sich festhalten, dass Netflix sein Versprechen einhält, die finale Staffel noch in diesem Jahr zu zeigen – wenn auch knapp. Immerhin ist die Starttermin-Ankündigung direkt mit der Veröffentlichung des ersten Trailers verbunden. Erste Bilder zur 4. Staffel hatte Fabio bereits in diesem Beitrag gezeigt.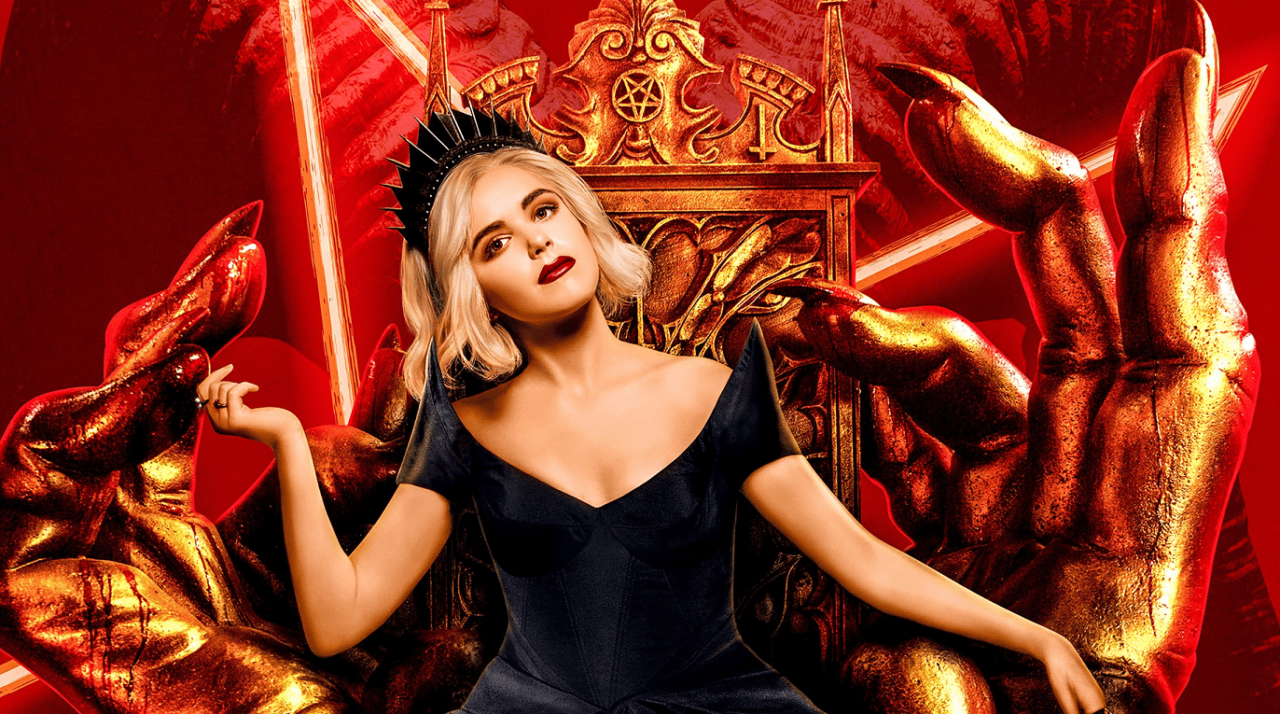 Achso, Starttermin ist dann der – 31. Dezember 2020, die Silvester-"Party" zu Hause ist also gesichert. 8 Folgen wird's wohl in dieser Staffel geben, damit kommen wir dann auf insgesamt 36 Folgen. Die erste Staffel startete am 26. Oktober 2018, schon am 5. April 2019 wurde die zweite Staffel nachgeschoben. Staffel 3 ging in diesem Jahr am 24. Januar 2020 an den Start. Die Serie basiert bekanntlich auf den gleichnamigen Archie-Comics und stellt die Figur Sabrina Spellman in den Mittelpunkt. Sie wird in der Netflix-Serie von Kiernan Shipka gespielt.
Wer sich nochmal vor dem Start der 4. und letzten Staffel von "Chilling Adventures of Sabrina" auf den aktuellen Stand bringen möchte, dem seien unsere ausführlichen Reviews zu den einzelnen Staffeln empfohlen:
– Hier geht's zum Review von Staffel 1.
– Das Review zur speziellen Weihnachtsfolge zwischen Staffel 1 und 2 findet sich hier.
– Das Review zu Staffel 3 findet sich hier.
Wer ähnliche Serien wie "Chilling Adventures of Sabrina" sucht, findet hier einige Empfehlungen.
Und wer sich erinnern möchte: In unserer Klassiker-Reihe haben wir auch die Vorgänger-Serie aus den 90er Jahren vorgestellt – hier geht's zum Beitrag.
Netflix' Chilling Adventures of Sabrina: Darum geht's in Staffel 4
Im Laufe von Teil 4 werden The Eldritch Terrors über Greendale hereinbrechen. Der Hexenzirkel muss jede Bedrohung einzeln bekämpfen (The Weird, The Returned, The Darkness, um nur einige zu nennen), die alle zu The Void führen. Während die Hexen Krieg führen, beginnt Nick mit Hilfe von The Fright Club, sich langsam seinen Weg zurück in Sabrinas Herz zu finden, aber wird es zu spät sein?