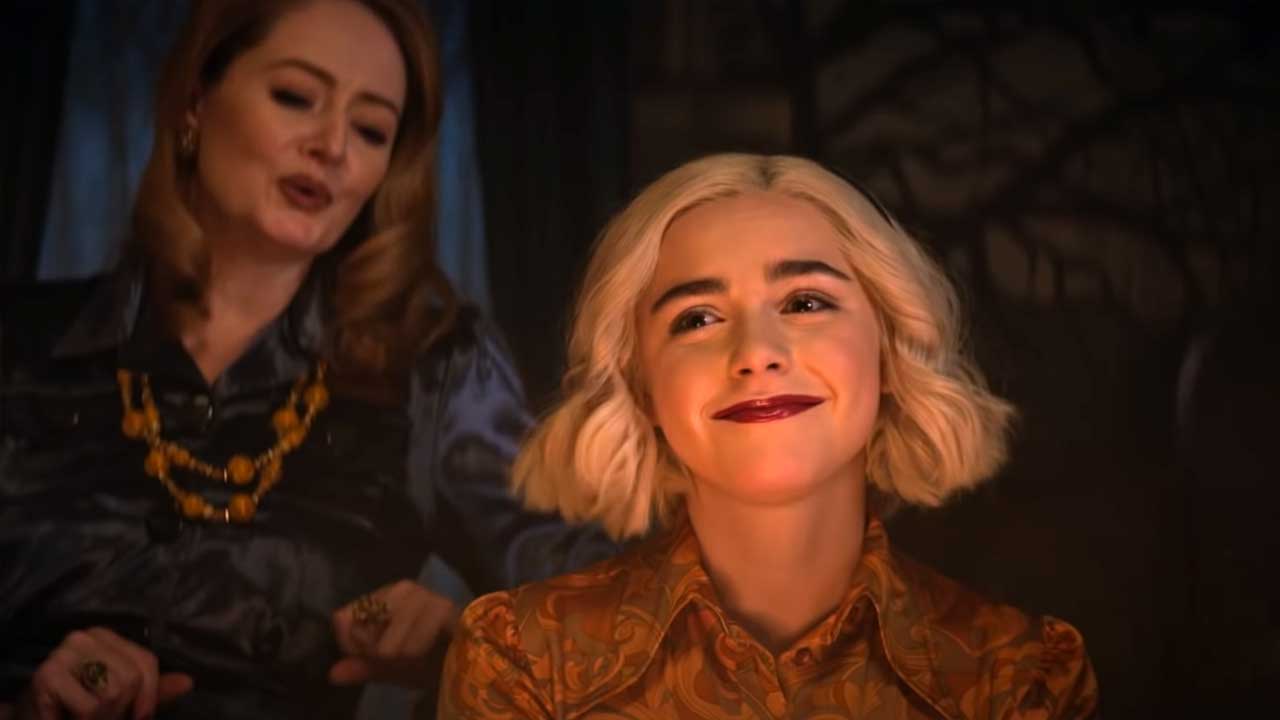 Nach dem ersten Ankündigungstrailer zur vierten und letzten Staffel des Netflix Originals "Chilling Adventures of Sabrina" wurde gerade ein ausgewachsener Trailer zum Finale der Serie veröffentlicht. Der offenbart, dass die Macher gewillt sind, einen gelungenen Rahmen für die Handlung zu schaffen, die passend zum Jahreswechsel ihr Ende finden wird.
Hier findet ihr wie so oft zunächst die originale Fassung des Trailers in englischer Sprachausgabe vor, darunter gibt es die deutsch synchronisierte Version zu sehen bzw. hören.
"Lasst uns das Ganze so beenden, wie wir es immer tun: gemeinsam. Die 4. Staffel von 'Chilling Adventures of Sabrina' sind ab dem 31. Dezember exklusiv auf Netflix zu sehen."
Das schaut vielversprechend aus, finde ich. Allgemein habe ich das Gefühl, dass "Chilling Adventures of Sabrina" am Ende eine angenehm kompakte und wohldurchdacht abgerundete Serie darstellen wird. Die Geschichte scheint nicht künstlich in die Länge gezogen zu werden, sondern findet ihren Abschluss, wenn es inhaltlich auch Sinn ergibt. Klar, über manche Nebenhandlungen oder unnötigen Loops in der Erzählung kann man streiten, aber Netflix hat es geschafft, das alte Seriengut in einer neuen Manier wiederzubeleben, mit vielen liebenswerten Adaptionen bekannter Figuren zu bespicken und eine eigene kleine Welt für sich zu erschaffen. Ja, es darf dann jetzt auch bitte weitergehen!
Alle Folgen von Teil 4 der Serie "Chilling Adventures of Sabrina" werden ab Donnerstag, dem 31. Dezember 2020, auf Netflix verfügbar sein. Das ist doch das ideale Programm für den müden Neujahrs-Tag, würde ich meinen, oder?!
Bis dahin könnt ihr euch ja in unserem "Chilling Adventures of Sabrina"-Archiv hier im Blog umschauen, wo wir noch viele weitere, düstere Inhalte zur Serie parat haben. Unter anderem ein paar weitere Bilder zum vierten Teil.