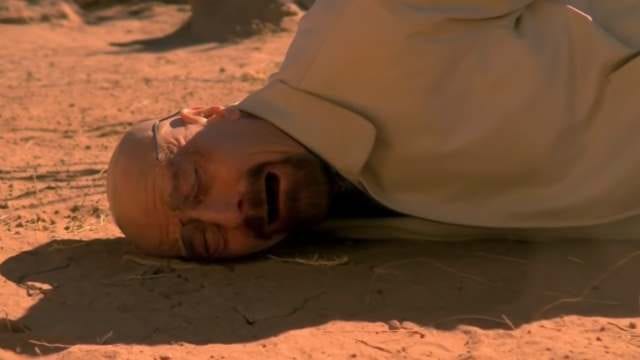 Gerade erst hat James Corden in seiner Late Late Show Breaking Bad in ein Musical gewandelt, schon gibt es wieder etwas Neues zu der besten Serie der Welt für euch. Der YouTuber Nerdwriter hat die drittletzte Episode (S05E14) von Breaking Bad einmal genauer unter die Lupe genommen und die Reaktionen untersucht – Reaktionen der Darsteller, der Figuren, zwischenmenschliche Reaktionen, chemische Reaktionen… Grundlage des Ganzen ist der Titel der Episode, "Ozymandias", der auf gleichnamiges berühmtes Gedicht von Percy Bysshe aus dem Jahr 1817 anspielt.
I met a traveller from an antique land
Who said: — Two vast and trunkless legs of stone
Stand in the desert… Near them, on the sand,
Half sunk, a shattered visage lies, whose frown,
And wrinkled lip, and sneer of cold command,
Tell that its sculptor well those passions read
Which yet survive, stamped on these lifeless things,
The hand that mocked them, and the heart that fed
And on the pedestal these words appear
'My name is Ozymandias, king of kings
Look on my works, ye Mighty, and despair!'
Nothing beside remains. Round the decay
Of that colossal wreck, boundless and bare
The lone and level sands stretch far away.
– Percy Bysshe
Breaking Bad: An Episode Of Reactions
Und wer Breaking Bad kennt, der weiß, dass hier nichts, aber auch wirklich gar nichts dem Zufall überlassen wird. So klärt uns Nerdwriter über die Zusammenhänge zwischen Episode und Gedicht auf und lässt uns – fast drei Jahre nach Erstausstrahlung der letzten Folge der (besten) Serie (der Welt) – noch einmal in die Welt von Breaking Bad abtauchen.
The reaction has begun. – Walter White alias Heisenberg
Sehr löblich: Der YouTuber hat die Quelle, auf die er sich bezieht, mit angegeben. Wer Interesse hat, kann ja mal in William Freedmans "Postponement and Perspectives in Shelley's "Ozymandias"" Studies in Romanticism reinschauen. Oder halt in Breaking Bad ;)

-->