Guten Morgen zusammen. Ich hoffe ihr habt mittlerweile alle Besorgungen für das kommende Baumfest erledigt? Ich muss nachher noch einmal kurz los. Und dann: Haken dran. In der Zwischenzeit möchte ich kurz über einen Seriendarsteller sprechen. Rausgepickt habe ich mir David Schwimmer.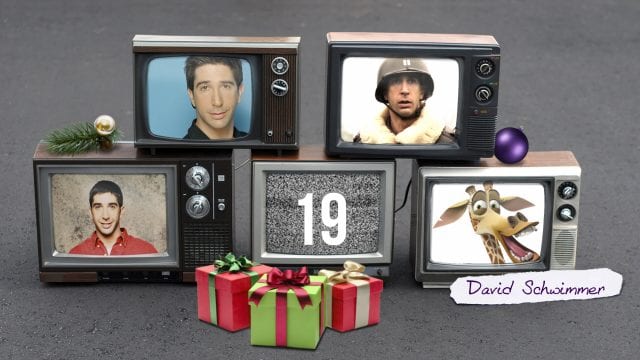 Im Rahmen unseres
sAWEntskalenders
gibt es jeden Tag eine Hommage auf einen erwähnenswerten Seriendarsteller – und immer wieder versteckte Buchstaben. Wer als erstes das gesuchte Serien-Zitat aus ihnen bildet, kann
sich einen Preis aussuchen
. Alle vier Tage gibt es einen Tipp von uns. Viel Spaß beim Durchschauen und Rätseln!
"David wer?" – dürfte jetzt vor allem die jüngere Generation fragen. Denn David ist mir vor allen als Doktor Ross Geller aus der Kult-Serie "Friends" in Erinnerung geblieben. Eine Serie, die 2004 zu Ende ging, aber dennoch regelmäßig ihren Weg auf meinen Fernseher findet. Aber lasst uns von vorne beginnen: Der 1966 geborene US-Schauspieler begann in den frühen Neunzigern mit seiner Kunst. So hatte er sein Debüt in einem Fernsehfilm von ABC. Kurz danach hatte er eine kleine Nebenrolle in "Wundervolle Jahre", wo er in vier Episoden mitgewirkt hat. In seiner IMDB-Liste findet sich auch ein Eintrag, dass er in "Police Squad" mitgespielt hat. Ein kurzer Griff ins DVD-Regal hat mir gezeigt, dass er in der ersten Folge eine Komparsenrolle hatte :D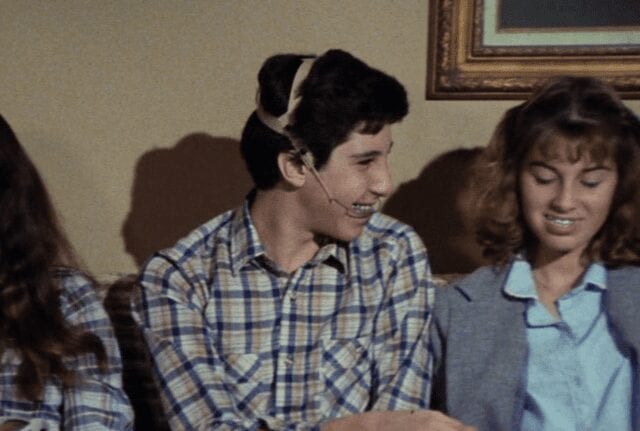 Friends
1994 war dann sein Jahr – er erhielt die Zusage für die Rolle des Paläontologen Doktor Ross Geller in der NBC-SitCom "Friends". Ohne jetzt zu übertreiben: das ist einfach seine Rolle gewesen. Direkt in der ersten Folge bekommen wir mit, dass Ross verlassen wurde, da seine Frau nun lesbisch ist. Ein tragisch, komische Situation und nur ein Beispiel von vielen, in denen Ross leider mehr Pech als Verstand hat. So ist sein Verlangen nach Rachel, die verschiedensten Beziehungen/Ehen dazwischen immer wieder Bestandteil der Story, die sich über 10 Staffeln erstreckt. Durch seine nerdige, liebenswerte Art bringt mich Ross auch außerhalb seiner Liebesgeschichten zum Lachen. Z.B. im Wettkampf mit seiner Schwester Monica, oder durch sein Äffchen Marcel. Dank Ross kann ich auch Fluchen ohne das andere es mitbekommen. Danke dafür. Übrigens kann man mittlerweile alle Staffeln auch bei Netflix sehen. Ein mühevolles DVD-Wechseln entfällt somit.
Friends - Ross gives the finger
Band of Brothers
Dass er aber nicht nur komisch sein kann, bewies er mit seinem Auftritt in der von Steven-Spielberg produzierten Mini-Serie "Band of Brothers" in 2001. Als gnadenloser Ausbilder Herbert Sobel hat er sich den Hass der Kompanie rund um Damian Lewis und Michael Fassbender mehr als verdient. Und so gibt es am Ende der Mini-Serie noch einen gelungenen "Pay-Off" zwischen ihm und Damian Lewis.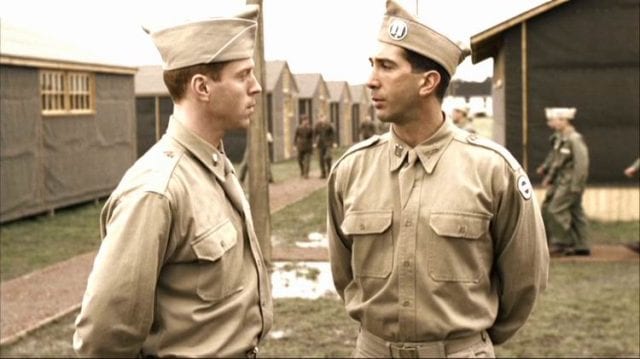 American Crime Story
In 2016 wirkte er als Hauptdarsteller in der ersten Staffel "American Crime Story" mit. Die Serie handelt in der ersten Staffel vom Prozess gegen OJ Simpsons. David Schwimmer spielt dabei OJs Verteidiger, Rob Kardashian. Persönlich spricht mich die Serie nicht an, es zeigt aber dass er, im Gegensatz zu seinen Friends-Kollegen Aniston und Co, als ernster Schauspieler etabliert ist.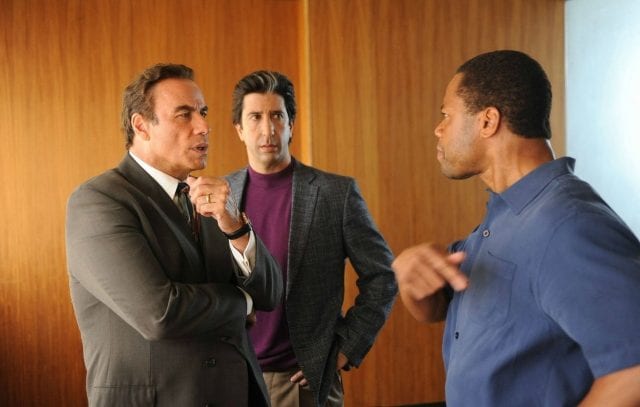 Regie, Voiceactor und Broadway
Was gibt es sonst noch über ihn zu erzählen? Eine ganze Menge wie sich herausstellt. So leiht er z.B. der Giraffe Melman aus Madagascar im Original seine Stimme. Nach dem Friends-Ende hat er sich ans Theater begeben und dürfte bereits bei einigen Stücken Regie führen. 2007 hatte er sein Filmregiedebüt bei der britischen Komödie "Run Fatboy Run". Hauptdarsteller war Simon Pegg und dreimal dürft ihr raten, aus welcher Serie sie sich bereits kannten (BoB!)
Toller Typ, oder?