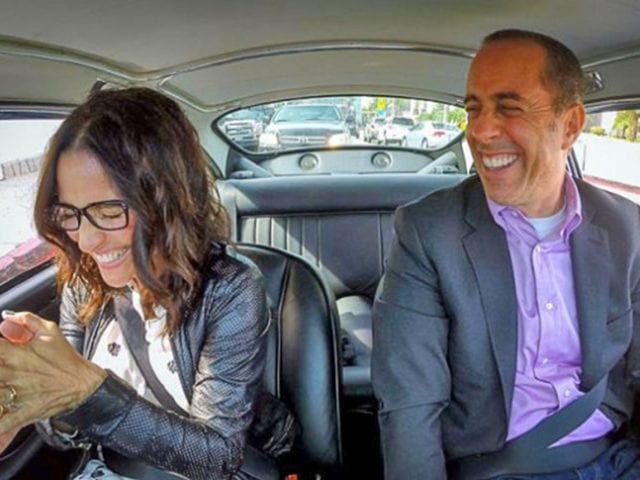 Großartige Wiedervereinigung der beiden Seinfeld-Hauptcharaktere: Jerry Seinfeld holt zu Beginn der neuen Staffel seiner Serie "Comedians in Cars getting Coffee" Elaine bzw. Julia Louis-Dreyfus ab. Und beide haben von Anfang an großen Spaß: Als Jerry vor Julias Tür steht und sie öffnet, muss sie gleich loslachen. Das Grinsen bleibt bei beiden eigentlich die ganzen 17 Minuten der Folge über in den Gesichtern. Und auch wir als Zuschauer bekommen unseren Spaß.
Jerry Seinfeld ist in einem 1964 Aston Martin DB5 unterwegs – was Julia richtig beeindruckt. Die beiden sind mit dem James Bond-Klassiker noch gar nicht auf der Straße, da macht Jerry gleich die erste schräge Ansage in Richtung Nachbarn von Julia. Wenig später hupt er gleich mal eine Frau von der Straße, die gerade ausparken möchte, und schickt ihr einen Spruch hinterher:
We're doing a Seinfeld reunion – and you're not in it.
Julia meint, Jerry könne einfach nicht nett sein. Nachdem er ihr entgegnet, jeder könne doch nett sein, sogar Hitler, meint sie trocken:
You're nicer than Hitler.
Mit hohem Spaßfaktor geht's weiter durch den Straßenverkehr – und Jerry scheint kurz sentimental zu werden, wenn er merkt, wie gut die beiden eigentlich immer noch zusammen funktionieren:
It's so fun to be reminded of how funny you are.
Reinschauen lohnt sich – nicht nur für Seinfeld-Fans. Hier gibt's die ganze Folge!
Ach, doch noch ein Hinweis für Seinfeld-Fans: Michael Richards und Jason Alexander waren auch bereits in der Serie zu Gast.
via: HelloGiggles