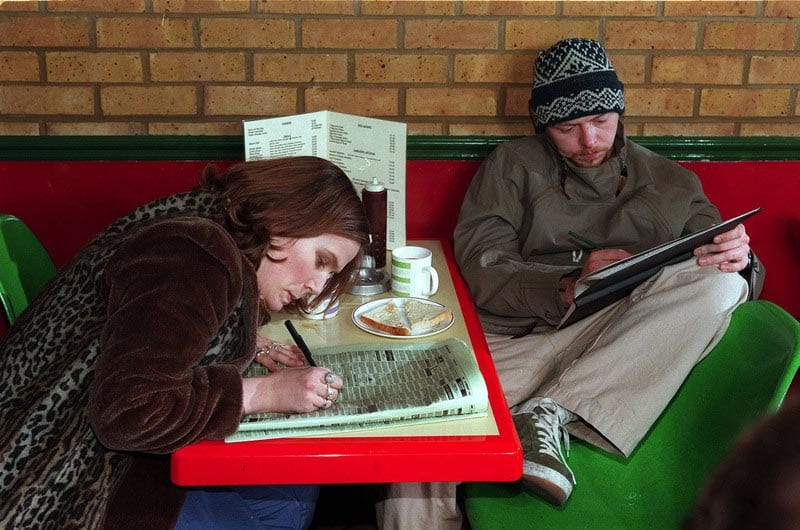 Sollten eure Lieblingsserien mal Seasonpause und ihr nichts zu Gucken haben – hier wird euch geholfen! Von 1999 bis 2001 lief auf dem britischen Channel 4 die Serie Spaced. Eine kleine Comedy-Perle, was vor allem an den Mitwirkenden liegt: Simon Pegg ist genauso schauspielerisch am Start, wie sein bester Buddy Nick Frost und hinter der Kamera ist Edgar Wright aktiv. Also genau die Kombination, die wir (hoffentlich alle) aus u.a. Shaun of the Dead und Hot Fuzz kennen.
Zurück zur Serie. In zwei Staffeln wurden 14 Folgen veröffentlicht. Inhaltlich geht es um Daisy Steiner (Jessica Stevenson) und Tim Bisley (Simon Pegg), die aus Wohnungsfindungsgründen gemeinsam auf die Jagd gehen und in einer Art WG enden. Es folgen sehr nerdige Passagen mit gewohnt britischem Humor. Dazu auch jede Menge popkultureller Anspielungen, die in der DVD gar in einem "Homage-O-Meter" verpackt sind, das per Untertitel die jeweils persiflierte Sache anzeigt. Es gibt aber auch nicht nur Filmreferenzen mit Titel und Jahresangabe (wie z.B. Star Wars about a hundret times). Wird Mike von Paintballkugeln getroffen steht zum Beispiel "Film Ref: 'Every War Film Ever'" am Bildschirmrand.
Oder es wird die Chaos-Theory mti diesen Worten refenziert:
"Maths Ref: 'Chaos Theory'
The Study of complex non-linear dynamic systems. Non-linear implying recursion and highly mathematical algorithms and dynamics implying non-constant and non-periodic Thus Chaos Theory is the study of forever changing complex systems based on mathematical recursion whether in the form of revursive process or differential equations, modelling on a physical system."
Nur um danach einen Jaffa Cake (bei uns etwas wie "Soft Cake") zu essen und "Product Ref 'Jaffa Cakes' McVities And Price (1927)" darunter zu schreiben. Herrlich!
Aber genug des Kleinteiligen. Spaced ist keine ultraschnelle moderne Comedy mit Knallergags am laufenden Band. Spaced nimmt sich Zeit und man muss sich darauf einlassen können. Doch dann wird man mit herrlich gezeichneten Charakteren und jeder Menge Witz im Detail belohnt.
Hier eine meiner Lieblingsszenen, danach folgt sogar Folge 1 in kompletter Länge für euch.
Hier nun die erste Episode in voller Länge: