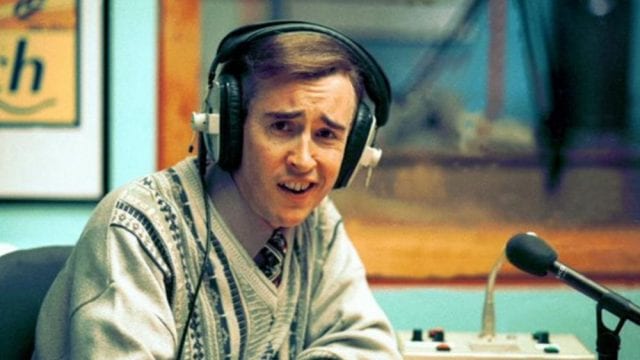 Es ist kurz vorm Monatsletzten und damit wieder einmal Zeit für einen Serientest aus meiner UK Reihe "Extraordinary but fairly known British TV shows worth seeing?". Dieses Mal schauen wir auf die Erlebnisse und Geschichten des Alan Partridge – einer Kultfigur auf der Insel. Alan Partridge dürfte im UK auf einer Stufe stehen mit Figuren wie Mr. Bean oder Miss Marple, hierzulande wird es aber wohl nur wenige Fans oder Kenner dieser Kunstfigur von Steve Coogan geben.
I'm Alan Partridge trailer (Steve Coogan, 1997)
Seriensteckbrief
Name: I'm Alan Partridge
Genre: Sitcom
Laufzeit: 30 Minuten
Folgen: 12 (2 Staffeln)
Ausstrahlung: 1997 – 2002 (BBC two)
Darsteller: Steve Coogan, Felicity Montagu, Simon Greenall, Phil Cornwell u.v.m.
Alan Partridge
Alan Partridge ist ein meist überforderter aber absolut von sich überzeugter Moderator. Dass Partridge vielleicht nicht der beste Moderator auf diesem Planeten ist, sei auch noch erwähnt. Begonnen hat die Geschichte dieser fiktiven Figur von Steve Coogan, einem bekannten britischen Schauspieler und Komiker, beim Radiosender BBC4. Dort entwickelte Coogan die Figur des Alan Partridge als Sportmoderator, der im Rahmen des parodistischen Nachrichtenmagazins "On The Hour" inkompetente Beiträge abliefert.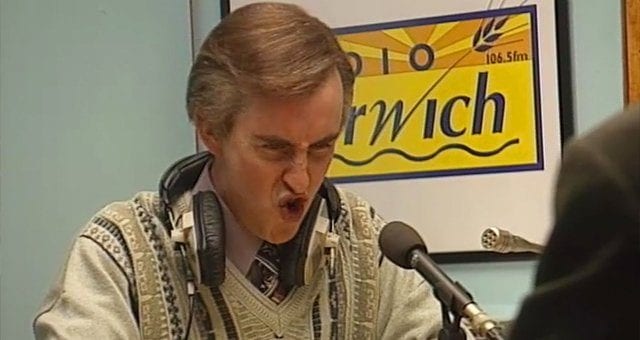 Die Figur wurde bald sehr populär und führte bis heute zu drei Serien, einem Film, diversen Spezials und natürlich Auftritten in anderen Formaten im britischen Fernsehen. Den Durchbruch im britischen Fernsehen erlangte Steve Coogan gleich mit der ersten seriellen Umsetzung "Knowing Me Knowing You with Alan Partridge". In diesem Serienformat ist Alan Partridge der Moderator der gleichnamigen Talk-Show und zeigt wieder einmal seine Unfähigkeit Gäste zu interviewen ohne dass es zu peinlichen Momenten kommt.
Der rote Faden der Serie war zudem die Prämisse, dass die Talk-Show mit Zuschauerzahlen zu kämpfen hat und innerhalb der BBC umstritten ist. Und demnach auch Alan Partridge. Ganz im Gegensatz zur Realität. Die Serie war ein kleiner Straßenfeger und sehr beliebt auf der Insel. Am Ende der Serie wird Alan Partridge von der BBC gefeuert. Weil er sich mit dem Programmdirektor geprügelt hat. Da es keine zweite Staffel der Talk-Show geben würde. Und dies ist sozusagen der Anfang von "I'm Alan Partridge".
Best of Alan Patridge - Part One
"I'm Alan Partridge" ist die direkte Nachfolgeserie im Stile einer Doku-Soap. Die Serie begleitet Alan Partridge in der Zeit nach dem Rauswurf bei der BBC. Partridge ist zurück in seine Heimatstadt Norwich gezogen, wo er bei Radio Norwich eine Sendung in der Nachtschiene moderiert. Natürlich in seiner bekannten Alan Partridge Art, mit weirden Einspielern und sinnlosen Talk und Inforeihen.
Zudem versucht Alan verzweifelt die BBC davon zu überzeugen, doch mit ihm eine zweite Staffel seiner Talkshow oder ein anderes TV Format zu produzieren, allerdings erfolglos (kein Spoiler).
Einordnung
Die wichtigste Einschätzung vorab: man muss die Vorgängerserie "Knowing Me Knowing You with Alan Partridge" nicht gesehen haben oder die Figur des Alan Partridge kennen um Spaß an "I'm Alan Partridge" zu haben. Ich kannte die Figur auch nur vom Hörensagen und die Vorgängerserie nur rudimentär. Warum ich für den Serientest dann aber die Nachfolgeserie genommen habe? Ich mag durchaus diesen Doku-Soap Style und den reinen Sitcomstyle des Vorgängers hatte ich in meiner Reihe schon, zudem ist in der zweiten Jahreshälfte eine weitere reine Sitcom/Comedy geplant. Und Abwechselung ist immer gut.
Zudem ist es wie gesagt völlig egal ob man die Vorgeschichte kennt, denn sie wird auch so klar und die Figur des Alan Partridge steht eh für sich allein.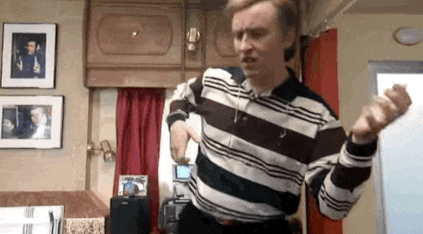 Und für wen ist die Serie etwas?
Die Figur des Alan Partridge ist recht einfach angelegt und stereotypisch für diese Art von Humor. Der Humor der Serie basiert zum Einen auf der Figur selbst, ihrem Selbstverständnis im Gegensatz zu seiner tölpelhaften und unfähigen Realität sowie den Peinlichkeiten die sich daraus generieren. Zum Anderen steht ganz klar der Dialoghumor der Serie im Mittelpunkt, genauso wie man es von britischen Serien gewohnt ist. Muss man einfach mögen.
Der Humor der Figur ist zeitlos, die Bildqualität natürlich eher so nicht. Aber mich stört sowas überhaupt nicht. Der typische Wackelkamerastil einer Doku kommt hier auch zum tragen, wird in meinen Augen aber nur für den Ansatz der Serie genutzt, will damit sagen, es wackelt nur wenig und stört auch nicht.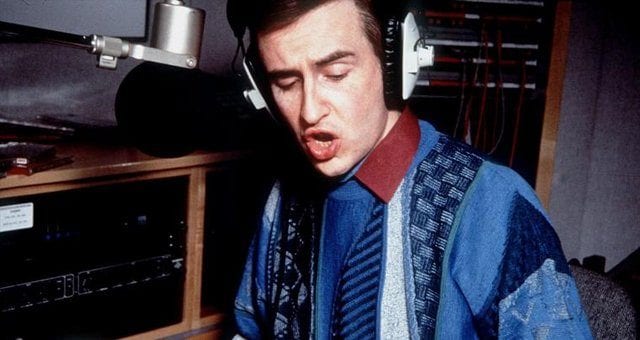 Die stärksten Szenen der Serie sind natürlich die Interviews bzw. Szenen im Radiostudio. Steve Coogan schafft es genüsslich und mit einer Portion schwarzen britischen Humors den parodistischen Ansatz der Figur auch ins neue Jahrtausend zu transportieren. Der Insiderhumor ist nicht wirklich ausgeprägt um den Witz der Figur zu verstehen.

Die Figur des Alan Partridge und das Spiel von Steve Coogan ist lustig, wenn, ja wenn man grds. diese Art von Humor des sich selbst überschätzenden Tölpels mag. All jene sollten mal in die Formate rund um Alan Partridge – Serien wie Filme – schauen. Und dank YouTube findet man eine ganze Menge an lustigen Clips, Zusammenstellungen und auch vollständigen Folgen online.

Also nehmt euch mal ein paar Minuten und hüpft rein ins Humoruniversum des Alan Partridge. Viel Spaß. Mich hat die Serie und die Figur überzeugt, ich mag aber auch diesen humoristischen Ansatz und den britischen Dialoghumor.

Alan Partridge Interviews Noel Gallagher (with Simon Pegg)

Bilder: BBC two

-->