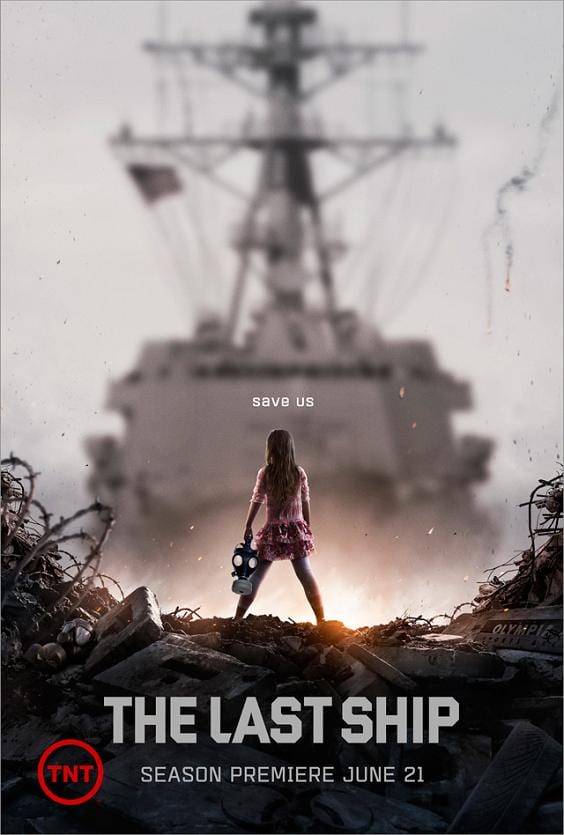 Jede Menge Action, ein bisschen Horror und die übliche Portion US-Patriotismus: Richtig, es geht um den Trailer zur 2. Staffel von The Last Ship. Diesen hat TNT gerade veröffentlicht, um den Restart der Serie am 21. Juni zu promoten.
Im Trailer sehen wir, dass die Mannschaft der U.S.S. Nathan James weiterhin zweitgeteilt unterwegs ist: Captain Chandler samt Crew auf dem Festland, sein XO Slattery an Bord des Schiffes. Nach dem mit sehr viel üblichen Klischees belegten russischen Gegner aus der ersten Staffel bekommt es das Team, das den Impfstoff von Dr. Rachel Scott besitzt, mit Freiheitskämpfern zu tun, die sich als die Auserwählten ansehen.
Ich bin mal gespannt, wie sich die zweite Staffel inhaltlich und optisch präsentieren wird. Ich fand die erste Staffel ganz ordentlich – die Idee und die Story waren gut, die Besetzung der Hauptfiguren finde ich auch in Ordnung, und der inhaltliche Dreh zum Ende der Staffel hat noch einmal für neuen Schwung gesorgt. Leben musste man eben mit dem typischen russischen Bösewicht (Okay, er war dieses Mal wirklich böse, wenn er schon einfach mal so eine Atombombe abfeuert – armes Frankreich…) und den bekannten Michael Bay-Charakterzügen, die er als Produzent auch The Last Ship verordnet hat. Sah aber alles gut aus – von daher: zweite Staffel, zweite Chance.