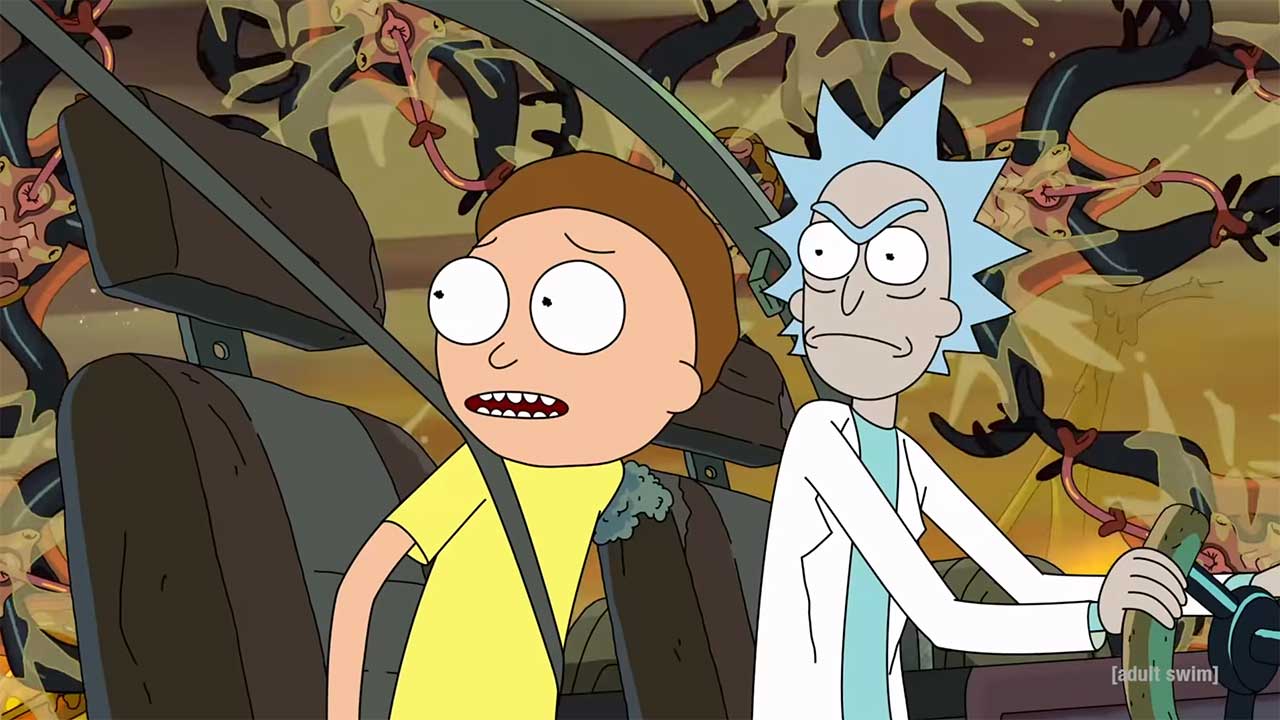 Endlich hat das Warten ein Ende! Seit der fünften Episode der pausierten vierten Staffel "Rick and Morty" sind auch schon wieder dreieinhalb Monate vergangen, so lange Midseason-Pausen kenne ich eigentlich nur von "Suits"… Doch jetzt steht endlich fest, wann die durchgeknallten, interdimensionalen Abenteuer weiter gehen! Ab 3. Mai wird in den USA die zweite Hälfte der Staffel ausgestrahlt und adult swim hat einen kleinen Trailer als Vorgeschmack zu "The Other Five" veröffentlicht. The boys are (f-ing finally) back in town!
Empfehlenswert ist übrigens mal ein Blick auf RickandMorty.com – die Website ist nämlich nicht nur verdammt cool designt, auf ihr läuft aktuell ein 24/7-Marathon mit kompletten Folgen der Serie, die am Stück nacheinander ausgestrahlt werden. Und das scheint sogar von außerhalb der USA problemlos streambar zu sein, yeah!
Ich hoffe, dass TNT Comedy hierzulande erneut parallel zur Ausstrahlung im amerikanischen Fernsehen die Folgen direkt montags-superfrüh-morgens ausstrahlen wird. Dann "darf" ich endlich wieder richtig früh aufstehen (ich fürchte, aufgrund der erfolgten Zeitumstellung sogar noch früher als zuvor…?!), um euch die Reviews schnellstmöglich präsentieren zu können.
Vermutlich werden die neuen Folgen "Rick and Morty" dann ein paar Tage nach der jeweiligen Erstausstrahlung mit deutschen Untertiteln zu sehen sein und einige Wochen nach Ablauf der Gesamtstaffel dann in synchronisierter Fassung. Und irgendwann dann auch in Gänze auf Netflix. So die aktuelle Weltlage rund um die Coronavirus-Pandemie nicht noch zu einer Verschiebung der Post-Produktions-Abläufe führen wird. Immerhin haben die überhaupt noch rechtzeitig die fünf Originalfolgen hinbekommen!
UPDATE (01.04.2020, 10:32 Uhr): Yep, gerade bestätigt worden:
"Ab 4. Mai zeigt TNT Comedy im [adult swim]-Block zeitgleich zur US-Ausstrahlung die fünf brandneuen Folgen im englischen Original. Dann gibt es für die Fans der Kultserie immer montags um 5:30 Uhr eine neue Episode als deutsche TV-Premiere zu sehen. Noch am selben Tag werden die englischsprachigen Folgen immer montags um 22:40 Uhr mit deutschen Untertiteln ausgestrahlt. Um den Fans die Wartezeit zu verkürzen, wiederholt TNT Comedy ab 27. April immer montags bis freitags um 00:35 Uhr die ersten fünf Folgen der vierten Staffel."
Und ja, ich habe diesen Samurai-Clip von "Rick and Morty" gesehen, fand ihn aber entgegen allgemein zu gelten scheinender Meinung nicht so wirklich prickelnd und verbloggenswert…