Im sAWEntskalender 2015 präsentieren wir euch bis 24. Dezember jeden Tag die seriesly AWESOMEN Fakten zu euren und unseren Lieblingsserien. Und fordern euch im
großen sAWEntskalender-Gewinnspiel
heraus.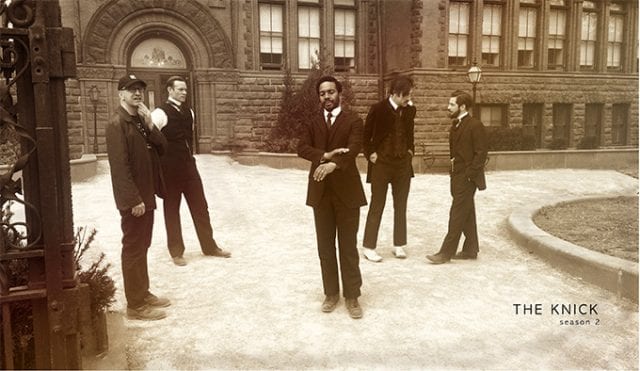 Die Krankenhaus-Serie ThE Knick ist aus meiner Sicht ein echtes Highlight unter dem aktuellen Serienangebot. Sie macht optisch einiges her – vor allem dank der Regiearbeit von Steven Soderbergh -, kommt mit einem klasse Score von Cliff Martinez daher und überzeugt durch tolle schauspielerische Leistungen – allen voran Clive Owen als Hauptfigur Dr. Thackery. Ich mag auch die unverblümte, schmutzige Optik der Serie – so stellt man sich einen Krankenhausbetrieb vor mehr als 100 Jahren auch vor. Die Eindrücke dazu hatte ich ja schonmal in meinem Serien-Tipp geschildert. Hier habe ich jetzt ein paar schmutzige und statistische Fakten zur Serie zusammengetragen – perfektes Angeberwissen für den nächsten Small-Talk.
Wie war das eigentlich vor 100 Jahren?
Die Idee zur Serie The Knick hatten Jack Amiel und Michael Begler, die vorher eher leichte romantische Komödien und Sitcoms geschrieben hatten. Die Idee kam Michael Begler, als er ein medizinisches Problem im Internet recherchierte, wo wirklich jedes kleine Wehwehchen umfassend dokumentiert ist – man kennt das. Er fragte sich, wie das wohl vor hundert Jahren gewesen sein müsste. Amiel und er kauften sich bei eBay eine Reihe alter medizinischer Bücher und hielten damit den Stoff für ihre neue Serie in den Händen.
Original und Fiktion
Viele Eigenschaften des Knickerbocker Hospitals basieren auf den Schriften von Dr. Stanley Burns, der jede Menge historisches Material, Fotos und texte zur Medizin im Burns Archive dokumentierte. Die Figur des Dr. Thackery basiert lose auf William Hansted, einem der wichtigsten Chirurgen der damaligen Zeit. Dr. Edwards basiert wohl auf Daniel Hale Williams aus Chicago von 1891. Mehr zu den Vergleichen zwischen Historie und The Knick-Fiktion gibt es hier.
Zahlen, Zahlen, Zahlen – alles rund um die Produktion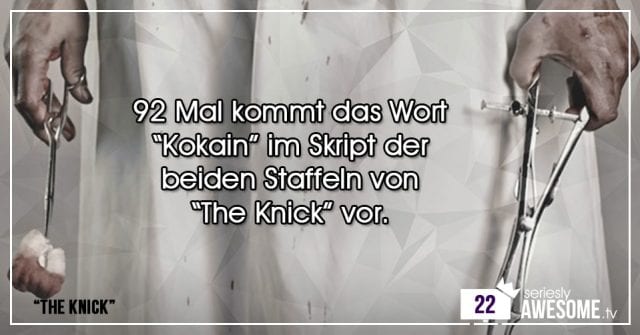 Steven Soderbergh hat genau Buch darüber geführt, wie die Produktion der beiden bisherigen Staffeln abgelaufen ist. Zu praktisch jedem Produktionsdetail wurde Buch geführt. Und so wissen wir:
– 557 Szenen wurden in der 1. Staffel gedreht, 468 Szenen in der 2. Staffel
– 465 Stunden, 30 Minuten und 50 Sekunden fielen für das Editing der 1. Staffel an, 235 Stunden, 26 Minuten und 10 Sekunden für Staffel 2
– 27 Mal kommt das Wort Heroin im Skript der 2. Staffel vor
– 56 Mal kommt das Wort Kokain im Skript der 1. Staffel vor, 36 Mal in Staffel 1
– 18 chirurgische Eingriffe werden in Staffel 2 gezeigt
– Der längste Produktionstag in Staffel 2 war Tag 71 mit 11 Stunden und 50 Minuten
– Der kürzteste Produktionstag war Tag 16 mit 6 Stunden und 40 Minuten, ebenfalls bezogen auf Staffel 2
Alle Details zur Produktion finden sich hier.
Hospital Manager Herman Barrow ist die "Geheimwaffe" der Serie
Steven Soderbergh hat eine besondere Beziehung zu der Figur des Herman Barrow. Er ist so etwas wie die Geheimwaffe der Serie. Er zeigt viele Seiten und wirkt immer etwas geheimnisvoll, da auch immer neue Erkenntnisse zu ihm zu Tage treten. Steven Soderbergh vermeidet es deswegen, zum Beispiel Barrows Frau zu oft auftreten zu lassen, da sie viele Geheimnisse zerstören könnte:
He's a fascinating character beautifully limned by Jeremy Bobb, and because his double life is so crucial to the show, any interaction with his wife — who has only a single speaking scene in Season 1 — gives us vital information about him. That's why I am going to resist making any huge cuts in this scene, although I did get out of it early. It's my job to have the mosaic of the entire show (visually and narratively) in mind whenever I make any decision during prep, on set, or in the editing room, and this, in my opinion, is an instance where a short term gain in moving things along hurts one of our key characters.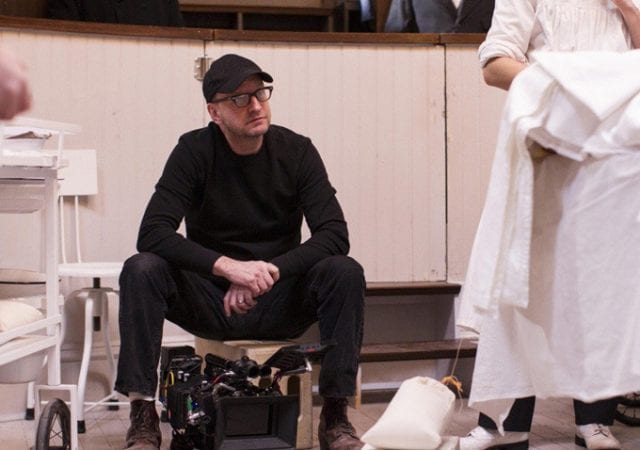 -->