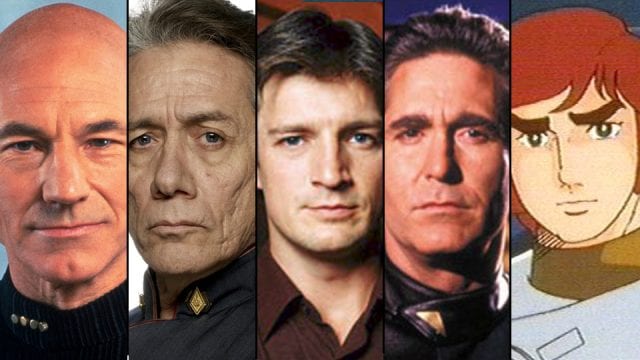 Wer der beste Star Trek-Captain ist, haben wir Euch ja schon einmal gefragt – das Ergebnis war eindeutig: Eure Wahl ist auf Captain Jean-Luc Picard gefallen. Aber ist er auch der beste Raumschiff-Kapitän aller gängigen Scince-Fiction-Serien? Wir haben Euch eine Auswahl zusammengestellt und stellen Euch genau diese Frage.
1.) Captain Jean-Luc Picard (Star Trek TNG)
Der Titelverteidiger sozusagen, Captain der Stargazer und danach der Enterprise D und E. "Mon Capitan", wie Q ihn mal genannt hat, oder "Locutus von Borg", wie er hieß, als ihm ein paar Implantate von den Borg angeflanscht wurden. Trinkt gerne Earl Grey-Tee, spielt Flöte, ist recht diplomatisch und hat einem Raumkampfmanöver seinen Namen gegeben – dem "Picard-Manöver".
TNG Au Contraire Mon Capitan! (Deja Q)
2.) Admiral William Adama (Battlestar Galactica)
War eigentlich schon außer Dienst, ehe die Zylonen die Kolonien angriffen und nahezu auslöschten. Er übernahm die Galactica im anschließenden Krieg gegen die Zylonen. Musste eine Meuterei durchstehen, verlor einen Boxkampf, fand am Ende schließlich die neue Erde. Ließ alle Raumschiffe in die Sonne steuern und siedelte die Menschen auf der Erde an. Auch von ihm gibt's ein Manöver, das "Adama-Manöver".
BSG: The Adama Maneuver (HD)
3.) Captain Malcom "Mal" Reynolds (Firefly)
Hat im Vereinigungskrieg auf der Seite der Verlierer gekämpft. Kommandiert lediglich das ramponierte Schiff Serenity, allerdings mit einer loyalen Crew. Hält sich mit Schmuggel und Diebstahl über Wasser und schafft es nie, am Vereinigungstag in Ruhe etwas zu trinken. Es geht eben etwas rabiater bei ihm zur Sache…
Firefly: Malcolm Reynolds's Punchout!
4.) Jeffrey Sinclair (Babylon 5)
OK, er leitet nur eine "Station", ist aber dennoch ein befehlshabender Commander. Er handelt im Auftrag der Erdallianz, wird aber vom überlegenen Volk der Vorlonen zur Auslieferung eingefordert. Macht wenig später Karriere als Botschafter auf der Heimatwelt der Minbari. Raumschlachtmanöver sind von ihm nicht bekannt – wie auch, mit einer behäbigen Station. Aber Diplomatie, das kann er.
Babylon 5: Will all of this be for nothing?
5.) Captain Future (Captain Future)
Gilt immerhin als der fähigste Wissenschaftler des Sonnensystems. Heißt eigentlich Curtis Newton und wurde von seinen Eltern auf dem Mond versteckt. Ein Android, Otho, ein Robotoer, Grag, und ein Gehirn, Prof. Simon, sind seine besten Freunde. Sein Raumschiff, die Comet, hat er sich kurzerhand selbst gebaut – schlauerweise mit einem Labor, so dass die Comet als Forschungsschiff durchgeht. Für alle Fälle ist ein Beiboot dabei, der Cosmoliner.
ABSTIMMUNG VORBEI! Hier die Ergebnisse:
(95 Stimmen)
Captain Jean-Luc Picard 57
Admiral William Adama 4
Captain Malcom "Mal" Reynolds 19
Jeffrey Sinclair 6
Captain Future 9
Das Ergebnis der vergangenen Woche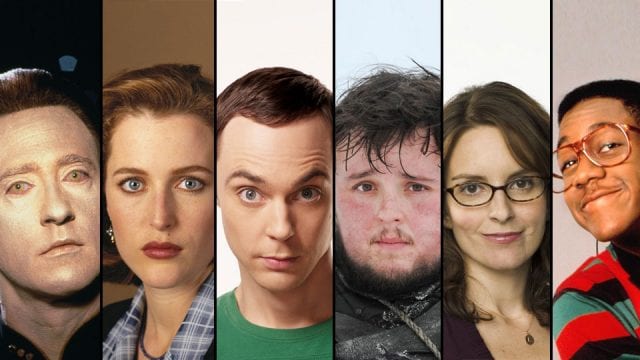 Wir wollten von Euch wissen, wer der größte Serien-Nerd ist. Ich persönlich hätte ja auf Steve Urkel getippt, die meisten Stimmen hat aber Moss (IT Crowd) von Euch bekommen. Knapp dahinter: Sheldon Cooper aus TBBT. Danach kommt stimmenmäßig lange nichts, ehe Steve Urkel an der Reihe ist. Was ich mich frage: Wer hat für Dana Scully als größten Nerd geklickt? Eine(r) war's!

-->