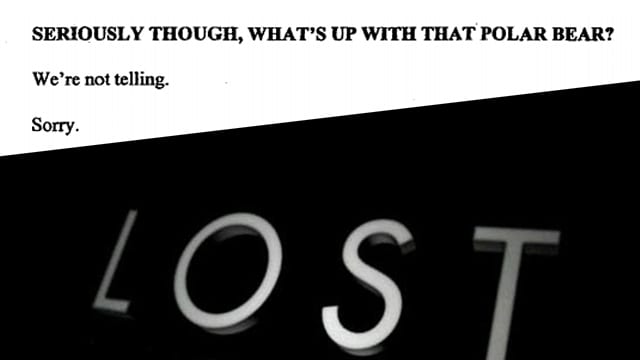 Genial! Nicht allzu häufig bekommt man die Chance so tief ins Serien-Business hineinzuschauen. Die originale "Show-Bible" zur Erfolgsserie Lost wurde veröffentlicht und hält einige Überraschungen parat. Zunächst aber an alle Fans,  >>>> hier <<< könnt ihr den Pitch herunterladen (ich hoffe der Link hält eine Weile).
Wichtigste erste Erkenntnis (nachzulesen auf Seite 7 des PDF), LOST war nie als Fantasy oder SciFi Show geplant, die Macher sagen selbst zum Genre:
We'd prefer it to brand it as an "Adventure Show"
Dann weiterhin, total verblüffend, die Serie war nicht als Serial sonder als klassische Series ausgelegt, d.h. man muss nicht jede Folge schauen, um die Geschichte zu verstehen:
(…) character arcs (romances, alliances, grudges) carry over the scope of a season, but the plots will not. Viewers will be able to drop in at any time and be able to follow exactly what's going on in a story context.
Weiterhin war der "Hatch" erst als eine Art Bunker geplant:
In one story, our group finds what seems to be a NAZI BUNKER.
Das beste an dem Pitch finde ich aber, dass sie 1. keine Ahnung hatten woher das Rauch-Monster kommt oder was es soll, und 2. offenbar auch nicht, was es mit den Eisbären auf sich hat – oder sie wollten es nicht verraten:
Seriously though, whats up with that polar bear? We're not telling. Sorry.
Achja und ebenfalls interessant, wenn auch nicht in dem Pitch erwähnt: Michael Keaton wollte Jack spielen, da der Charakter bereits in der ersten Folge sterben sollte. Nachdem Jack doch zu cool angelegt war, entschied man sich den Charakter leben zu lassen, womit Keaton keine Lust mehr auf LOST hatte… schade.

-->