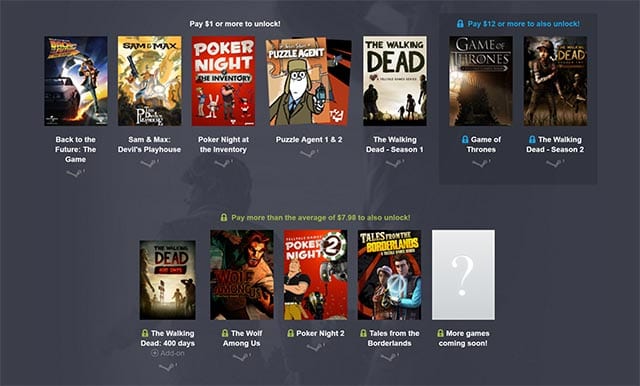 Ich liebe das Humble Bundle! Leider habe ich schlichtweg zu wenig Zeit, sonst würde ich mir jedes kaufen und mich durch die kleinen und großen Perlen der Videospiele zocken. Jetzt werde ich aber tatsächlich wacklig, denn ganz neu gibt es das Telltale-Bundle zu kaufen. Darin enthalten sind ab einem Dollar Kaufpreis (also quasi geschenkt!) die erste Staffel von "The Walking Dead" sowie das großartige "Back to the Future" von Telltale. Außerdem noch "Sam & Max: Devil's Playhouse", "Poker Night at the Inventory" und "Puzzle Agent 1 & 2".
Wer über dem Durchschnitt zahlt (aktuell 7,98 Dollar) erhält noch dazu: "The Walking Dead: 400 days", "The Wolf Among Us", "Poker Night 2" sowie "Tales from the Borderlands". Und der Knaller: Für nur 12 Dollar gibt es noch "Game of Thrones" und "The Walking Dead – Season 2" on top.
Elf Spiele für 12 Dollar – Hammer! Wer also zumindest eines sieht, was er/sie eh schon mal spielen wollte – zugreifen. Geht noch 13 Tage lang. Vielleicht schaffe ich es so ja auch endlich mal, unser angedachtes Let's Play zum GoT-Teil zu zocken und aufzunehmen…
Hier noch die Trailer zu einigen Spielen.