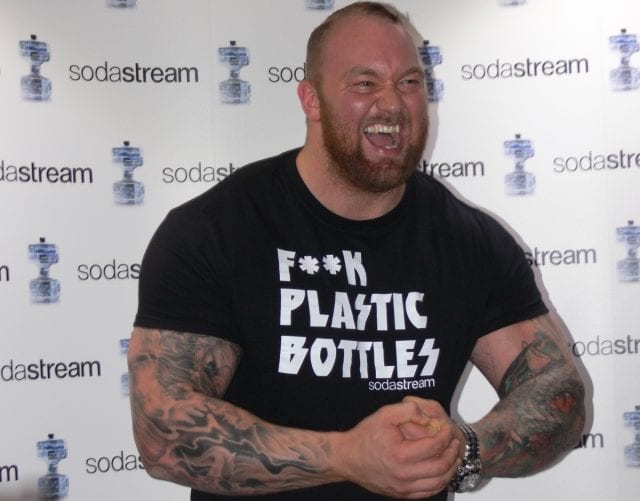 Das Team von SodaStream hat uns am Montag ins schicke East-Hotel in Hamburg eingeladen. Grund dafür war der Launch des neuen Kooperationsprojekts "Heavy Bubbles – Sparkling water that makes you sweat". Hierfür hat sich der bekannte Wassersprudler-Hersteller nämlich einen internationalen Werbebotschafter gesucht und IHN gefunden: Thor Bjornsson, uns allen vermutlich besser bekannt als "The Mountain" aus Game of Thrones. Der Pfundskerl kann nämlich nicht nur ordentlich Gewichte stemmen und andere Charaktere in Westeros ausschalten. Unter dem Motto "F**k Plastic Bottles" setzt er sich auch sinnvoll für die Umwelt ein.
Thor, dessen gebürtiger Name eigentlich Hafþór Júlíus Björnsson ist, legte am Abend einen im wahrsten Sinne des Wortes starken Auftritt hin. Im Licht- und Sound-Spektakel betrat der 2,06 Meter große und 185 Kilo schwere Mann das hoteleigene Cinema, präsentierte Presse und Bloggern seine erstaunlichen Oberarme und stand den Anwesenden Rede und Antwort. Doch leider durfte er keinen einzigen Pieps zur Fortsetzung von Game of Thrones sagen.
Neben den Standardfragen, wie er denn dazu gekommen sei, Werbebotschafter für Wasser zu werden (er nutzt Soda Stream schon seit seiner Kindheit – ähm, wer hätte gedacht, dass er erst 1988 geboren ist?!), was er denn mache, um diesen Körper zu haben (sechsmal die Woche Training, zwei bis vier Stunden am Tag – und 10.000!!! Kalorien … pro .. Tag!!), hat uns aber ja vor allem seine Rolle in der Sci-Fantasy-Serie interessiert. So fragte ein Ungesehener hinter mir:
"Will Jon Snow come back?"
Diese Frage beantwortete Thor aber dann auch nur mit einer Geste, als würde er sich einen Strick um den Hals legen und schließlich dran ziehen. Schon verstanden. Keine Antwort auf solch sensible Fragen. Ich hab es mir dann aber doch nicht nehmen lassen, noch einmal auf Game of Thrones zurückzukommen und wollte von ihm wissen, welche Version des Mountain vs. Viper Kampfes ihm denn eigentlich besser gefallen habe: die brutale oder die richtig brutale? Nur leider hatte er keine Ahnung, wovon ich rede. Dass ursprünglich eine noch brutalere Version als die uns bekannte mit allerlei Special Effects in den Startlöchern stand, um ausgestrahlt zu werden, sich dann aber doch gegen den Höhepunkt der Serie und für einen Cut entschieden wurde, wusste Thor nicht. Meine Frage hatte sich somit dann auch erledigt. Immerhin hat es für ein tolles Bild mit ihm gereicht.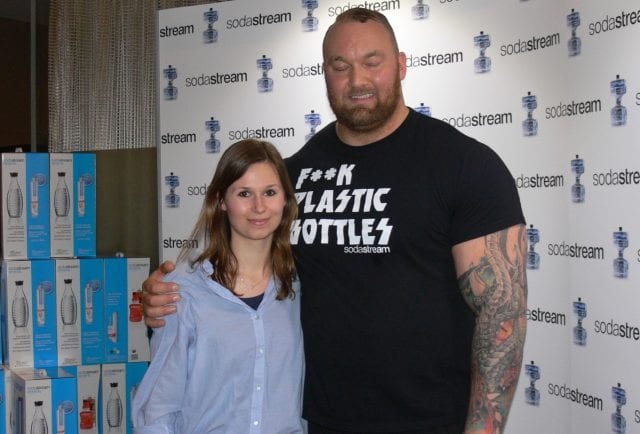 Vor seinem inneren Auge malt sich Thor hier übrigens aus, wie unsere gemeinsame Zukunft wohl aussehen wird. Also die von sAWE und ihm natürlich ;) Und seine Kräfte hat er uns natürlich auch noch einmal präsentiert. Aus dem Stand heraus stemmte er mal eben 300 kg.

sAWE trifft Game of Thrones-Star "The Mountain"

Insgesamt war es ein schöner Abend – mit ein bisschen wenig Game of Thrones-Feeling für meinen Geschmack, aber dafür sehr sehr viel Power. Zum Schluss gibt es dann auch noch den (mit einem dicken Augenzwinkern zu betrachtenden) Werbespot zum Kooperationsprojekt von SodaStream und dem stärksten Mann Europas:

Und am 24. April klärt sich dann hoffentlich auch die unbeantwortete Frage um das Schicksal Jon Snows. Ich geh bis dahin erstmal ein bisschen trainieren … die 10.000 Kalorien müssen doch zu schlagen sein.

-->