Raum und Zeit sind flexibel in der ersten Animationsserie für Erwachsene von Amazon: "Undone" wird sie heißen. Die Amazon Studios gaben die Serie aus der Feder von Raphael Bob-Waskberg ("BoJack Horseman") und der Gewinnerin des Writers Guild-Awards, Kate Purdy (ebenfalls "BoJack Horseman") in Auftrag. Die Sprechrollen übernehmen im Original unter anderem Rosa Salazar und Angelique Cabral. "Undone" befindet sich laut Amazon derzeit in der Vorproduktion und feiert voraussichtlich 2019 exklusiv Premiere auf Prime Video.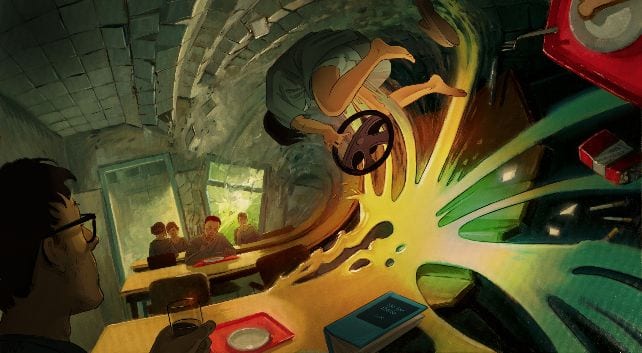 Undone wird von der Michael Eisner's Tornante Company produziert. Zusammen mit den Schöpfern Bob-Waskberg und Purdy fungieren Noel Bright (nochmal "BoJack Horseman"), Steven A. Cohen (man ahnt es schon… "BoJack Horseman") und Tommy Pallota ("Walking Life") als Executive Producer. Was sehr spannend klingt: Der niederländische Künstler Hisko Hulsing betreut das Produktionsdesign des Prime Originals und arbeitet dabei mit einem Animationsteam in den Niederlanden zusammen. Die Animation der Serie wird in Zusammenarbeit mit dem Studio Munnow Mountain aus Austin, dem niederländischen Co-Produzenten und dem in Amsterdam ansässigen Studio Submarine erstellt. Das erste Bild sieht ja schonmal vielversprechend aus. Auch Serienschöpfer Bob-Waksberg freut sich, Hisko Hulsing an Bord zu haben:
"Hisko's beautiful artwork and masterful use of light and color will create a look never seen before on a television show that will make audiences lose their minds."
Amazons Undone: Darum geht's inhaltlich
Die halbstündigen Episoden der Dramedy erforschen die neuen Lebensumstände der Serienheldin Alma. Nachdem sie in einen beinahe tödlichen Autounfall geraten ist, entdeckt Alma, dass sie plötzlich eine völlig neue Beziehung zur Zeit hat. Mit den neugewonnenen Fähigkeiten versucht sie, die Wahrheit über den Tod ihres Vaters herauszufinden. Almas kleiner Schwester ermutigt die junge Frau immer wieder, ihr Leben zu genießen und loszulassen.