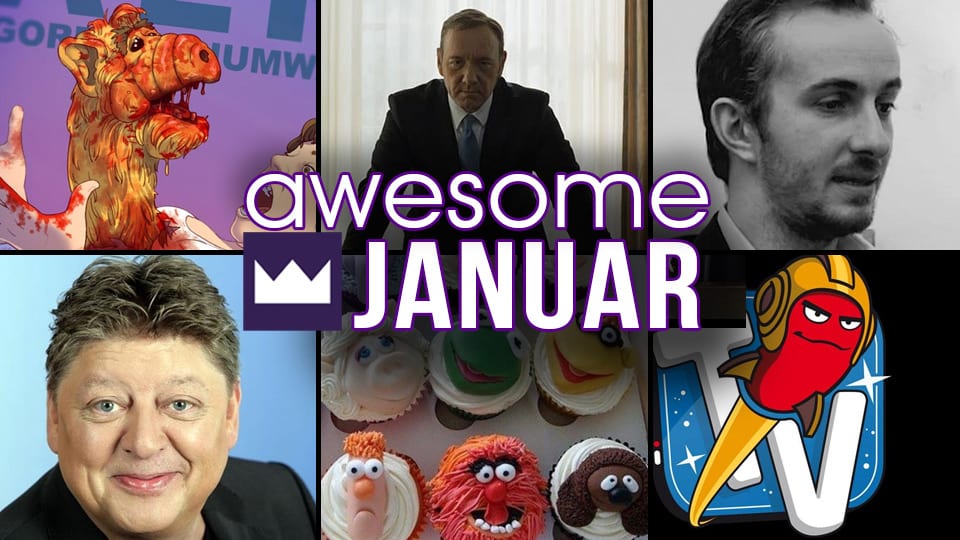 Gefühlt war es im Januar etwas ruhiger, denn die großen Serienstarts – Stichwort Better Call Saul, House of Cards oder Game of Thrones – folgen erst noch.
Doch so ganz stimmt das nicht, denn mit 12 Monkeys ist eine vielversprechende neue Serie an den Start gegangen, wie ihr in Maiks Review nachlesen könnt. Dazu gab es noch das Award-Highlight: Die Golden Globes wurden feierlich verliehen mit einigen Überraschungen. Denn die sehr eigenwillige, von Amazon produzierte Serie namens Transparent wurde ausgezeichnet. Neben einem Preis für die Serie wurde auch der Hauptdarsteller Jeffrey Tambor prämiert. Worum es in Transparent geht, könnt ihr hier nachlesen oder euch über den Freudentanz des Hauptdarstellers Jeffrey Tambor freuen.
In Deutschland war parallel mal wieder Dschungelzeit, Maik analysierte treffend, dass diese Staffel bei weitem nicht an die vorangegangenen herankam – sofern man dem Dschungel Camp etwas abgewinnen kann. Außerdem lud Sat.1 ein und präsentierte seine neue Reality Show "Newtopia". Maik war vor Ort und durfte Eindrücke zu diesem Format sammeln, seinen Bericht findet ihr hier.
Ansonsten gab es diese folgenden 10 Highlights im Monat Januar, sortiert nach eurem Interesse (aka Pageviews):
Auf der nächsten Seite geht es zu dem persönlichen Serienmonat der seriesly Autoren.
Dieser Beitrag hat mehrere Seiten: