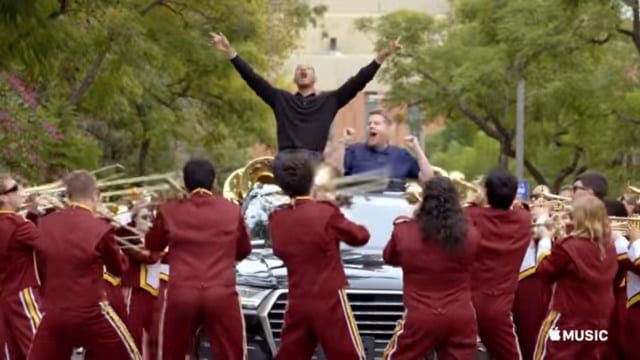 Carpool Karaoke ist für mich eines der besten Formate, das einer Late Night Show je entsprungen ist – was sicherlich nicht zuletzt an Jamsie James Corden liegt. Seit Anfang 2015 moderiert der gebürtige Brite die Late Late Show, in die das Format Carpool Karaoke von Beginn an eingebunden war. Ich würde wetten, dass viele die Bedeutung hinter dem Namen nicht kennen – so ging es mir auch: Als "Carpool Lane" ("Fahrgemeinschafts-Spur") wird vor allem in den USA und in Kanada auf viel befahrenen Straßen eine Fahrbahn bezeichnet, die Fahrgemeinschaften vorbehalten ist und die Bildung dieser somit fördern soll. In seiner Show bittet Corden daher verschiedene Promis, ihn zur Arbeit zu begleiten, um eben diese Spur nutzen zu können, um nicht zu spät zu kommen. Das ist natürlich nur der Vorwand, um mit den unterschiedlichsten Sängern, Schauspielern oder aber auch First Ladies (das gehört vermutlich erstmal der Vergangenheit an) hinter dem Steuer in verrückten Kostümen zu tanzen und Songs zu trällern.
Da Carpool Karaoke nicht nur während der Sendung ziemlich gut ankommt, sondern auch über YouTube sehr erfolgreich ist, dachte sich Apple Music, dass es an der Zeit ist, aus dem Format eine eigene Serie zu machen. Und der erste Teaser, der Promis wie John Legend, Will Smith und Alicia Keys zeigt, ist nun da. Das wird bestimmt unterhaltsam! Der einzige Haken: James Corden wird nicht bei jeder Promi-Autoinsassen-Konstellation dabei sein. Sad Story.
Apple Music — Carpool Karaoke: The Series — Coming Soon
Carpool Karaoke: The Series wird die erste Serie in Videoform für Apple Music sein. Ein Startdatum steht aktuell noch nicht fest.
via: Entertainment Weekly