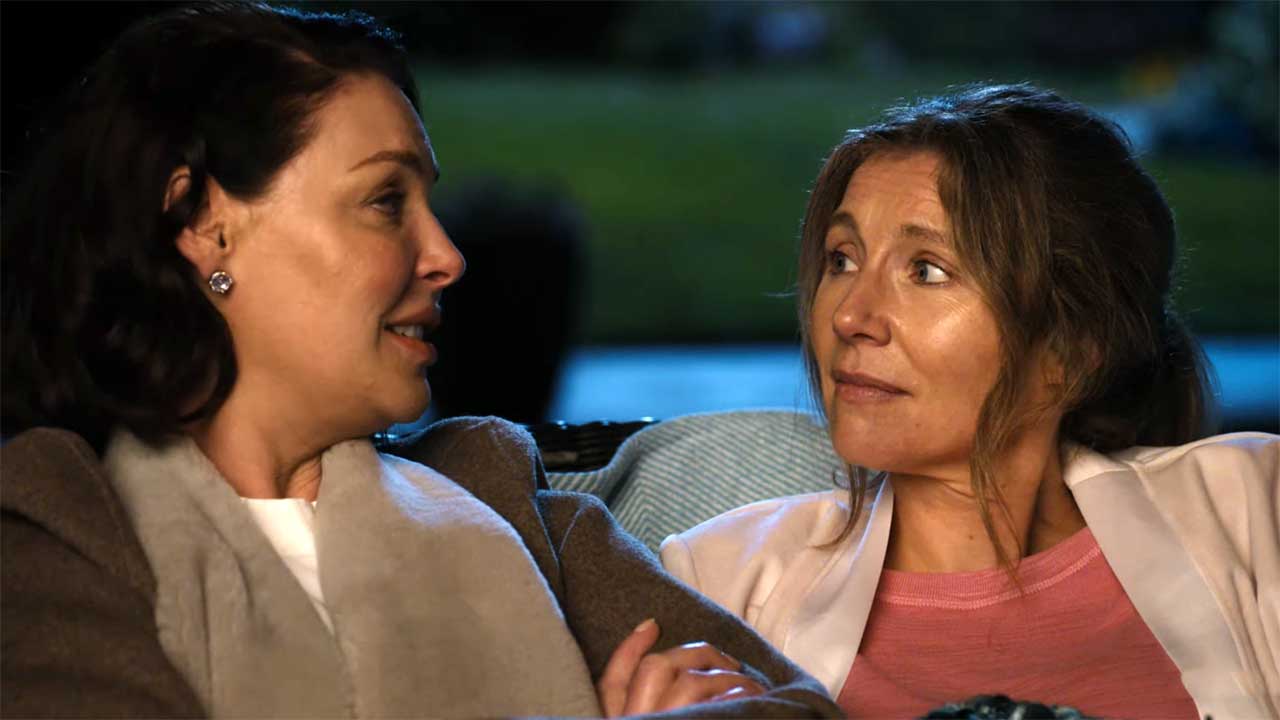 Und schon können wir noch eine Serie von der "Übersicht aller Serienneustarts auf Netflix in 2020"-Liste streichen! "Firefly Lane" hieß Fabios Eintrag damals noch, doch wie bei der Bestseller-Romanvorlage von Kristin Hannah wird auch die TV-Adaption in Deutschland unter dem Titel "Immer für dich da" laufen. Wobei, dieses Jahr wurde das Buch unter dem Titel "Die Mädchen aus der Firefly Lane: Immer für dich da" (Partnerlink) nochmal neu aufgelegt… Gerade wurde der erste Trailer zum Drama veröffentlicht, das nicht nur mit einer originell auf unterschiedlichen Zeitebenen erzählten Handlung, sondern auch mit verdammt namhaften Besetzung aufwarten kann.
Hier wie so oft zunächst die englische Originalausgabe des Trailers, darunter findet ihr die deutsch synchronisierte Fassung.
"Drei Jahrzehnte, zwei Freundinnen, eine atemberaubende Geschichte: Katherine Heigl and Sarah Chalke spielen die Hauptrollen in dieser Serie nach dem Bestseller von Kristin Hannah. 'Immer für dich da' gibt es demnächst auf Netflix."
Der Roman kam 2008 raus, vermutlich war es damals noch nicht möglich, einfach den Originaltitel zu nehmen, so müssen wir dann jetzt auch mit einem Titel leben, der eher nach ZDF-Fernsehfilm schreit. Schade. Dafür ist das Hauptgespann schon wirklich stark: Katherine Heigl (u.a. "Grey's Anatomy", "Suits") and Sarah Chalke (u.a. "Scrubs", "Roseanne") sind schon absolute Stars der Schauspiel-Branche. Nun gut, die konnte man sich vermutlich auch leisten, weil ein Teil der Aufnahmen ja in anderen Zeiten spielen, so dass die jungen Varianten der Hauptfiguren Kate und Tully von anderen Darstellerinnen verkörpert werden (Roan Curtis und Ali Skovbye). Okay, dafür dürften beide für die Darbietungen in der höheren und mittleren Altersstufe jeweils ein bisschen mehr Zeit in der Maske verbracht haben. Bei Sarah Chalke dachte ich in einigen Momenten, man hätte Bernadette-Rostenkowski-Darstellerin Melissa Rauch aus "The Big Bang Theory" gecastet…
Die erste Staffel von "Immer für dich da" wird ab Mittwoch, dem 3. Februar 2021, auf Netflix verfügbar sein. Hier schon einmal der Streaming-Direktlink für euch.