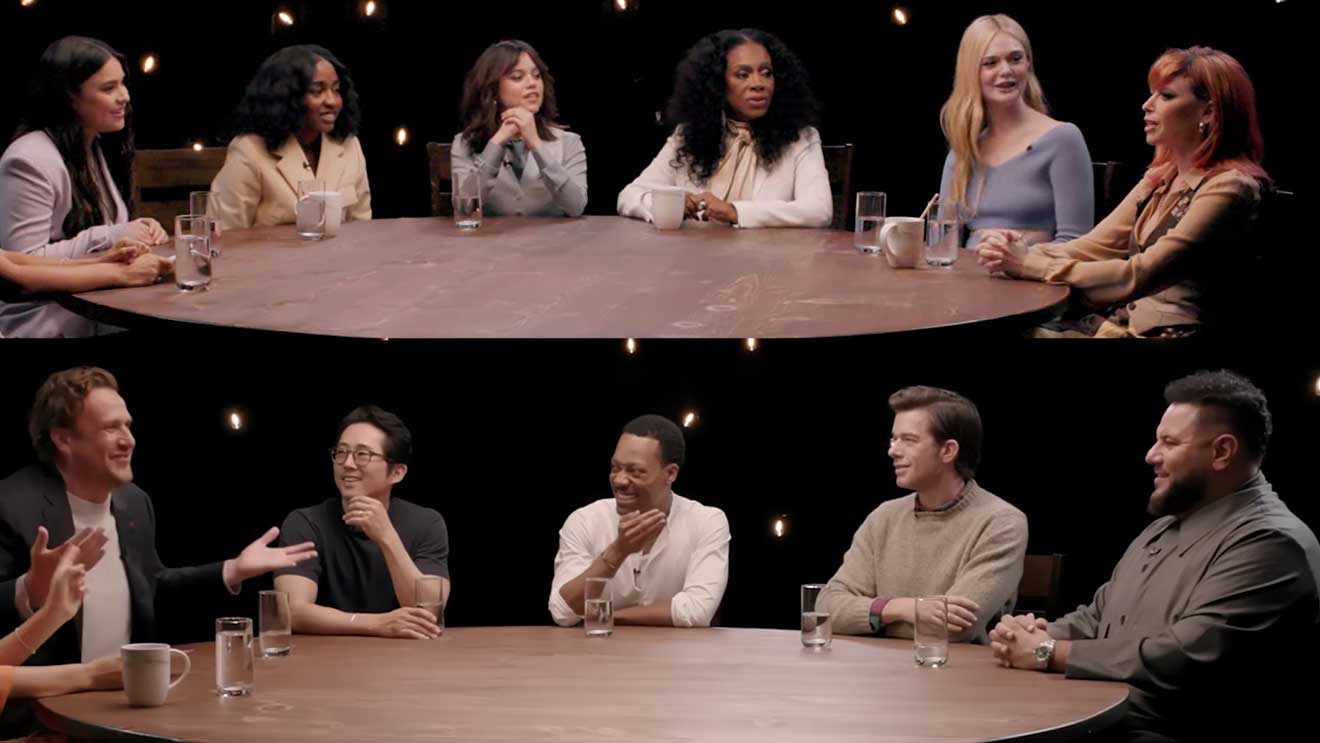 Uh, nice: Nachdem wir neulich erst eine Reihe namhafter Drama-Schauspieler im Roundtable-Gespräch geboten bekommen hatten, liefert The Hollywood Reporter nach. Leider nicht mit der erwarteten Version mit Darstellerinnen – zumindest nicht aus dem Drama-Bereich. Stattdessen sind in den vergangenen Tagen gleich zwei Videos dieser Art zum Genre Comedy online gegangen. Einmal mit Schauspielern und einmal mit Schauspielerinnen (endlich!). Auch dieses Mal sind viele Gesichter am Tisch vertreten, die im Laufe des vergangenen Jahres vermehrt auf den TV-Bildschirmen zu sehen gewesen sind. Diese Art des Aufeinandertreffens von Leuten, die sich verhältnismäßig locker über ihre Arbeit austauschen, ist immer wieder enorm interessant, finde ich.
Ladies first: Hier dürften natürlich allen voran Jenna Ortega sowie Natasha Lyonne mit ihren prominenten Netflix-Rollen ins Auge stechen. Bei Ayo Edebiri bin ich etwas verwundert, dass sie hier am Tisch sitzt, hätte ich ihr angeführtes Referenz-Projekt "The Bear" eher im Drama-Bereich gesehen, aber ihre Performance war natürlich dennoch super.
"Ayo Edebiri ('The Bear'), Elle Fanning ('The Great'), Devery Jacobs ('Reservation Dogs'), Natasha Lyonne ('Poker Face'), Jenna Ortega ('Wednesday'), and Sheryl Lee Ralph ('Abbott Elementary') join The Hollywood Reporter for our Comedy Actress Roundtable."
Bei den Herren gibt es auch ein bisschen Drama-Einschub, aber reine Comedy gibt es heutzutage halt kaum noch. "Beef" hatte seinen kleinen Hype und "Shrinking" hätte einen haben müssen – eine so wunderbar getimete Serie, was den Humor anbelangt, nur zu empfehlen!
"Jason Segel ('Shrinking'), John Mulaney ('John Mulaney: Baby J'), Mo Amer ('Mo'), Steven Yeun ('Beef'), and Tyler James Williams ('Abbott Elementary') join The Hollywood Reporter for our Comedy Actor Roundtable."
Jetzt fehlt nur noch, dass auch mal unabhängig des Geschlechtes Leute gemeinsam am Tisch sitzen und plaudern. Vielleicht meint man schlichtweg, dass die Charaktere sich so mehr ähneln und die Darstellenden lockerer wirken, da sie "unter sich" sind. Naja.

-->