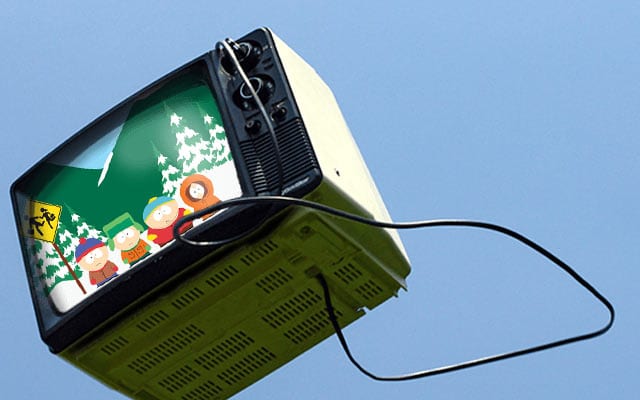 Und wieder eine neue Woche. Dieses Mal darf ich euch digital und vorausschauend durch selbige führen. Zumindest, was das Televisionäre angeht. Was ein schönes Wort, das sollte auf unseren Visitenkarten stehen. "Maik Zehrfeld – Televisionär". Nun aber los!
Montag, 12. September
Heute gibt es aus den US-and-A eine neue Folge von "Fear The Walking Dead" (S02E11 – amc) sowie "The Strain" (S03E03 -FX), die ich vermutlich in der Bahn von Berlin nach Augsburg anschauen werde. Im deutschen Free-TV gibt es mit der 10. Staffel "Supernatural" eine Premiere auf 7MAXX (20:15 Uhr), dort könnt ihr um 22:05 auch den Piloten zu "Minority Report" anschauen. Solider Auftakt in die Woche.
Heute Nacht liefen noch an:
Masters of Sex s04e01 – Showtime
Ray Donovan s04e11 – Showtime
The Last Ship s03e13 – TNT
Dienstag, 13. September
Dienstag können "Masters of Sex" und die, die es werden wollen, ab 22:30 Uhr auf zdf_neo den Doppelfolgen-Auftakt zur dritten Staffel sehen. Dazu gibt es ab 23:10 Uhr endlich auf ProSieben die Free-TV-Premiere der zweiten Staffel "Gotham" (S02E01). Da beides somit parallel läuft, empfehle ich euch Letzteres. Oder einfach eines aufnehmen.
Mittwoch, 14. September
Ich habe leider noch nicht in "Atlanta" reinschauen können, aber Mittwoch gibt es die dritte Episode in den USA. Dazu noch S03E03 von "From Dusk Till Dawn". Ansonsten habt ihr ja vielleicht einfach "Wilfred" (S02E12+13) aufgenommen, das ab 2:10 Uhr in der Nacht auf ProSieben lief. Ansonsten läuft natürlich das erste Champions League-Spiel des BVB gegen Legia Warschau!
Donnerstag, 15. September
Schluss mit Vorgeplänkel – die neue TV-Season beginnt quasi genau jetzt! In den USA haben des Nachts die neuen Staffeln von "American Horror Story" (s06e01 – FX), "Blindspot" (s02e01 – NBC) und "South Park" (s20e01 – Comedy Central) begonnen. Dazu habt ihr bei "Mr. Robot" (s02e11 – USA Network), "Suits" (s06e10 – USA) und "Youre the Worst" (s03e03 – FX) neue Folgen. Wie soll ich das nur alles gucken…?!
Und auch im deutschen TV geht es rund. Ab 21:05 gibt es "Brooklyn Nine-Nine" (S02E01+02) auf RTL NITRO zu sehen, wo "Modern Family" im Anschluss (22 Uhr) in Staffel 6 startet. Und "South Park"-Fans müssen gar nicht lange warten – die superneue Episode gibt es ab 22 Uhr auf Comedy Central. Yeah!
Freitag, 16. September
Zeit zum Durchschnaufen. Wer schon alles gesehen hat, kann ja "Death in Paradise" (s05e01+02 ab 21:50 Uhr auf zdf_neo) oder "Broad City" (S03E01+02, ab 22:30 Uhr bei Comedy Central) sehen. Mache ich aber nicht. So!
Samstag, 17. September
Zur attraktiven Sendezeit von 13:35 Uhr startet auf ProSieben die dritte Staffel von "Fresh Off the Boat". Vielleicht schaut ihr da doch besser die neue US-Folge von "Dark Matter" (s02e13 – Syfy)…
Sonntag, 18. September
Nicht viel los. Aber mit "Rush Hour" läuft ab 22:10 eine neue Serie auf – wie könnte es anders sein – Sat.1 an.

-->