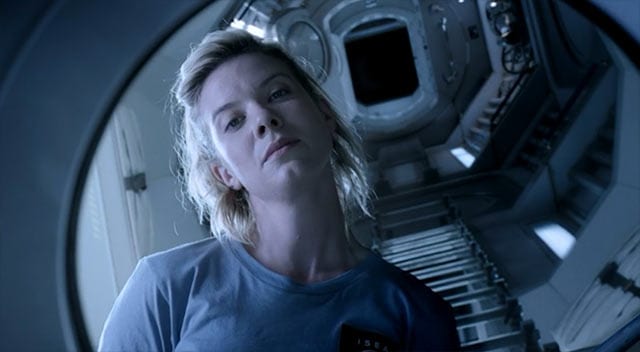 Heute Abend läuft das Finale der ersten Extant-Staffel. Noch also massig Zeit, sich um die aktuelle, vorletzte Folge der Staffel, zu kümmern. Die bietet endlich Konkretes, sowohl was die Backstory betrifft, als auch die Beziehungen zwischen einzelnen Charakteren, bzw. die Offenlegung derer Motive.
"It was like a madness that spread like a virus." (Katie)
Shaun und "Katie" haben im All durchaus unterhaltsame Momente. Solche Auflockerungen hätten Extant insgesamt sehr gut getan, wenn man sie häufiger zu sehen bekommen hätte. Wie einnehmend die außerirdischen Kräfte sein können, zeigt die Verstrahltheit von Sparks, der gar den Tod seiner Frau für "temporär" erachtet. Wie ein Vierjähriger, dem man weiß macht, er müsse einem den Lutscher geben, weil er morgen einen neuen, viel bunteren bekäme. Klar doch! Ungewöhnlicher ist wohl nur, dass der achso konservative Nachfolger Sparks in einer hochsicheren Institution einfach alles glaubt, was Molly ihm sagt. War es gerade zu Beginn der Serie noch ein komplettes "Ich glaube dir nicht, du glaubst mir nicht"-Verhüllungs- und Verleugnungs-Schema, ist es nun komplett aufgebrochen. "Ach, du hast ganz AUS VERSEHEN einen supergeheimen Code eingegeben? Na dann ist das okay." Oh man…
Wenigstens kommt "Odens" Spiel langsam ans Licht – hoffentlich rechtzeitig. Auch wenn es schon etwas seltsam ist, dass man über den digitalen Bilderrahmen auf solche Nachrichten stoßen kann – ein schönes Beispiel für zu konstruierte Darstellungen. Und so eine Humanoiden-Explosion wäre eigentlich ein willkommener Überraschungsmoment, der die Serie ein ganzes Stück besser machen würde, wenn man so recht daran denkt. Wirklich schockierende Überraschungen gab es noch nicht wirklich…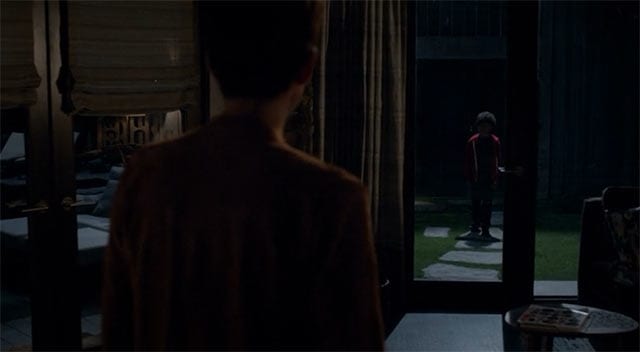 "Isn't there someone, you'd give anything to see again?" – "Yeah, you!" (Molly & John)
Und dann wäre da unsere Familie mit kurioserer Zusammenstellung als bei den Beckhams. Molly als Halluzination, John ganz gedankenverloren – und der erste richtige Blick auf das Alien-Baby, das mittlerweile auf dem Stand eines Siebenjährigen zu sein scheint. Roboterjunge trifft auf Alienmischling – Ethan ist scheinbar etwas eifersüchtig. Hat der Offspring wirklich Angst vor den anderen Aliens? Jedenfalls hat Molly ein sehr emotionales Putzerlebnis…
"It's okay."
"Okay" war auch diese Folge. Es gab einige Highlights, wie die Offenbarung des Offspring-Aussehens und die Offenlegung Odens Machenschaften, aber noch ist Luft nach oben. Hoffen wir, dass die beim finalen Gang ausgenutzt wird. Zukunftsdinge diese Woche: total schreckliches Computermenü, Kinderhandys mit bunten Knöpfen, Erinnerungs-Verstärker und natürlich "The Dufus Cap".