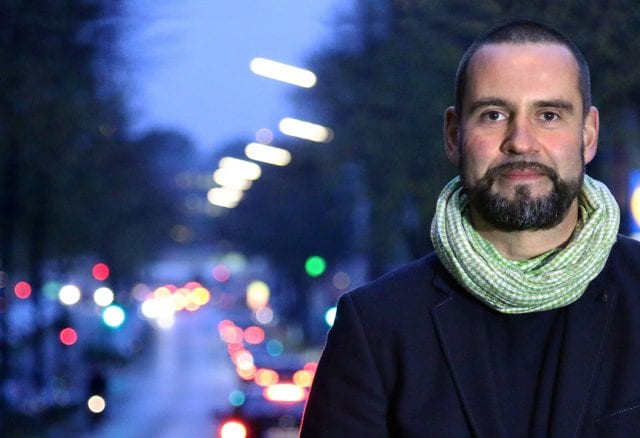 Als ZDFneo und ZDFinfo vor einigen Jahren an den Start gingen, gab es einige ziemlich coole und innovative Formate. Vieles davon ist leider auf der Strecke geblieben, einige sind abgewandert (aus neoParadise wurde z.B. Circus HalliGalli) oder in der Ausstrahlung ausgedünnt worden. Jetzt meldet sich ein alter Bekannter zurück: Herr Eppert.
Dahinter steckt Journalist Thorsten Eppert, der vor einigen Jahren beim ZDF-Spartenprogramm mit der Reihe "Herr Eppert sucht…" auf Sendung ging. Das waren so etwa 30-minütige Reportagen im Dokutainment-Stil, in denen sich Thorsten Eppert auf die Suche nach einem bestimmten Thema machte. Dazu besuchte er Menschen, die mit dem Thema zu tun haben und befragte sie, um das Thema für sich klarer zu bekommen. Dazwischen gab es Denkpausen, in denen Thorsten Eppert seine bisherigen Erkenntnisse zusammenfasste. Insgesamt gab's von 2011 bis 2013 vier Staffeln à fünf Folgen. In der ersten Staffel ging's beispielsweise um Glück, Liebe, Tod und Weisheit, später um Streit, Geld, Familie oder den Pornostar. Leider wurde die Reihe dann eingestellt, doch bis heute laufen dann und wann Wiederholungen bei ZDFneo. In der ZDF-Mediathek sind die Folge weiterhin verfügbar – reinschauen lohnt sich.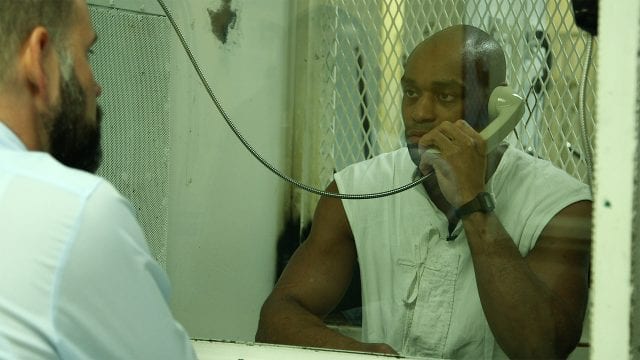 Thorsten Eppert im Gespräch mit Julius Murphy, der seit 17 Jahren in der Todeszelle sitzt. (Foto: ZDF / Silvia Palmigiano)
Jetzt gibt's eine neue Ausgabe – auf ZDFinfo, 60 Minuten lang, und aus den USA. Reporter Thorsten Eppert reist durch die USA, um sich dem Justizsystem der USA zu nähern. Er versucht, in "Crime and Justice" die Diskussionen in den verschiedenen Bundesstaaten nachzuvollziehen und Betroffene zu befragen. Fern der Frage, wie gerecht die Todesstrafe überhaupt ist, steht sie besonders wegen der hohen Fehlurteilsrate in der Kritik. Was Thorsten Eppert zum Beispiel interessiert: Einer neuen Studie der National Academy of Sciences in Boston zufolge sitzen mehr als vier Prozent aller zum Tode Verurteilten zu Unrecht in der Todeszelle – also jeder 25. Häftling. Wie kommt es zu den vielen Fehlurteilen? Wie beurteilen Angehörige von Opfern die Todesstrafe? Und wie sehen zum Tode Verurteilte auf das Justizsystem?
In der ZDFinfo-Dokumentation spricht Thorsten Eppert mit Menschen, die zum Tode verurteilt sind und auf die Vollstreckung warten. Außerdem trifft er Charles Thomas O'Reilly, ehemaliger Direktor der Huntsville Unit und dort verantwortlich für die Ausführung der Hinrichtungen. Der ehemalige Botschafter der USA in Deutschland, John Kornblum, äußert sich zum Zusammenhang zwischen der Todesstrafen-Diskussion und der gewachsenen weltweiten Terrorgefahr. "Crime and Justice – das Justizsystem der USA" ist am Sonntag, 27. Dezember 2015, ab 18 Uhr zu sehen, außerdem auch am Samstag, 2. Januar 2016, 7.55 Uhr, am Montag, 4. Januar 2016, 17.15 Uhr, und am Freitag, 22. Januar 2016, 18 Uhr, jeweils in ZDFinfo.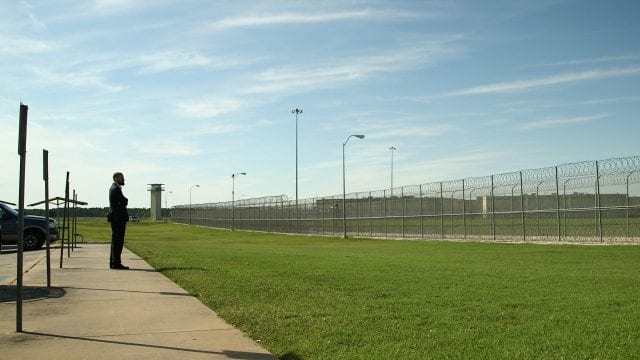 Thorsten Eppert vor dem Hochsicherheitsgefängnis Polunsky Unit in Livingston, Texas. (Foto: ZDF / Silvia Palmigiano)

-->